Did Sigma Make the SD1 to Serve as the Brand's "Halo Product"?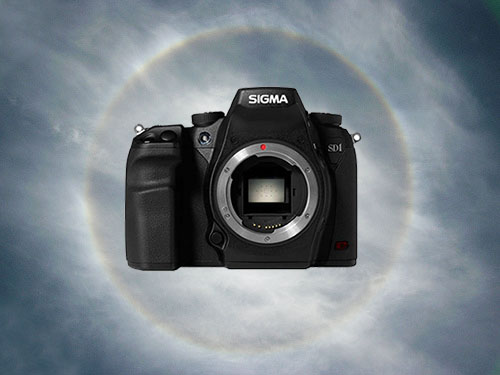 Sigma generated a lot of buzz recently after announcing its SD1 DSLR with a $9,700 MSRP, and that's probably exactly what they were trying to do. As articles all over the Internet questioned why a 14.7MP Sigma DSLR would cost the same price as Pentax's 40MP medium-format DSLR, Sigma was quick to point out that the camera would actually be selling for a slightly more reasonable street price of $6,900.

A user over on the dpreview forums also made the observation that Sigma usually sets the MSRP (Manufacturer's Suggested Retail Price) about 30-35% higher than what it actually will sell for in stores (AKA the "street price"). Sigma's pricing practices and the launch of this uber-expensive DSLR may simply be part of an overarching marketing strategy in an attempt to shed off its reputation as a manufacturer of affordable third-party camera gear.
Ken Rockwell suggests that the company is using the SD1 as a "halo product" to boost its reputation rather than expecting it to be widely adopted:
Huh? Who would pay $6,900 for a sub-15 MP 1.5x crop-factor DSLR that only works with Sigma lenses? No one, but it doesn't matter. […] These are called "halo" products, and Sigma only makes them to attempt to market its way into the mainstream, at least on the level of third-tier makers like Olympus, Pentax, Fuji, Minolta and Sony.

Simply by offering products at crazy prices, Sigma hopes that it gets some free publicity (as its getting here now) and that some people might make the mistake of presuming that it's good just because it's expensive. [#]
Wikipedia describes the "halo effect" this way:
In brand marketing, a halo effect is one where the perceived positive features of a particular item extend to a broader brand. It has been used to describe how the iPod has had positive effects on perceptions of Apple's other products. The effect is also exploited in the automotive industry, where a manufacturer may produce an exceptional halo vehicle in order to promote sales of an entire marque. Modern cars often described as halo vehicles include the Dodge Viper, Ford GT, and Acura NSX. [#]
By setting an MSRP on the SD1 that the public balked at, Sigma actually succeeded in getting mentioned in publications large and small, and may have also succeeded in having more consumers view the brand in a more favorable light. Has your perception of the Sigma brand changed due to these recent announcements?
---
Image credits: Halo de Sol by jesusbet, Sigma 30mm f/1.4 EX DC HSM Review by tracer.ca, Five iPods by mcwetboy