Posts Tagged 'microscopy'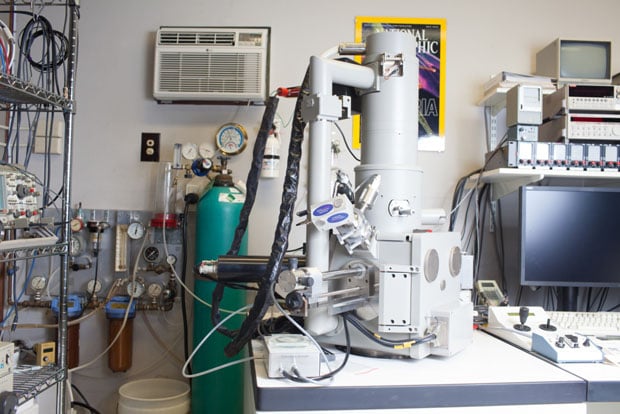 David Scharf is a basement pioneer in the art of making some of the world's smallest things appear huge.
Read more…
In the side-by-side images above, the photo on the left shows a city as seen by astronauts on the International Space Station, and then photo on the right shows a photo of a neuron imaged with fluorescence microscopy. One is massive and seen from a grand scale, while the other is microscopic and cannot be seen by the human eye, yet they look strangely similar in their structure.
Infinity Imagined has a gallery of these comparisons of cities and neurons, showing the strange and striking similarities between the two.
Read more…
Gigapixel images are usually used to capture tiny details in expansive scenes, but scientists in the Netherlands recently created one that shows microscopic details in a tiny subject. Using a technique called virtual nanoscopy (a new relative of microscopy?), the researchers created a massive 281-gigapixel image of a 1.5-millimeter-long zebrafish embryo.
Read more…
"Science can be beautiful. Art can be scientific." This latest episode of the PBS series Off Book, titled "Seeing Beyond the Human Eye", looks into how science and photographic techniques are helping transform how we see the world.
Technology defies the boundaries of human perception. From photomicrography to astrophotography, size and distance are no longer barriers, and through slow-mo and timelapse, we are allowed to see time and humanity in a new light. Through our curiosity and thirst for the unknown, the beauty of the universe can now be explored beyond the limits of the naked eye.
Photographer Clemens Wirth wanted to dive into microscopy, so he attached his Canon 5D Mark II to a monocular microscope using an adapter and pointed it at one small drop of water. He was amazed to find out how much activity goes on inside ordinary water, and how detailed that tiny world is. This short film, titled "Micro Empire", is a beautiful combination of Wirth's footage and audio by Radium Audio.
(via Laughing Squid)
Less than a year ago when I was a grad student at Berkeley, I heard a guest lecture by Professor Daniel Fletcher in which he discussed his CellScope project. His group aims to transform cell phones into light microscopes to aid in disease diagnosis in developing countries. Turns out the concept can be used for more than medical purposes.
Inspired by the CellScope, Nokia hired Aardman to create the world's smallest stop-motion film using the Nokia N8 cell phone. The result is "Dot", a stop-motion film starring an uber-small 9mm tall girl. Aardman had to create 50 different versions of the girl for all her various poses, and spent about one day making every four seconds of the video.
Read more…
Our recent post showing vinyl records at 1000x magnification was pretty popular, and many of you had ideas for things you'd like seen under a scanning electron microscope.
ASPEX, a company that manufactures scanning electron microscopes (SEM), recently launched a "Send Us Your Sample!" campaign. All you need to do is fill out a form and send it into the company with the sample you'd like photographed, and the company will publish the resulting photograph online and notify you via email when it's up.
The photographs above show the torn edges of a piece of paper. You can see previously completed requests in this gallery.
(via Boing Boing)
Ever wonder what a vinyl record looks like under an electron microscope? Okay, probably not. Luckily, there's people who do, including Chris Supranowitz, who created a number of electron microscope images for a course at the University of Rochester.
Here's a photograph of the record grooves captured by Supranowitz at 500x magnification. Those dark chunks you see are dust particles.
This one was shot at 1000x magnification. The record begins to look like the Grand Canyon.
These images were created in the Spring of 2005 for the course Opt 307/407: Practical Electron Microscopy and Advanced Topics. Other projects used the electron microscope to examine such things as snowflakes and bird feathers.
To see more of the amazing images captured by Supranowitz, check out the final project page.
(via Reckon)