Canon Rebel: A Guide to the Popular Beginner Camera Line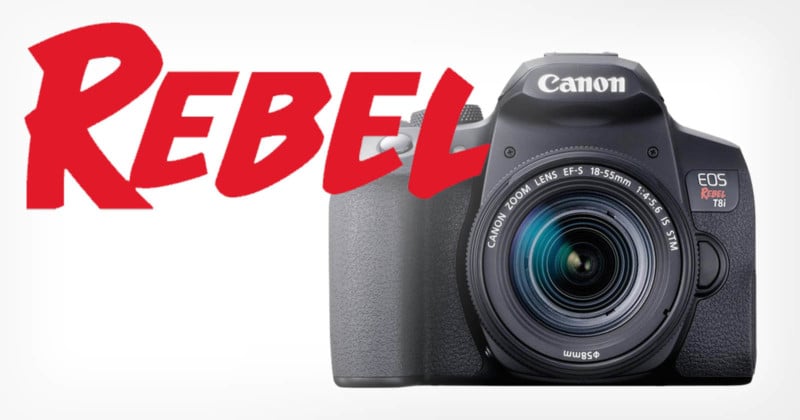 It's been just over four decades since autofocus 35mm cameras have become a reality. In 1987, Canon had just released their first autofocus 35mm film camera called the EOS 650, with the EF lens mount and lightning-fast autofocus. It was a bold new design that many thought would fail, but the EOS and its successors changed the game for 35mm photography, dominating the industry.

Once its dominance in autofocus was secured, Canon began to look for an entry-level system to lure shutterbugs into getting more serious with the hobby, and the Rebel system was born. Canon would often innovate and put new features in their higher-end and professional models, and then a few years later, seed those innovations to the
more affordable consumer-grade cameras
to keep the platform growing.
With the EOS system becoming very popular with serious photographers, and even professionals wanting to take advantage of the high-speed autofocus lenses, there was still a wide-open entry-level market to take advantage of. Canon sought to lure shutterbugs who used pocket cameras like the SureShot, as well as old school manual users who refused to give up their vintage camera bodies and get them into an autofocus SLR camera. That was what the Rebel line was designed to do, and it made the transition not only easy, it was downright fun.
The Origins of the Canon Rebel
The first Canon EOS Rebel had the spirit of the iconic Canon AE-1, but with autofocus. The Canon AE-1 had dominated the entry-level SLR market since it was introduced in 1976. Being the first camera to have a computer chip designed into it, the AE-1 was capable of being completely automatic, or completely manual. And everything in between. Users could let the camera choose shutter speed, aperture, and even film speed (then known as ASA), or they could choose aperture or shutter priority and let the AE-1 do the rest.
The AE-1 was a great way to ease into more serious photography and sales for the camera skyrocketed almost overnight. It remained that way until Canon discontinued it in 1984. The Rebel would pick up the legacy of the AE-1 and take it to new heights thanks to Canon's EF mount and autofocusing system.
The original Canon EOS Rebel 35mm film camera was unveiled in 1990.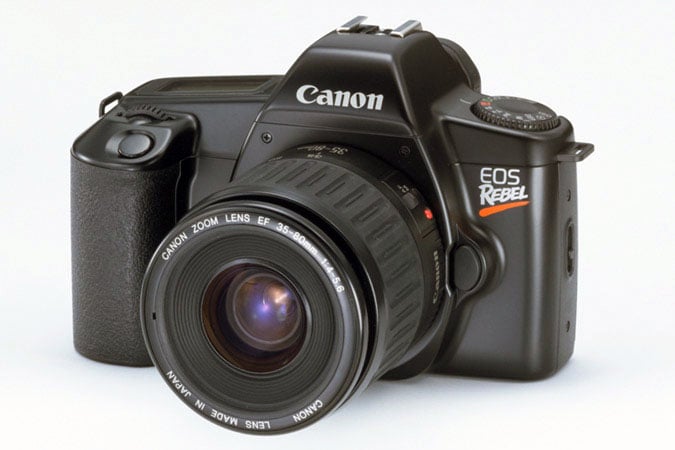 The Rebel had a lot to live up to, considering the Canon AE-1 was one of the best-selling models in history. With a lighter high impact plastic case and aluminum exoskeleton, the Rebel would appeal to budget-conscious photographers who didn't need the high-performance features of the EOS 1, but who wanted to grow past the simple point-and-shoot designs like the Canon Sure Shot. With the ability to experiment with manual controls, but fall back on being fully automatic, the Rebel gave users the best of both worlds.
The first 35mm Rebels also relied on the EF mount, which proved beneficial because users who outgrew their entry-level bodies could upgrade to a higher-end EOS model and still use their glass. Even today, users of EF lenses can use them on those early Rebel models.
The EF-S is Born for Digital
With the advent of the digital revolution, however, the Rebel's lens mount would have to be rethought if the company hoped to keep to the entry-level spirit of the product line and also keep costs down. Full frame image sensors would be too expensive for a Rebel, and therefore Canon opted to downsize its entry-level DSLR to an APS-C image sensor design.
The APS-C image sensor also meant that Canon would have to create a new line of lenses that would compensate for the smaller sensor without vignetting. Thus, the EF-S mount was born.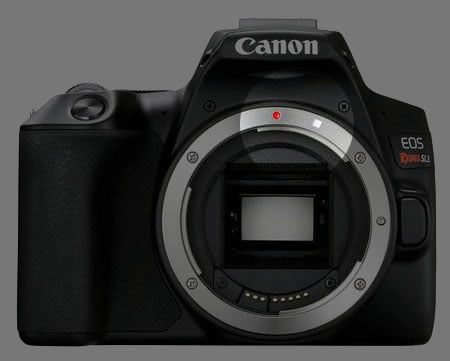 The S in EF-S represented the short back focus of the APS-C sensor and its smaller image circle. Even though not all EF-S mount lenses took advantage of this short back focus, the design would take full advantage of the reduced sensor size and its smaller image circle, without frustrating photographers with vignetting issues.
The design also meant that lenses could be made lighter and smaller, but they would also provide a 1.6x crop factor when it came to focusing at distance. This meant that angles weren't as wide compared to 35mm.
The EF-S design would also create a completely separate lens product line since EF-S lenses were not completely backward compatible. Canon Rebel cameras could still take EF lenses, but when users outgrew their entry-level Rebel, they couldn't transition their EF-S lenses to the EF mount camera bodies.
This is largely due to certain EF-S lenses being too deep into the flange distance and coming dangerously close to the image sensor. That, plus the complicated conversions that photographers would have to do with the 1.6x crop factor meant that Rebel users looking to move up would also have to reinvest in new full-frame lenses.
Longtime Canon shooters had already made that switch once before when Canon moved from the manual focus FD mount lenses on their classic film cameras to the autofocus EF mount of the EOS system, so this was nothing new. It was evolve or die, but a tedious evolution, nonetheless.
Nikon, by contrast, had kept the same lens mount, even when moving to an electronic autofocus architecture. So it isn't uncommon for modern Nikon cameras to use F-mount lenses that are over 50 years old. But with modern Nikon cameras, however, users have to use an F mount lens adapter to continue using their vintage class, so sooner or later evolution has its day.
Evolution in the Digital Revolution
The Canon EOS Digital Rebel, also known as the EOS 300D and EOS Kiss Digital, was launched in 2003 and offered a 6.3-megapixel CMOS image sensor, DIGIC processor, and 3:2 aspect ratio. It was the first Canon EF-S camera as well as the first DSLR to carry a price tag of less than $1,000.
The camera also had a 7-point wide-area autofocus system and could shoot 2.4 frames per second in burst mode. The camera also could record in both JPG and 12-bit RAW, simultaneously. It also wrote Type I and Type II compact flash cards, which was standard. That would all change soon with the advent of the SD card design spec.
Every few years, the Rebel would evolve, and with each evolution, the camera would become more powerful with higher resolution image sensors and DIGIC processors for higher resolution images and improved white balance capability. Canon would even throw in a monochrome mode dedicated to black and white photography.
Autofocus would also take generational leaps, with multiple focusing points and autofocus modes. One-Shot AF, AI Servo AF, AI Focus AF, Manual focusing (MF) options, eventually culminating in the Rebel enjoying Canon's latest autofocus scheme, the dual pixel autofocus (DPAF), as well as a 45 point focusing system in the Rebel T7i.
Video Killed the Photography Star
Like the Canon 5D Mark II, the entry-level Canon DSLR line was able to capture full HD video starting with the Rebel T1i. The camera could capture 720p video in a 16:9 aspect ratio at 30 frames per second. 1080p video could also be managed, albeit at 20 fps, or even standard definition 4:3 video at 30 fps. It was the dawn of a new age and beginners weren't going to miss out.
Steadily, the video quality would improve, until the SL3 became the first Rebel to capture 4K video at a very cinematic 24 fps. The camera also could capture 1080p HD video at 60fps (with a crop factor of 1.6x).
Canon's Naming Conventions for Entry-Level DSLRs
While Canon has a clear idea of who it wants to target with its new entry-level line, things became rather confusing when it came to naming conventions. This was largely due to the same Rebel camera being called something completely different in various markets around the world, causing confusion.
In Europe, the Rebel became known as the EOS 300D, and subsequent cameras have followed with XX0D or XX00D names. Even more confusing was that in Japan, it was known as the EOS Kiss.
The Canon EOS 2000D announced in 2018 was named the EOS 1500D in southeast Asia, the EOS Rebel T7 in the Americas, and the EOS Kiss X90 in Japan.
The confusion got even worse after Canon started releasing multiple versions of the Rebel with the T series and the Ti series.
One big reason Canon gives the same product different names in different regions is to combat unauthorized imports of its products from lower-priced regions of the world to higher-priced ones. By using unique brands for each region, Canon aims to combat the issue of "gray market" camera gear.
Naming confusing notwithstanding, the Rebel series has been a huge hit with consumers looking to become more serious about the pictures they were taking. The original 35mm Rebel cameras dominated the market until they were replaced with Digital Rebel DSLRs.
A Legacy of Entry-Level Innovation
Since its inception in 1986, the Canon Rebel series has steadily taken the innovations made from its higher-performing cousins in the EOS line and helped beginning photographers take better pictures. From multi-point autofocus to 4k video, the Rebel line of cameras has steadily become a far more powerful and higher-performance camera platform than the original design philosophy could have imagined.
The Canon Rebel T8i unveiled in February 2020 is packed with features including a 24mp APS-C CMOS sensor and DIGIC 8 image processor, ISO that can reach over 51,200 (a far cry from the original ISO 400), 45 point, all cross-type phase-detect and dual pixel autofocus modes, but also eye detection autofocus that can intelligently lock onto the subject's eyes and keep their face in focus no matter where they move. Add to that, a 3" pull-out vari-angle LCD screen, 7 frames per second burst mode, and 4K video at 24fps (or 25fps in Europe), and the Rebel has grown light years ahead of that first Rebel that debuted in 1985.
The T8i is also connected to the world, with wireless and Bluetooth support which can give users the ability to share photos and videos online, or even control the camera through the Canon app. A long way from the days of getting a second set of prints at the one-hour Fotomat.
The Rebel has evolved from a great all-in-one entry-level DSLR to a marvelous jack of all trades camera that beginners can be confident will take them through those exciting first steps in the hobby, or even profession of photography.
The Future of the Canon Rebel Line
Will there be a mirrorless Rebel someday? Maybe. Canon has certainly signaled its intention to put nearly all of its focus and development resources on the mirrorless RF platform. A Rebel-M, for lack of a better name, would give entry-level users the ability to cross over into Canon's RF mount with a more powerful, yet lighter camera platform to push their photography skills.
But that's also the domain of Canon's other entry-level interchangeable lens platform, the M series. The M has much of the Rebel's spirit in it, being Canon's initial mirrorless camera platform, and it continues to grow with new features coming down from the more powerful models before it. So, it may be that the Rebel's best days are behind it.
But I wouldn't count it out just yet. The Rebel is ripe for adding several newer features such as compatibility with Canon's new mount communication system, which relays metadata on lenses, shutter speed, and aperture setting directly to the camera to be written into the photo file. There's also Canon's 8-stop in-body image stabilization system (IBIS) recently announced on the Canon R5. It may take a while for this system to make it to a Rebel line, if at all, but the same could have been said for dual pixel autofocus just a few short years ago.
Film Comeback Breathing New Life into Old Rebels
However, even if it's true that the development of the Rebel could be coming to a close someday, it may come as no surprise that in recent years, 35mm film photography is making a comeback. As such, those old Canon Rebel film cameras, as well as the venerable AE1 are becoming more valuable on the used market. With digital portals such as eBay and Craigslist, users can blow the dust off their old Rebels and list them online for sale.
They aren't going to get more than maybe $100 with a kit lens for them to be sure, but with the growing popularity of this retro art form, the original Rebels are a great way to experiment with film photography and get back to the roots of the art form. And what is old is new again.