Sony's a9 III Uses Last-Gen Memory Cards, Creating an Irritating Bottleneck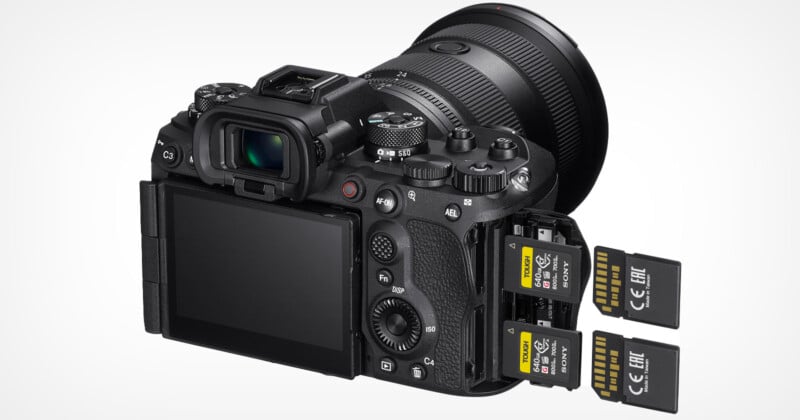 Sony's new a9 III is the first full-frame interchangeable lens mirrorless (ILC) camera to use a global shutter, which unlocks some serious performance like 120 frames per second shooting. It doesn't however, have support for the latest CFexpress specification.
The new sports and action-focused mirrorless camera features a 24.6-megapixel CMOS global shutter image sensor that can shoot at up to 120 frames per second with full autofocus and automatic exposure tracking and metering. It can even shoot at 14-bit RAW, albeit "compressed," in this mode, which is 6GB/s worth of data.
That's a massive amount of data to push to a memory card and the a9 III only has a buffer depth of 1.6 seconds when shooting a maximum frame rate, meaning a very fast memory card would be needed to unlock shooting at maximum burst for any length of time.
Well, that is the presumption of course, but the a9 III is a complicated camera with a lot of footnotes on performance. For example, the camera has a maximum 120 frame per second burst time of 1.6 seconds, which is 192 photos. However, Sony says the actual upper buffer limit is 700 photos. That means at lower frame rates, the camera can shoot for much longer.
The camera cannot maintain 120 frames for its full buffer limit. The company declined to explain the discrepancy, but PetaPixel surmises it relates to heat, processing capacity, or both.
Further, the a9 III has a Pre Capture mode which starts the buffer before the shutter is fully depressed. In this mode, the camera will automatically max the buffer. If a photographer is shooting at 120 frames per second, where the buffer is capped at 1.6 seconds, the Pre Capture mode will change how long a photographer can shoot after the shutter is pressed significantly.
If a photographer selects one second of Pre Capture — which is the maximum allowable — the camera will do a full second of capture before shutter release and then 0.6 seconds after.
That said, during initial testing, the camera seems capable of shooting for longer than 1.6 seconds at 120 frames per second. Further testing is required.
On the surface, that sounds like the camera is limited by its ability to clear its own buffer, but that might not be the case. Sony further explains, although without detail, that the camera dynamically adjusts its frame per second capture speed during bursts. If it can't maintain 120 frames, for example, it'll drop to something it can maintain before speeding back up. The exact nature of this dynamic adjustment wasn't explained, as Sony says it will vary depending on the shooting situation which brings up too many variables to give just one answer.
Still, Sony's choice not to include support for the latest CFexpress standard is puzzling. CFexpress 4.0 doubles the speeds from the previous generation, which would have given a9 III shooters twice the capability to process massive volumes of photos. But that did not happen.
Sony has put a bottleneck on how fast it can clear its camera's buffer, which is where all photos it captures go as they are shot before they are written to memory, that can possibly happen by not using the CFexpress 4.0 standard. For those who argue it's probably because the standard was only announced this past August, that doesn't hold water: memory card makers and camera manufacturers are directly involved in setting the standard. That's why memory card makers like ProGrade Digital were able to release a new CFexpress 4.0 standard card and reader almost immediately.
Sony knew it was coming a long time ago and still chose not to include it in the a9 III. It is also worth noting that the CFexpress 4.0 standard is fully backward compatible with no drawbacks, meaning there is no disadvantage to include it from a user's standpoint.
Sony declined to explain why CFexpress 4.0 was not included in the a9 III.
Sony also chooses to continue to use the CFexpress Type A format which, while it has the advantage of being small enough to share a card slot with an SD card, has half the PCIe bus lanes as CFepxress Type B, the card type used by Nikon and Canon. That means that even within the previous CFexpress 2.0 standard, Sony is already able to send data to a card only half as fast as competitors.
Speaking to PetaPixel today, Sony says it chose to use the CFexpress Type A format because it couldn't fit two CFexpress Type B cards in the camera and wanted to prioritize redundancy over write speed. While perhaps true, it is only so because Sony chose the size of its own camera body and then pointed to it as a limitation. No one told Sony it couldn't increase the body size slightly to accommodate larger cards.
To its credit, Sony says that all photo functions in the a9 III can be achieved on UHS-II SD cards, so photographers won't need to use the more expensive CFexpress Type A cards if they don't want to. The only feature locked behind that wall are certain video features, like S&Q and 4K at 120p, at least in certain file formats. That, and it will of course take longer to clear the camera's buffer on an SD card compared to a CFexpress card.
Immediately when the new CFexpress standard was announced, photographers were told that they would need new camera hardware to take advantage of the speeds CFexpress 4.0 brings to the table, and — frustratingly — Sony shooters are going to have to continue to wait despite getting what is arguably otherwise the most impressive professional camera that has been released in quite a long time.
The Sony a9 III, presumably a camera that will be the top-option for sports shooters from Sony for at least a few years, won't be able to take advantage of the latest-generation of CFexpress memory cards. While these cards don't yet exist — Sony was quick to point this out despite the fact that it is a memory card manufacturer and could choose to change this fact at any time it pleases — they could, as evidenced by the Type B cards already hitting the market.
This might sound like a nitpick, and maybe it is, but contextually it's at the very least a little irritating. This is Sony's most impressive camera in years and will be a mainstay in its lineup for a long time. It's just frustrating that it will be hardware limited on its practical speed capabilities right out of the gate.
---
Image credits: Sony