CFexpress 4.0 to Double Card Speed to 4 GB/s and Be Backward Compatible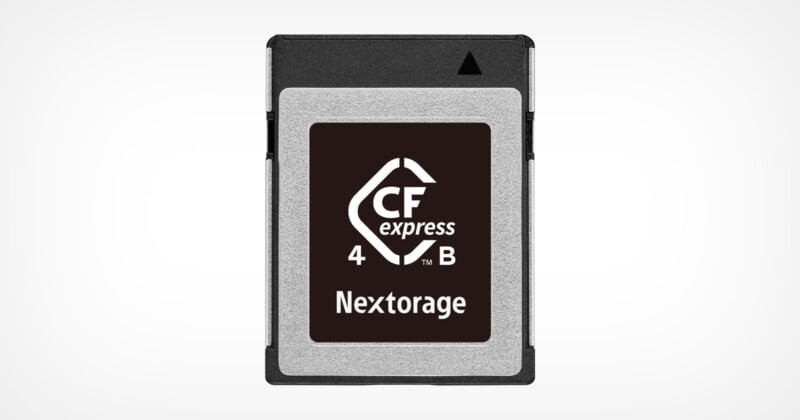 The CompactFlash Association today announced the specification for CFexpress 4.0 which can double the theoretical throughput performance compared to current cards while maintaining backward compatibility.
The new specification maintains the physical form factor of all previous CFexpress memory cards: Type A, Type, B, and Type C. Currently, Sony uses the Type A format that features one PCIe lane bus which results in slower overall performance but a very compact form factor. Most other camera manufacturers, such as Canon and Nikon, use the larger, more affordable, and faster Type B form factor that has two lanes. The much larger four-lane-equipped Type C is not currently being used by the camera industry.
The new CFexpress 4.0 specification doubles the theoretical maximum throughput across all three of these form factors without changing their physical dimensions, bringing the new Type A design into line with speeds currently found in Type B designs, which is a significant upgrade. Type B cards also should get much faster.
These benefits are thanks to the change from PCIe Gen 3 to PCIe Gen 4, which doubles the data rate and allows the cards to transfer data at much faster speeds. As Kingston explains, PCIe Gen 3 operates at 8 GT/s (gigatransfers per second) which roughly translates to 1 GB/s (gigabytes per second) per PCIe lane. By comparison, PCIe Gen 4 operates at 16 GT/s, or around 2 GB/s per PCIe lane.
It should be noted that memory cards rarely reach the theoretical maximums of any specification, but new maximums as part of updated specifications always introduce notable speed improvements. That is why current CFexpress Type-A cards don't get to 1 GB/s or Type-B cards to 2 GB/s, but fully expect the current speeds to double thanks to the new specification.
"With the evolutionary approach in defining the new CFexpress 4.0 specifications, end users can preserve their investments made in CFexpress 2.0 removable media cards while enjoying cutting-edge use cases with the higher performance CFexpress 4.0 cards. This is a win-win for the installed base and the growing CFexpress ecosystem," says Nikon's Nobuhiro Fujinawa who is also the co-chairman of the CFA board.
"With its three form factors maintaining a consistent electrical, logical, and physical interface, CFexpress 4.0 will allow professional photographers, videographers, and cinematographers to scale seamlessly amongst the various use-case scenarios demanded by the host cameras. It is also a welcome approach for host manufacturers since the development cycle can be reduced significantly," Sony's Hiroshi Machida, who is also a CFA board member, adds.
The CFA says that it is also going to prepare a new specification for VPG (Video Performance Guarantee), which currently only certifies cards at VPG 400, stating that a card will never dip below 400 MB/s transfer speeds. The organization says that the new specification will allow for higher sustained video recording and will be released "in the near future."
While the specification was only announced today, Nextorage is already preparing to release a CFexpress Type B card that takes advantage of the increased performance in "early 2024." The company adds that it is also working on content production workflow products, likely both hardware and software solutions, that will allow the cards to reach their peak performance. Those solutions are expected by mid-2024.
Expect the other major memory manufacturers such as ProGrade Digital, Lexar, and Sony to follow suit in short order.
---
Image credits: Header photo via Nextorage