Retrospekt Plates Iconic Polaroid Instant Camera in 24K Gold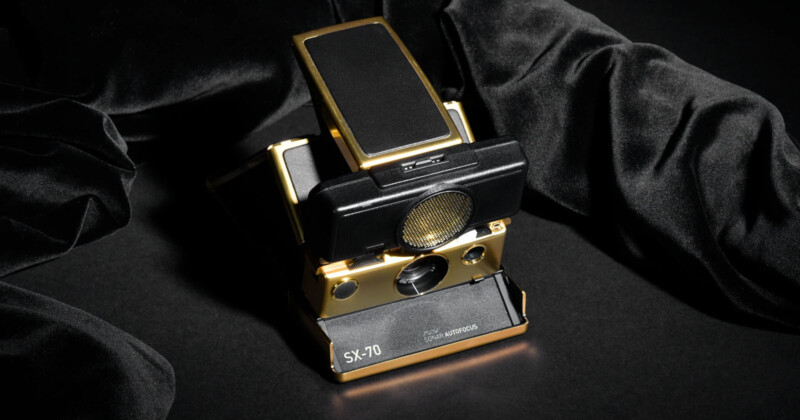 Retrospekt restores vintage Polaroid cameras and occasionally releases special edition versions like the new SX-70 Sonar Autofocus "24K Gold Edition" instant camera.
Available in a limited release of just 99 fully refurbished instant film cameras, the stylish special edition SX-70 Sonar Autofocus camera is plated in 24-karat gold. "Each camera is built using components from vintage Polaroid SX-70 Sonar Autofocus instant film cameras that have been completely deconstructed and restored," explains Retrospekt.
The first Polaroid SX-70 instant film camera hit store shelves in 1972. It was "The world's first single-lens reflex (SLR) instant camera, the first to automatically eject photos, the first to use integral film (the self-contained development system housed in the iconic white frame) and the first to fold down to a size that could fit into the pocket of a suit coat," per Retrospekt.
Six years later, Polaroid founder Edwin H. Land released the SX-70 Sonar Autofocus instant camera and once again changed the landscape of instant film photography.
Beaten to the market by just one other camera, the Konica C35 AF point-and-shoot camera, the Polaroid SX-70 Sonar Autofocus was the second camera of any type to incorporate automatic focusing.
The automatic focusing is delivered by the camera's iconic gold circle on the front — yes, it was gold before Retrospekt got its 24-karat gold plating involved. "This gold ring pushes out high-frequency sound waves, much like a bat, to work out how far away your subject is. It then adjusts the focus. In other words: less guesswork, sharper photographs," Polaroid explains.
In an excellent video, the YouTube channel In an Instant discusses the innovative sonar autofocus technology. The channel is an excellent resource for any instant film enthusiast.
Even today, more than five decades after the first Polaroid SX-70 was released, the instant cameras remain a popular choice among analog photography enthusiasts because of the camera's impressive image quality.
Retrospekt explains that Polaroid itself used to give out gold-plated SX-70 cameras to certain employees. These models have proven highly popular among enthusiastic collectors.
Collectors can get a gold-plated SX-70 much easier right now. The limited-release Retrospekt SX-70 Sonar Autofocus "24K Gold Edition" instant film camera is available from Retrospekt for $1,200.
---
Image credits: Retrospekt