Remote-Controlled Robot for Canon Cameras Lets You Shoot from Afar
Canon has announced compatibility with the Ueleret remote camera gimbal that allows photographers to have real-time access to their camera from a remote position of up to 500 meters away.
Robotic camera control is nothing new for Canon, as it has a first-party system that it designed to support sports photographers called the CR-S700R. However, this new third-party robot is more aimed at wildlife photographers who want to create a camera trap with significantly more control than is typical.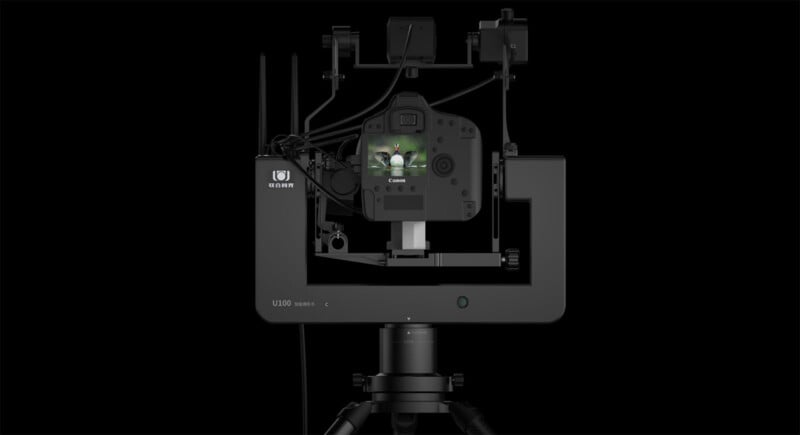 Advertised on Canon's Chinese website, the Ueleret U100 Remote Camera Assistant is a gimbal system that connects to a Canon R-series camera or DSLR and allows a photographer to wirelessly control it from afar — Canon specifically says that photographers can enjoy the capture process from the comfort of their car instead of hunkered down in the dirt, a swamp, or other similarly less desirable locations.
The U100 Remote Camera Assistant allows for electronic zoom adjustment and works with both telephoto and short focal lenses. It wires in to an included remote box that connects with a remote control unit that holds tablets up to 10-inches (the basic edition of the U100 doesn't ship with a display, but one can be included in the "advanced" and "deluxe" editions). The control unit looks like an oversized DJI drone controller and features dual control sticks, a D-pad, and four control buttons as well as right and left triggers.
The gimbal promises to allow for both pan and tilt control, as it can "freely" rotate fully across the horizontal plane as well as tile up and down at a 45-degree angle. The control system allows the operator to change between photo and video recording mode and the whole system promises to communicate wirelessly no slower than 60 to 70 milliseconds.
The U100 can be put to sleep to conserve power and allow it to stay in the field longer and it is also compatible with a battery management system that would keep it powered for up to a week. The standard single battery system is able to keep the camera and gimbal powered for between eight and nine hours of "intermittent shooting."
To go even further, the U100 can be paired with a targeting optical viewfinder that mounts above the camera on the gimbal. Ueleret also offers a camouflaged dust and rain cover set so that the system can remain in the field even in in weather.
While Ueleret doesn't list the standard edition of the U100 on its website, the "advanced" edition that ships with the 10-inch tablet as well as the full gimbal, battery, wireless transmission system, and remote control is available to purchase for $3,900. The optional targeting camera can be added for $699, while the rain cover costs $168.
The U100 is compatible with the EOS R3, R5, R6 Mark II, R7, R8, and R10 mirrorless cameras as well as the 1DX Mark II, 1DX Mark II, and 7D Mark II DSLRs.
While support for Canon cameras is new, Ueleret also produces a Nikon-compatible version of the system as well as one for Sony. Both are slightly more expensive — the Nikon version costs $4,200 for the "advanced" edition and the Sony version is priced at $4,099. The targeting viewfinder and rain cover for both are the same price as for the Canon version, however.
---
Image credits: Ueleret