Melania Trump's Apollo 11 NFT Violates NASA's Photo Rules
Melania Trump's latest NFT drop that celebrates the Apollo 11 lunar landing prominently uses a photo from NASA's archives, which is a violation of the space agency's image usage rules.
NASA clearly does not want its images used to create or mint non-fungible tokens (NFTs) — its merchandising regulations state that NASA will not approve any merchandising requests for its media for NFTs.
That has not stopped USA Memorabilia, the so-called "premiere NFT platform featuring United States memorabilia," from hawking a new "Man on the Moon" NFT that celebrates the Apollo 11 mission's successful lunar landing.
The $75 NFT features the famous photo of celebrated NASA astronaut Buzz Aldrin walking on the Moon. The iconic image was captured by Neil Armstrong, who is visible as a reflection in Aldrin's visor. In 2021, artist Michael Ranger put significant effort into cleverly "unwrapping" Aldrin's visor to reveal Aldrin's perspective during his iconic portrait.
USA Memorabilia's new NFT lacks much of Ranger's creativity and reverence. The "limited-edition collectible" puts the iconic shot of Aldrin inside a digital silver frame with a Moon-inspired textured surface. At the bottom is a three-dimensional spherical model of the Moon itself, which makes the entire thing look like a knock-off iPod from the front. On the back is disembodied text reading, "One small step for man, one giant leap for mankind."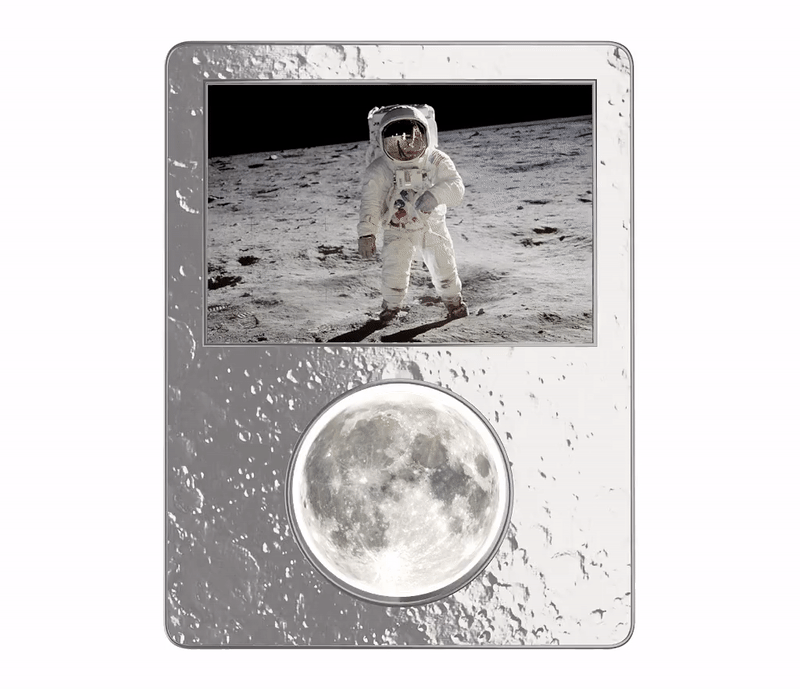 The person who said that famous quote, Neil Armstrong, actually said that he was misquoted, but this NFT is far from the only media that has made that mistake. In fairness, the incorrect quote has more gravitas.
The "Man on the Moon" NFT is limited to 500 editions, although "limited" is a bit generous of a description given that it has sold 21 copies in its first couple of days on the market.
Although USA Memorabilia sounds like a very general, perhaps even apolitical, operation that celebrates all manners of United States history, as Gizmodo reports, it is Melania Trump's NFT marketplace.
Additional NFT collections include vague celebrations of 1776, collectibles celebrating the U.S. Armed Forces, and low-quality gallery-style NFTs celebrating some of the National Parks. People cannot guarantee that their $50 will net them their favorite park. Instead, it is "gumball" style, and people put $50 into the NFT machine and see what pops out. While the Valor Collection pieces were designed in collaboration with a veteran, there is no mention of any proceeds from sales supporting veterans. That should come as no surprise.
Another "gumball" NFT collection is The POTUS Trump Collection, a set of NFTs that come in "gold" and "platinum" variants and showcase different portraits of former President Trump and former First Lady Melania Trump.
People can even buy Christmas ornament NFTs, which come with a real-life ornament. Now people can enjoy patriotic decorations on their real Christmas tree around the holidays and marvel at the 3D-rendered version all year long.
NFTs are in a sort of limbo these days. While Canon recently announced that it is jumping into NFTs, shortly before that, Meta pulled the plug on its NFTs on Facebook and Instagram.
"If it looks like a scam, it's probably a scam," says the adage. As Amanda Marcotte writes on Salon, "Cryptocurrency and its ugly art spin-off, non-fungible tokens (NFTs), are perhaps the 21st century's greatest example of that eternal principle."
In any case, people who love NASA — but do not love NASA enough to abide by the agency's sincere requests for its content not to be used for NFTs — can hop on Melania Trump's latest NFT collection for a mere $75. Once the money changes hands, buyers can put the iconic Aldrin image into a digital wallet. They can also download the image from the internet for free and save it that way.
There are plenty of ways to own genuinely distinct pieces of NASA's history, too, including rare original photos and tapes of the historic moon landing.