The New Mac Pro is Not the Computer You Think It Is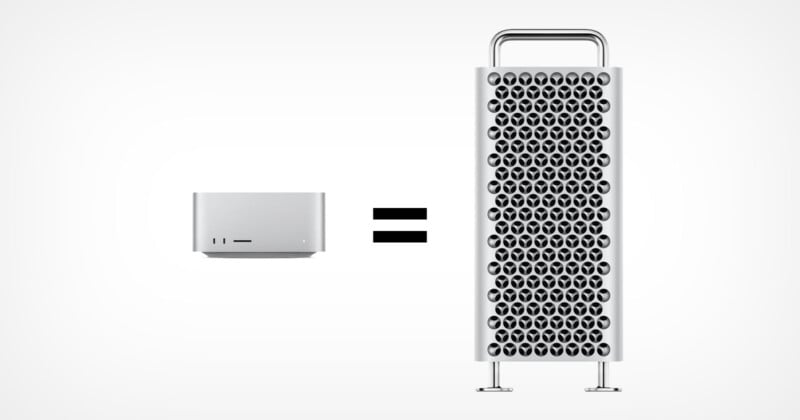 Ever since Apple released its own silicon, creators have salivated at the thought of what kinds of performance could be expected from the company's highest-end machine, the Mac Pro. Today we found out, and it wasn't necessarily the expected answer.
There was a time that I was debating purchasing a Mac Pro. Back when I was operating my own production studio, I often needed serious horsepower to churn through hours of 4K video and export quickly to appease impatient clients. If I wanted to stay in the Apple ecosystem — and I did — that meant scaling up what I could get through Apple's product lines: Mac mini, iMac, iMac Pro, and Mac Pro.
From top to bottom, that line doesn't mean nearly the same thing it did just a few years ago and the iMac Pro isn't even an option anymore. Slowly, and probably beginning with the M1 iMac, Apple started to retool what its line meant and who its products were best suited for. The iMac once was my go-to machine, but that has changed — I'm a Studio man now. Some of my colleagues have previous generation Mac Pros and after today's announcement, I think they'll probably move to Studios, too.
The Mac Pro Doesn't Exist for More Performance
I spent some time with the new Mac Studios and the Mac Pro today at Apple's Worldwide Developer's Conference (WWDC) and it was pretty clear what that Apple designed the Mac Pro to be for a very specific type of user rather than what many perceived it to be in past years: a catch-all for the best performing machine for a wide range of creators.
No, the Mac Pro is for the type of user who needs a specific type of workflow and that is the only thing that separates it from the Mac Studio. If you absolutely cannot live without PCIe expansion, then yes, you should consider the Mac Pro.
"Mac Pro features seven PCle expansion slots, with six open expansion slots that support gen 4, which is 2x faster than before, so users can customize Mac Pro with essential cards," Apple says.
"From audio pros who need digital signal processing (DSP) cards, to video pros who need serial digital interface (SDI) I/O cards for connecting to professional cameras and monitors, to users who need additional networking and storage, Mac Pro lets professionals customize and expand their systems, pushing the limits of their most demanding workflows."
Studios like Lucas Arts or Pixar might need that, but the average photo or video small business owner doesn't. For those small business owners, this is fantastic news. They're not giving up any power with a lower priced, smaller machine.
It's those big studio houses that might be a bit let down here. This new Mac Pro is easily the most affordable Mac Pro in years to fully spec out, but that's because it doesn't have the ability to expand the memory. As we wrote earlier today, there are two processor options: the M2 Ultra with 24-core CPU and 60-core GPU or the fastest M2 Ultra with a 24-core CPU and 76-core GPU. After that, you can upgrade to 128GB of RAM for $800 or 192GB for $1,600 — but no more. 192GB is the cap, and you can pay a maximum of $11,799 for it.
That's also the cap on the M2 Ultra Mac Studio. That machine, fully tricked out with the same CPU, GPU, and memory along with 8TB of SSD storage, is $8,799.
You won't get any more performance out of the Mac Pro for that additional $3,000 — you literally only get access to expandable PCIe and the ability to upgrade the SSD later. The Mac Pro is the only Apple computer that lets you do that, by the way.
The Mac Pro is Not What it Used to Be
The Mac Pro does not occupy the same space in a hierarchy of computers for Apple as the last ones did. Instead of sitting at the top alone, it is sitting there side-by-side with the M2 Ultra Mac Studio. We probably could have seen this coming when we were getting the same performance out of the iMac that we were out of the Mac mini when they shared the same hardware, but I have to admit I didn't expect that philosophy to extend all the way up the full product tree.
I'm not against it, for what it's worth. I like the idea of being able to get a computer with all the horsepower I need for high-end video editing for a lot less than I would have had to pay five or even eight years ago. Apple has done a great job turning the narrative around with its products in recent years and actually offering some real value. No, it's still not going to compete with a PC if you want to do more than just work — gaming is still kind of in a weird spot despite Apple clearly putting some muscle behind it this year — but as a creation station, it's very hard to argue against unless you really don't like Apple.
There will be a lot of people who won't even pay close attention to the Mac Pro because they'll think it's way more computer than they'll ever need, and they would be right — but probably not for the reasons they think. If you were to show them the Mac Studio with M2 Ultra, their reaction would probably not be as extreme simply because they have been conditioned to believe the Mac Pro sits high, high above all other Apple computers.
Today, it just doesn't. It might not be the right computer for you still, but that's not because of its power.
I don't work with the amount of data needed to justify more than 192GB of memory, but I know those people exist. I don't know how they feel about being capped now, even if the what the machine can do is still very impressive. I also don't know how they'll feel about their CPU, GPU, and memory all being locked together and un-upgradeable like this.
It will be interesting to see if Apple will actually upgrade the Mac Pro at the same pace it upgrades the other computers in its line. Usually the Pro has been left to languish for years without upgrades, but since it's just a Mac Studio in a different chassis, I don't see why that would happen.
I also don't know how much longer this computer will really need to exist. The need for PCIe expansion is already shrinking and once that is no longer needed, the Mac Pro might finally be retired.
---
Image credits: Apple