A Fully Loaded Mac Pro with M2 Ultra Costs Just $11,800
Alongside a move to Apple silicon and a big performance bump, Apple's new Mac Pro has also undergone a dramatic price reduction, at least when comparing the top-end configurations.
With the conclusion of Apple's Worldwide Developer Conference (WWDC) keynote today, Apple's store has come back online, allowing prospective customers to experiment with configuration options, including "fully spec'ing" out Apple's new workhorse desktop.
New Mac Pro Starts at a Higher Price But Costs Much Less when Fully Upgraded
The Mac Pro with M2 Ultra with 24-core CPU, 60-core GPU, and 32-core Neural Engine starts at $6,999, which is $1,000 more than the Intel-powered 2019 Mac Pro's base price. The M2 Ultra base Mac Pro starts with 64GB of RAM and 1TB SSD storage.
The Mac Pro (2019)'s base model shipped with an eight-core Intel Xeon W processor, 32GB of RAM, and a single 256GB SSD module.
While the new Mac Pro may start at a higher price, its configuration options are relatively cheap compared to what Apple asked of customers with the 2019 Mac Pro's highly-varied upgrade options.
The 2019 Mac Pro could be configured with one of five processors, including a 28-core Intel Xeon W, up to 1.5TB of RAM (a dozen 128GB DDR4 RAM modules), one of nine different GPU options, and up to 8TB of SSD (delivered via a pair of 4TB modules).
A fully loaded 2019 Mac Pro sets customers back a cool $52,600 before tax. In a state with an average sales tax of 5.1 percent, that amounts to around $2,700 in just tax.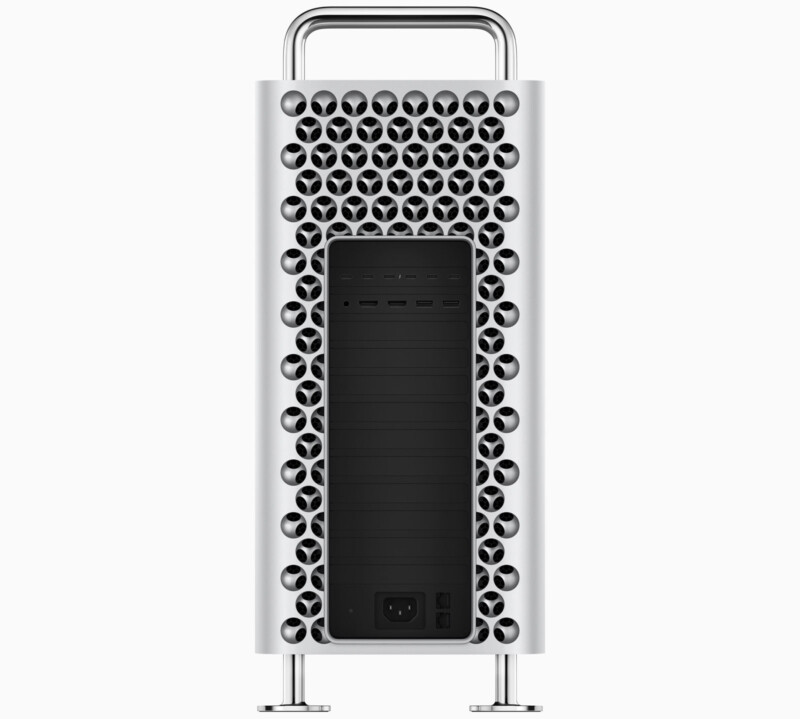 The maxed-out Mac Pro may outdo Apple's latest Mac Pro in the RAM department (1.5 terabytes versus 192 gigabytes), but other than that, it's a safe bet that the new Mac Pro will run circles around the outgoing Intel-based model, at least for many users.
Speaking of the new Mac Pro, the upgrade options are significantly more straightforward thanks to the move to Apple silicon. There are two processor options, the aforementioned M2 Ultra with 24-core CPU and 60-core GPU or the fastest M2 Ultra with a 24-core CPU and 76-core GPU. That upgrade adds $1,000 to the final purchase price, bringing Apple's fastest-ever computer to $7,999.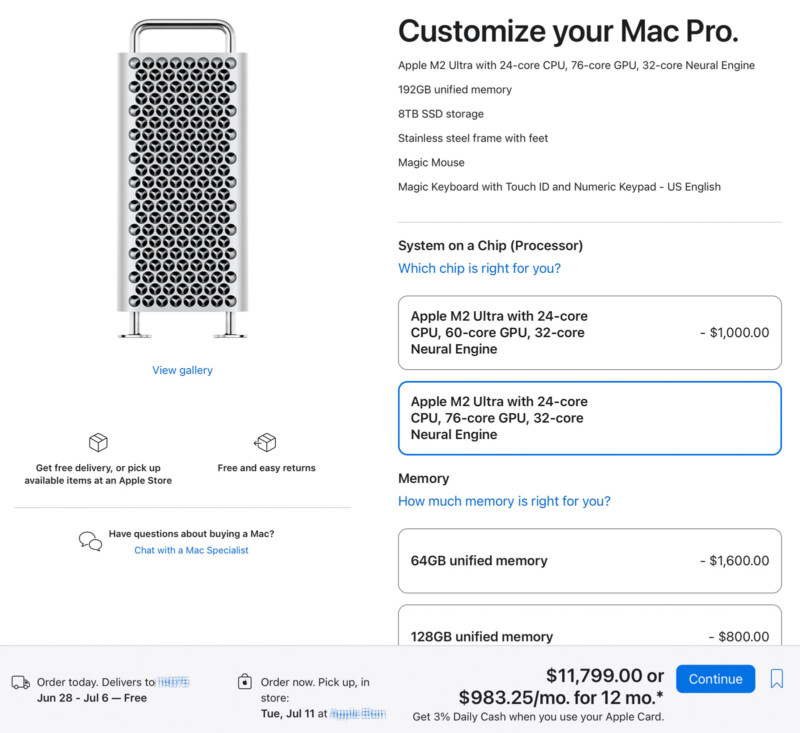 To increase the Mac Pro's versatility, users can upgrade to 128GB of RAM for $800 or 192GB for $1,600. Rounding out the upgrade options is storage, which ranges from 1TB to 8TB. The 8TB option adds $2,200 to the computer's cost.
That means that the most a user can spend on a new Apple silicon-powered Mac Pro is $11,799 before tax. Users can opt for a rack-mountable version or add wheels to the computer's stainless-steel frame, which will add up to $500.
Taking it even further back, how does the $11,799 Mac Pro compare to 2013's cylindrical Mac Pro generation? The "trash can" Mac Pro, much-maligned for its limiting design and lack of expandability, was a relatively affordable Mac Pro at launch.
Ignoring inflation, the base 2013 Mac Pro started at $2,999, which is considerably less than the starting price of 2019's Mac Pro and the brand-new Apple silicon Mac Pro. Of course, in the past decade, technology has advanced considerably. The base model Mac Pro then shipped with an eight-core Intel Xeon E5 processor, 12GB of RAM, a pair of AMD FirePro D300 GPUs, and a 256GB SSD. The 2013 Mac Pro quickly ballooned in price for motivated buyers, allowing users to eclipse $12,000 easily.
Mac Pro Versus Mac Studio
Since Apple announced the Mac Studio desktop last year, people have grappled with the idea of Intel-based Mac Pro versus Apple silicon-powered Mac Studio. Now, the two desktop lines are on even footing for the first time, each offering identical M2 Ultra chips.
However, the computers remain different in terms of the target audience. For example, the Mac Pro has PCIe expansion ports and is rack-mountable. The Mac Pro has more ports and more expandability.
However, out of the box, the computers promise similar performance. It's interesting to consider just how much the Mac Pro's extra ports and expandability add to its price.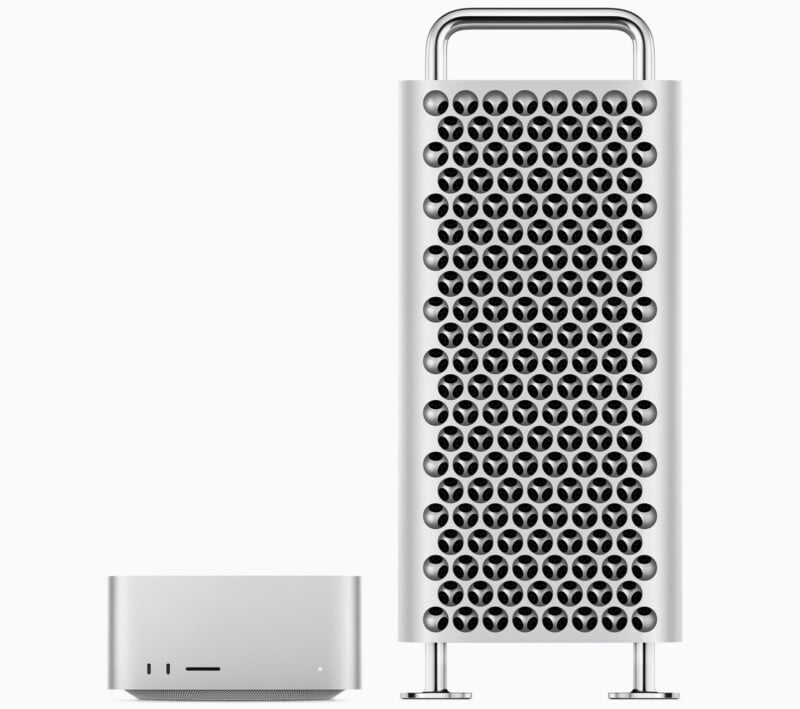 The Mac Studio, which starts at $1,999 with an M2 Max chip, can be configured to have the same M2 Ultra chip as the Mac Pro. The Mac Studio with the 60-core GPU M2 Ultra processor, 64GB of RAM, and 1TB storage, is $3,999. The Mac Pro with the same M2 Ultra chip and equal RAM and storage is the base Mac Pro, which starts at $6,999.
With the top-of-the-line M2 Ultra, 192GB of RAM, and an 8TB SSD, the Mac Studio is $8,799.
That isn't to say that the new Mac Pro is a "bad deal," but it is worth considering how much the expandability of the Mac Pro is worth to customers. For some users, it's vital to have PCIe expansion. For others, not so much, and for them, the Mac Studio remains a very compelling choice.
---
Image credits: Apple