Apple Announces Brand-New Mac Pro with Apple Silicon and PCI Expansion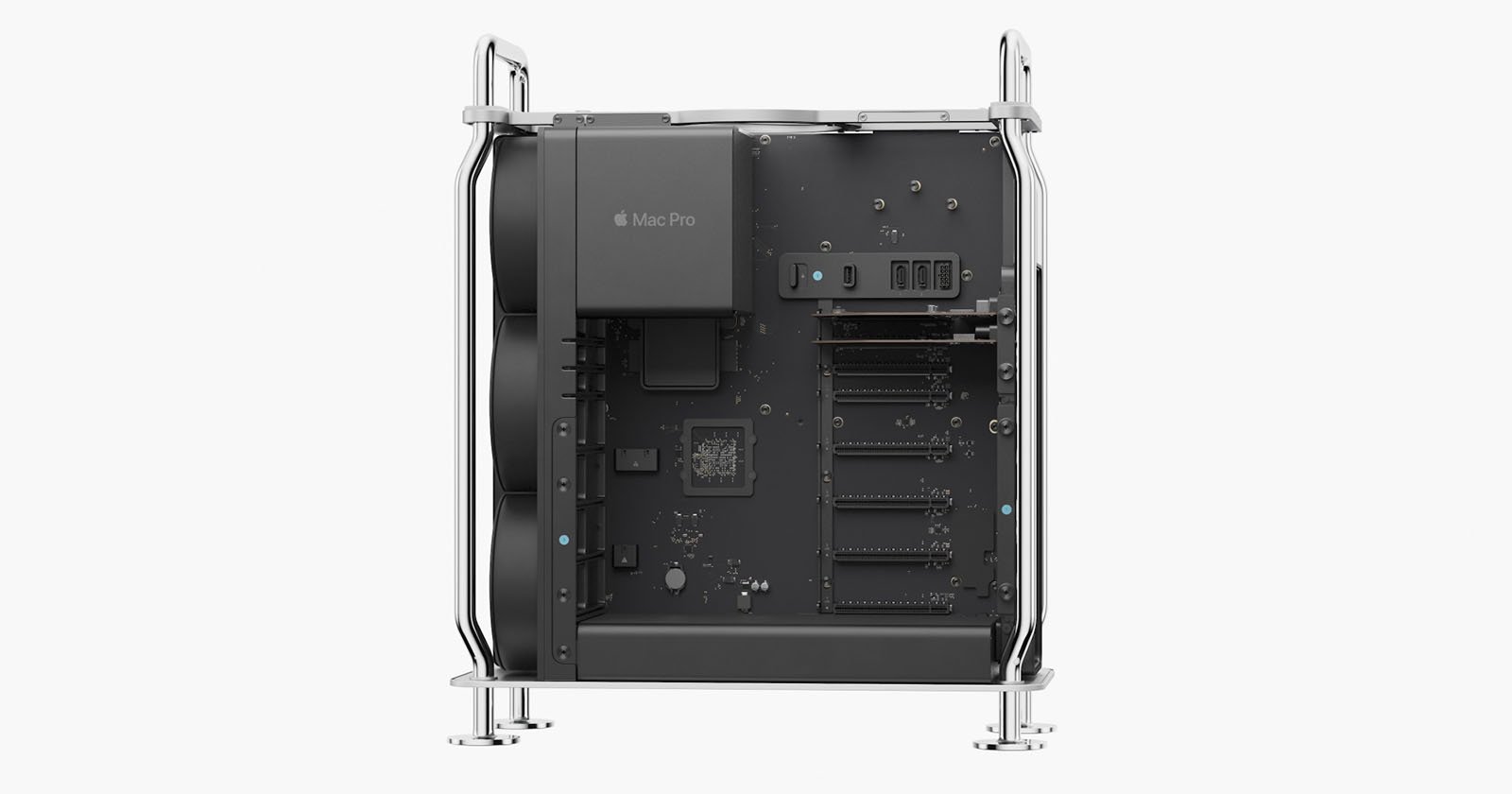 After teasing, rumors, and a long wait, Apple's flagship desktop computer series, the Mac Pro, has joined the Apple silicon family in the form of a brand-new, totally redesigned Mac Pro, powered by Apple's new M2 Ultra chip.
All-new Mac Pro is a Powerhouse
Mac Pro has always realized major expansion possibilities. The new Apple Silicon-powered Mac Pro, the first of its kind, takes demanding workflows to a new level.
Mac Pro is Apple's most powerful computer ever.
Design: Same but Different
The new Mac Pro looks the same as the prior-generation, but it is wildly different on the inside thanks to the inclusion of Apple Silicon, including the brand-new M2 Ultra.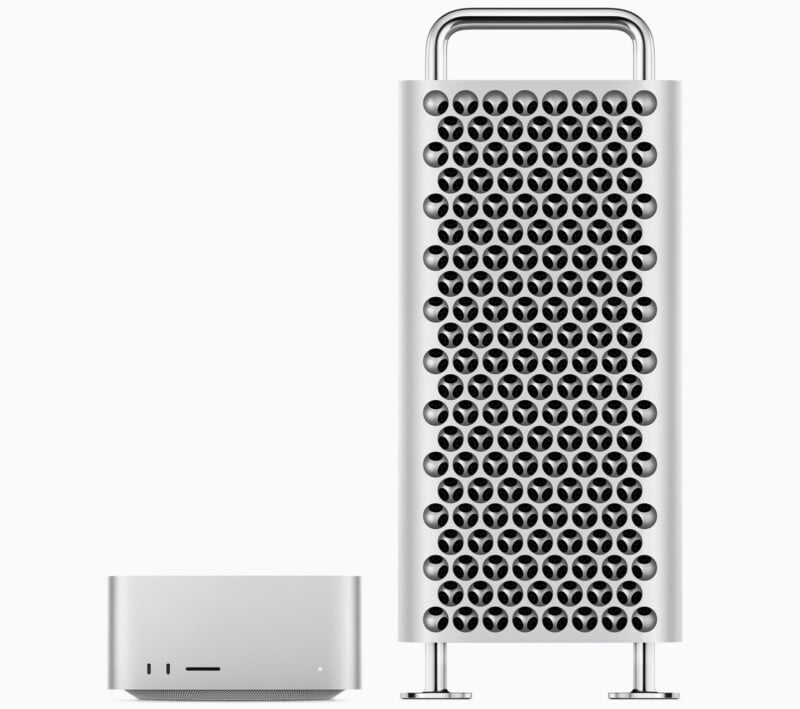 The Mac Pro's History
The Mac Pro has been the lone Intel holdout in Apple's lineup for a few years now, and some began to question if there'd ever be a new Mac Pro, especially in the advent of the powerful Mac Studio desktop computer. However, Apple remained steadfast that the Mac Pro wasn't dead, and would join the Apple silicon family in due time.
That time is now, four years after the "current" Mac Pro was released.
Apple's flagship workstation desktop, the Mac Pro was first announced in 2006, although its lineage goes back much further to the PowerMac days. The first-gen Mac Pro sported the same general design as the prior PowerMac G5 — basically a large silver tower computer.
In 2013, Apple made a much-maligned choice to create a cylindrical Mac Pro, known as the trashcan Mac Pro — not just for its shape. The cylindrical Mac Pro, a generation that lasted six years, was mired by a lack of expandability and relatively unimpressive performance.
In 2019, the third-gen Mac Pro, known as the cheese grater Mac Pro, returned to a very expandable, generally "normal" shape design. However, as Apple has released newer and faster silicon chips, the Mac Pro has seemed relatively less powerful in comparison. It's still a versatile choice for professional users, but for nearly everyone, Apple's M1 and M2-series chips have made for more compelling workstation computers.
Enter the fourth-gen Mac Pro, the first Apple-silicon-powered Mac Pro family…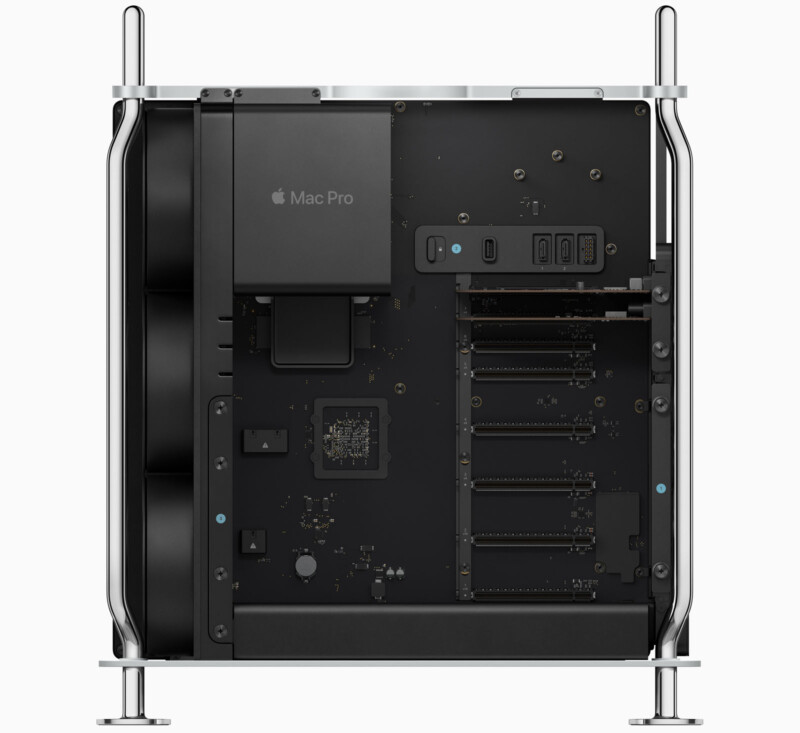 'Ultra' Powerful
Powered by M2 Ultra, the new Mac Pro is up to three times faster than the previous-generation Intel-based Mac Pro.
"The new Mac Studio and Mac Pro with Apple silicon are the two most powerful Macs we've ever made," says John Ternus, Apple's senior vice president of Hardware Engineering. "Mac Studio has been a breakthrough for pros everywhere, and it's at the heart of hundreds of thousands of home and pro studios across the world. Today, it gets even better with M2 Max and the new M2 Ultra, featuring even more performance and enhanced connectivity. And for those users who need the versatility of internal expansion, Mac Pro combines PCIe slots with our most powerful chip. The new Mac Studio and Mac Pro join our other pro systems to give our users the most powerful and capable lineup of pro products that Apple has ever offered."
Mac Pro with M2 Ultra includes a powerful 24-core CPU and up to 76-core GPU, and starts with twice the memory and SSD storage than the previous Intel Mac Pro.
The Mac Pro can be configured with up to 192GB of memory and 800GB/s of unified memory bandwidth. "This is far more memory than the most advanced workstation graphics card," says Apple.
The new Mac Pro has the power of seven Afterburner cards built in, and can play 22 streams of 8K ProRes video simultaneously.
Apple Silicon Mac Pro versus Intel Mac Pro
Compared to the Intel-based Mac Pro, the new Apple silicon-powered Mac Pro transcodes video and renders 3D simulations up to three times faster.
For video editors, the new Mac Pro can ingest 24 4K camera feeds and encode them to ProRes in real-time using just a single machine, at least when using six video I/O cards.
That's right, "six video I/O cards." Despite longstanding concerns about the inability for Apple Silicon to enable expandability, Apple has engineered its new Mac Pro with PCIe expansion.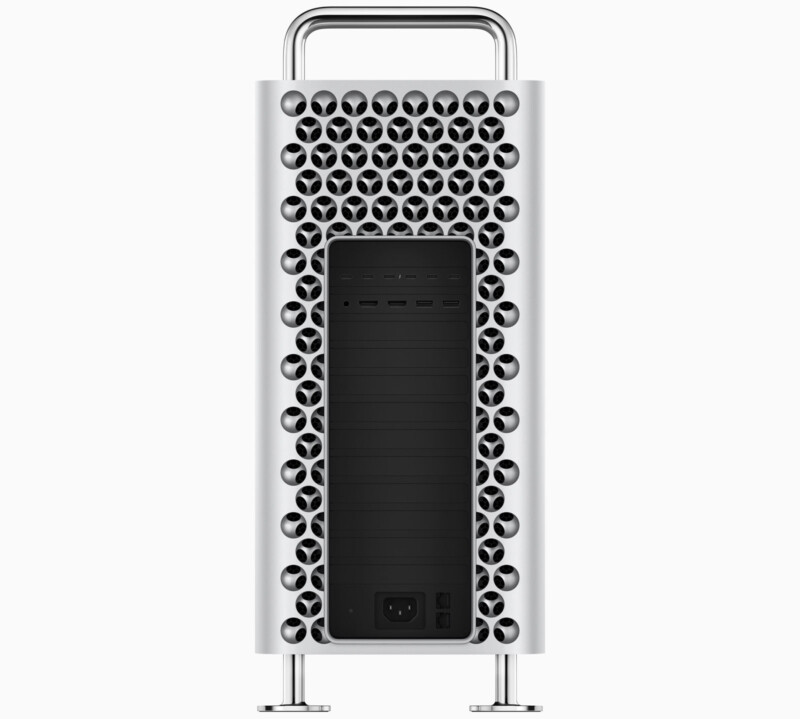 This helps separate the Mac Pro from the similarly-powerful M2 Ultra-powered Mac Studio. For users who demand the most performance, Mac Pro has seven PCIe expansion slots, including six open slots that support gen 4, which is twice as fast as before.
Mac Pro lets users expand the computer to fit their needs, which is critically important for high-end professionals.
The new Mac Pro also includes improved connectivity thanks to eight built-in Thunderbolt 4 ports, six on the back and two on the top, which is twice as many as before.
Mac Pro supports up to six Pro Display XDRs and includes Wi-Fi 6E and Bluetooth 5.3. Mac Pro also includes three USB-A ports, two higher-bandwidth HDMI 2.1 ports, a pair of 10Gb Ethernet ports, and a headphone jack that allows for the use of high-impedance headphones.
Pricing and Availability
Mac Pro doesn't start cheap. The powerhouse desktop starts at $6,999 in its tower form and $7,499 in a rack mount enclosure.
Mac Pro is available to order now, with shipping set to begin next week.
Developing…
---
Image credits: Apple