Blackmagic Studio Camera 6K Pro Features EF Mount and Live Streaming
Blackmagic Design has unveiled a powerful new video camera, the Blackmagic Studio Camera 6K Pro. The new model features an EF lens mount, a larger 6K image sensor, built-in neutral density (ND) filters, and live streaming functionality via Ethernet or mobile data.
The Blackmagic Studio Camera 6K Pro features the same compact, all-in-one design of prior models in the "studio camera" family, including a lightweight carbon fiber reinforced polycarbonate body, large integrated seven-inch high dynamic range (HDR) Full HD viewfinder (2,000 nits max brightness), and an array of broadcast connections, including SDI, HDMI 2.0, XLR audio ports, and 3.5mm jacks for headphones and microphones. The camera also sports a 10Gb/s Ethernet port and a pair of USB Type-C 3.1 Gen 1 (up to 5Gb/s) ports.
The Blackmagic Studio Cameras promise the same features and performance as large studio cameras in a much smaller, more portable design. The Studio Camera 6K Pro weighs about 4.3 pounds (1.9 kilograms). Its dimensions (width by height by depth) are 10.77 by 7.83 by 4.48 inches (273.6 by 198.9 by 113.8 millimeters).
The camera's higher resolution 6K sensor captures 6144 x 3456 video from 23.98 to 50 frames per second (fps). 6K (6144 x 2560) recording is available up to 60 fps. Lower resolutions, such as 5376 x 3024 (5.3K 16:9) and 3840 x 2160 (Ultra HD) are also recordable at up to 60 fps. Off-speed frame rates from 5 to 60 fps are available for all recording resolutions, save for the largest 6K recording area, which is capped at 50 fps. The image sensor is a Super 35 format, measuring 23.10 x 12.99. millimeters.
Combined with Blackmagic's fifth-generation color science, the camera promises fantastic color performance, matching more expensive, larger digital cameras. The sensor has 13 stops of dynamic range, delivering darker blacks and brighter whites, allowing for expanded flexibility during post-processing and color correction. To ensure strong low-light performance, the camera offers gain from -12 decibels dB at ISO 100 to 36dB at ISO 25,600.
The camera is designed for live production but isn't limited to use with a live switcher. The camera records Blackmagic RAW to attached USB storage devices, so it can be used in any situation when shot on a tripod.
"The large 7″ viewfinder makes it perfect for work such as chat shows, television production, broadcast news, sports, education, conference presentations, and even weddings. The large bright display with side handles, touch screen, and physical controls makes it easy to track shots while being comfortable to use for long periods of time," the company says.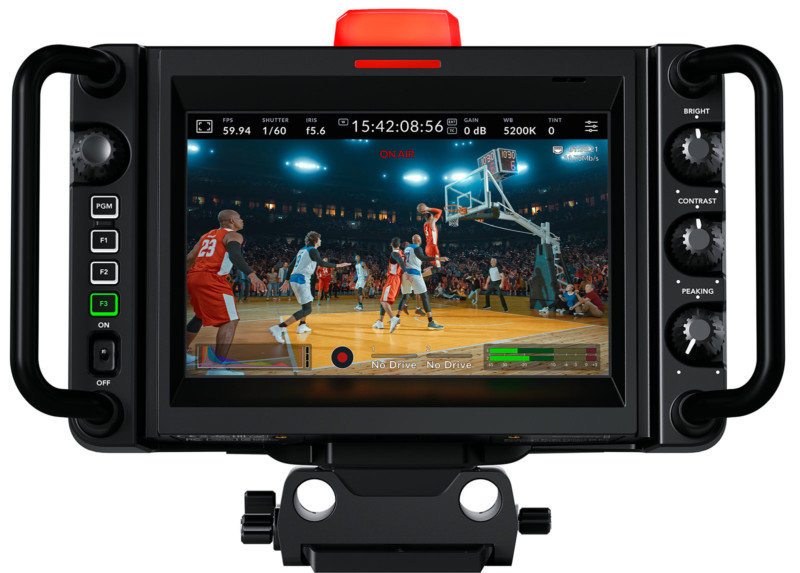 Built for broadcast applications, the Studio Camera 6K Pro includes 12G-SDI, 10GBASE-T Ethernet, talkback, and XLR audio inputs to connect with a wide range of consumer and professional video equipment. The 10G Ethernet port allows for video, tally, talkback, and camera power via a single connection. With the built-in live streaming functionality, the new camera can be placed and controlled remotely. Customers can connect directly via wired internet or use an attached smartphone with 4G or 5G via USB-C.
The camera's built-in ND filters can also be controlled remotely. The filters, designed to match the colorimetry and color science of the camera, are available in two, four, and six stops. These allow for additional latitude when recording in harsh, bright lighting conditions.
Additional features include professional mini XLR inputs with 48-volt phantom power and optional focus and zoom demands for lens control.
"The Blackmagic Studio Camera 6K Pro features an incredible 6K sensor that has amazing low light performance, plus it has an EF lens mount so it supports a massive number of lenses that customers already own," says Grant Petty, Blackmagic Design CEO.
"It has all the high-end features of the 4K models, but adds remote controllable ND filters and built-in live streaming. I think this will be amazing as customers will be able to place cameras almost anywhere in the world! We think our live production customers will love it!"
The Blackmagic Studio Camera 6K Pro is available now for $2,495.
Blackmagic Design has also released an updated version of its 4K studio camera, the Blackmagic Studio Camera 4K Pro G2 which includes support for built-in livestreaming. Pricing is not yet available, although the standard model currently available costs $1,865.