Blackmagic's First Full-Frame Cinema Camera Has 6K Sensor and L-Mount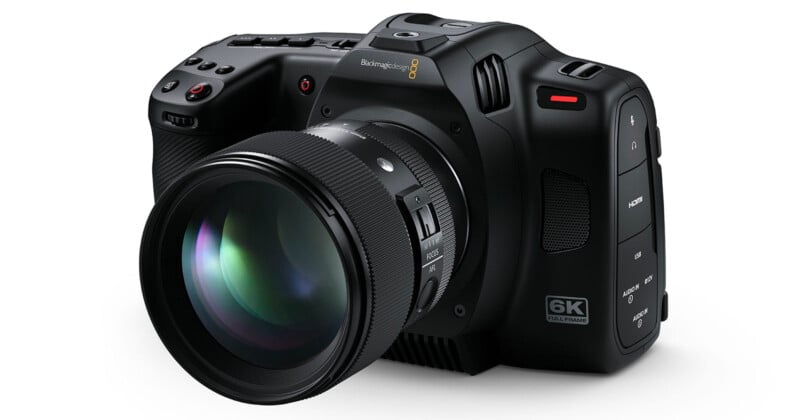 Blackmagic Design announced many new products in a live stream today ahead of the 2023 IBC Show in Amsterdam. The most exciting reveal is the new Blackmagic Cinema Camera 6K with L-Mount, the company's first full-frame cinema camera.
Blackmagic Cinema Camera 6K
"Introducing a new generation in cinematography," explains Blackmagic Design, signaling that its new Cinema Camera 6K is not just a mere upgrade but a dramatic new direction for the revered video production company.
While it may look a lot like other models in Blackmagic's Pocket Cinema Camera lineup, the Cinema Camera 6K sports a redesigned interior, enabling the use of a full-frame sensor and L-Mount, both firsts for Blackmagic Design.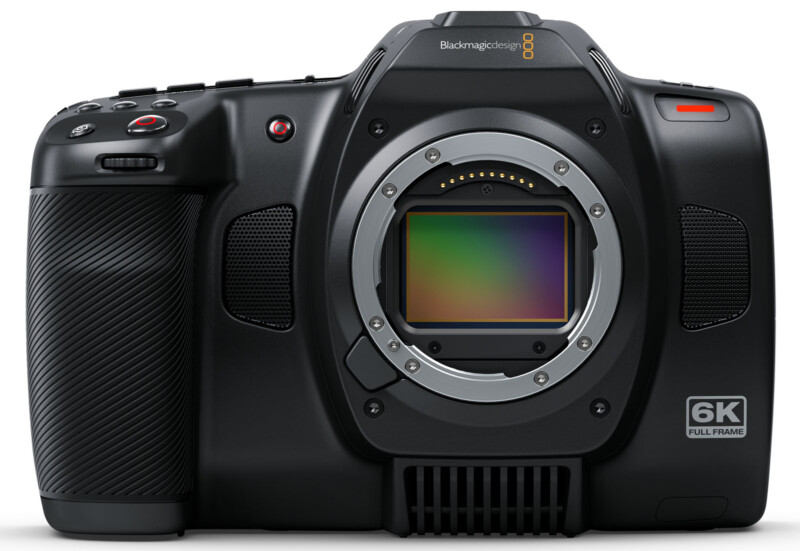 The Cinema Camera 6K is a swift, high-resolution cinema camera with a full-frame 6K image sensor and an L-Mount. The large 36 x 24mm image sensor has a native resolution of 6,048 x 4,032 pixels, nearly three times larger than a Super 35 image sensor. Blackmagic Design explains that this larger sensor allows users to capture videos with a shallower depth of field, offering a more cinematic look. The sensor promises 13 stops of dynamic range and includes dual native ISO up to 25,600.
"The new Blackmagic Cinema Camera 6K is an extremely high-end digital film camera that produces precise skin tones and rich organic colors. The camera features a massive full-frame 24 x 36mm 6K sensor with wide dynamic range, a very flexible L-Mount for lenses, and a built-in optical low pass filter that's custom-designed to match the sensor," says Blackmagic Design in a press release.
When shooting full-frame 3:2 6K video, the camera tops out at 36 frames per second, which can be slowed down slightly within a 24fps workflow. The camera can also shoot 120p with a windowed option.
While video is often presented in 21:9 or 16:9 aspect ratios, the Cinema Camera 6K can use the entire 3:2 image sensor with open gate 3:2 video. Blackmagic says this will allow users more flexibility when working in different aspect ratios and formats. The camera can also work in true 6:5 anamorphic without cropping.
The move to L-Mount is a fascinating one. It enables users to attach native full-frame L-Mount lenses from companies such as Leica, Panasonic, and Sigma. It also allows for the use of many other lenses with adapters, including lenses designed for smaller sensors with a crop factor enabled.
"The L-Mount also opens up some amazing creative options like using the latest Leica lenses or using vintage lenses customers already own in an entirely new way. This is a true high-end cinema camera designed for high-end work and we think it gives our customers a whole new way to tell their stories!" says Blackmagic Design CEO Grant Petty.
The Cinema Camera 6K shoots in many different formats and at various speeds.
"Blackmagic Cinema Camera 6K can shoot in all standard resolutions and frame rates from HD up to DCI 4K and even 6K. You can even shoot stills at 24.6 megapixels! Blackmagic Cinema Camera 6K will shoot up to 36 fps at 6048 x 4032 3:2 open gate or 60 fps at 6048 x 2520 2.4:1 and 60 fps at 4096 x 2160 4K DCI. For higher frame rates you can window the sensor and shoot up to 100 fps at 2112 x 1184 Super 16. You can even work in true anamorphic 6:5 at much higher resolutions than other cameras using anamorphic lenses in 4.8K 24 fps at 4838 x 4032. You can even shoot 120 fps in 1080HD! With Blackmagic Cinema Camera 6K, you'll always be able to shoot the right resolution for the job," exclaims Blackmagic Design.
The Cinema Camera 6K is constructed using a lightweight carbon fiber polycarbonate composite. It is designed for handheld use by a single operator or as part of a small film crew. The camera has a large, bright 5-inch LCD, four built-in microphones, and a speaker. The camera's overall design is reminiscent of a typical interchangeable lens camera with a large front grip, buttons, and dials.
The Blackmagic Cinema Camera 6K includes a built-in CFexpress card recorder and a USB-C port for direct recording to external media. The camera can internally record 12-bit Blackmagic RAW files. The camera includes independent microphone and headphone ports, a full-size HDMI connector, a USB-C expansion port, a 12V DC power input, and an XLR audio connector.
As for the look and feel of its video, Blackmagic has put the same fifth-generation color science into the Cinema Camera 6K as the company includes in its URSA Mini Pro 12K camera. The camera can also shoot 24.6-megapixel still frames in Blackmagic RAW with the simple press of a dedicated stills button.
"With the new Blackmagic Cinema Camera 6K, we wanted to create the most portable camera possible for high-end, large-format cinematography," says Petty. "That's why we took the Pocket Cinema Camera but completely re-engineered the electronics inside around a full-frame sensor and L-Mount."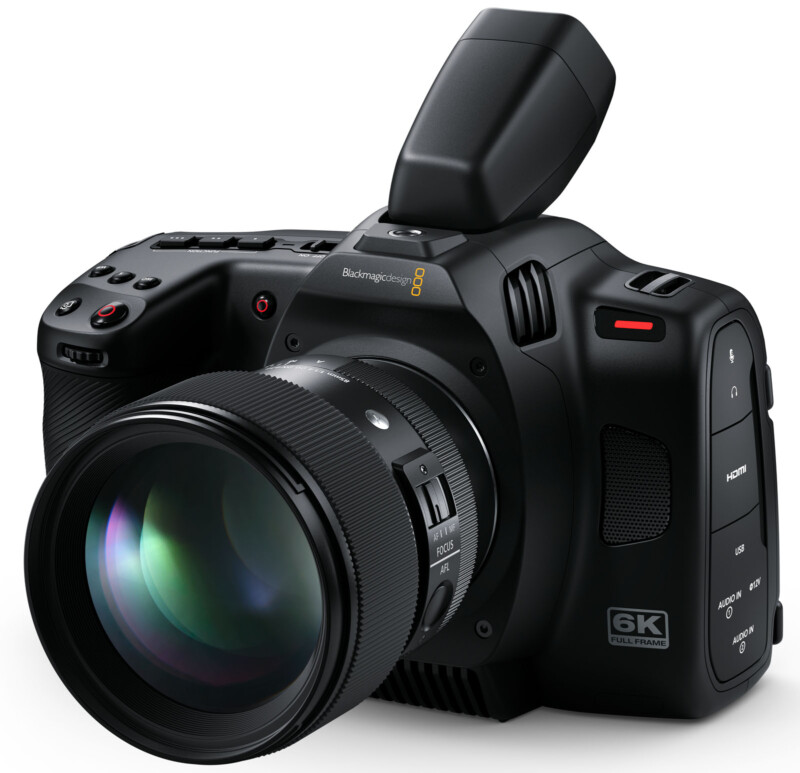 The Blackmagic Cinema Camera 6K is available to order now for $2,595, making it the most affordable full-frame video-oriented camera on the market.
Blackmagic Studio Camera 4K Plus G2
The Blackmagic Studio Camera 4K Plus G2 builds upon the existing Studio Camera 4K by adding 12G SDI out and 12G SDI in. The camera is designed for live production and operation within a studio environment.
The camera is available in EF or Micro Four Thirds lens mounts and can be ordered now for $1,345.
Blackmagic Micro Studio Camera 4K G2
This second studio-oriented camera is a shrunken version of the Blackmagic Studio Camera 4K Plus G2. It includes the same Micro Four Thirds lens mount and includes 12G-SDI, which enables 4K/60p video.
Like the Studio Camera 4K Plus G2, the Micro Studio Camera 4K G2 can capture Blackmagic RAW video to an external SSD recorder over USB-C.
The Blackmagic Micro Studio Camera 4K G2 is the world's smallest Ultra HD broadcast camera and is available for just $995.
Blackmagic Camera App
Alongside the groundbreaking Cinema Camera 6K and new Studio Camera products, Blackmagic Design also introduced the Blackmagic Camera app for iPhone.
The app directly adds Blackmagic's cinema camera controls to an iPhone, offering an experience that Blackmagic Design promises is "just like using a professional digital film camera."
Users can record video on their iPhone devices with controls over frame rate, shutter angle, white balance, and ISO, using simple taps and other intuitive gestures. Users can also record directly to Blackmagic Cloud from the app in 10-bit Apple ProRes 4K.
"Blackmagic Camera is a truly revolutionary workflow for creating feature film quality content using an iPhone," Petty says. "Blackmagic Camera adds professional camera features like frame rate, shutter angle, time of day timecode, ISO and white balance to the iPhone so our customers have similar controls as our professional cameras. Plus, the Blackmagic Cloud workflow lets customers record to Blackmagic Cloud Storage and automatically sync with DaVinci Resolve. Now they can get their footage to the newsroom or post-production studio in minutes! I think it will be really exciting to find out how Blackmagic Camera will change traditional news and post-production workflows."
The Blackmagic Camera app is available now for free.
---
Image credits: Blackmagic Design