Panasonic's S5 II and S5 IIX Finally Bring Phase Detection AF to Lumix
The wait is finally, mercifully over. After years of sub-par contrast-based "depth from defocus" autofocus performance in its cameras, Panasonic has finally brought phase detection to its mirrorless cameras in the full-frame S5 II and S5 IIX.
The two cameras are marginally different from one another, separated mainly by high-end video specifications, but both include the first Panasonic Lumix mirrorless camera sensors to utilize phase detection autofocus (PDAF) thanks to what the company describes as a newly developed 24.2-megapixel 35mm full-frame CMOS sensor powered by a new imaging engine.
New Imaging System and Hugely Improved Autofocus
That new imaging engine is the first to be developed under the L2 Technology alliance Panasonic and Leica entered into last year and promises to provide high resolution, natural description, and approximately 2x higher-speed signal procession for high bit-rate video recording.
Additionally, Panasonic says that the PDAF capabilities are made even more dependable thanks to an "evolved" autofocus system it calls Phase Hybrid Autofocus that increases the AF points on the sensor to 779 which it says "significantly" improves tracking performance.
"Once the S5 II and S5 IIX are locked on a subject, the autofocus will continue to track the subject, even in adverse lighting conditions and when multiple objects are moving within the frame," Panasonic claims. "Additionally, continuous AF during zooming, AF micro adjustments, and options to decrease the size of the AF area are available."
ISO Performance, Burst Capture, Stabilization, and More
In addition to the autofocus features, the two cameras feature dual native ISO, which Panasonic says minimizes noise generation by choosing an optimal circuit to use according to the sensitivity before gain processing. As a result, both cameras have a maximum ISO of 51,200 (Extended: 204,800).
The new sensor and processor combination is also capable of higher speed burst shooting, with up to nine frames per second (FPS) in AFS, seven FPS in AFC with a mechanical shutter, and up to 30 FPS in either AFS or AFC with the electronic shutter in JPEG/RAW.
Panasonic says the new cameras have a "powerful" image stabilization system that combines sensor stabilization with optical image stabilization (OIS) in Lumix S Series lenses: Five-axis sensor stabilization and 2-axis OIS creates a maximum of 6.5-stops of stabilization.
"The 5-axis Dual I.S. 2 works for both photo and video recording, including 4K. In addition, Active I.S. has been added for even more stable video recording," Panasonic says. "Active I.S. optimizes the horizontal, vertical, and rotational correction ratios by determining the status of camera shake. As a result, the performance of the image stabilizer can account for a larger amount of camera shake at approximately 200% compared to conventional image stabilization. This capability is highly beneficial in adverse situations, such as handheld filming or telephoto fixed-frame shots."
Hardware Specifications
Panasonic outfitted both cameras with a large 3,680K-dot OLED live viewfinder that features a magnification ratio of about 1.52x / 0.76x (35mm camera equivalent). The rear LCD is a three-inch, "free-angle" touch display with 1,840K dots of resolution in a 3:2 aspect ratio that has been designed not to interfere with either the HDMI or USB cable when they are connected to the camera.
On that note, the camera uses an HDMI Type A port and includes a cable lock holder for both the HDMI and USB cable to help prevent them from unplugging during a shoot.
The Lumix S5 II and S5 IIX support USB 3.2 Gen 2 for high-speed writing and readout and are both equipped with double card slots (UHS-II x 2). Users can choose the recording method from Relay Recording, Backup Recording, and Allocation Recording. The cameras also have a 3.5mm stereo mic and headphone jack.
Panasonic says it has made numerous improvements to the body design, including adding a new eight-direction joystick and outfitting the drive dial with an increased setting position for the 96-megapixel high-resolution mode (which can capture in both JPEG and RAW).
The cameras support WiFi 5Ghz and 2.4 GHz along with Bluetooth 5.0. The settings of Lumix S5 I and S5 IIX camera can be copied and transmitted wirelessly to other S5 II and S5 IIX cameras when using multiple cameras as well.
To withstand heavy field use, the LUMIX S5II and S5IIX are composed of a magnesium alloy full die-cast front / rear frame and are splash-resistant and dust-resistant. Both cameras use a 2,200mAh high-capacity battery that can be recharged either via AC or USB. It also complies with USB PD (Power Delivery) when the corresponding Battery Charger DMW-BTC15 (sold separately) is used. The DMW-BGS5 battery grip that was originally made for the first generation S5 works with both new cameras, too.
Video Capture Performance
As highlighted below, while the S5 IIX has additional data writing capabilities when compared to the S5 II, both are able to record video at a high level. The two cameras provide 4:2:0 10-bit 6K (3:2) and 5.9K (16:9) unlimited 4:2:2 10-bit C4K/4K recording capability.
Thanks to a new heat-dispersion system that uses a small fan and a high-efficiency heat sink, Panasonic is able to allow no limit on recording time that would come as a result of overheating. In case the camera stops while 4K video recording, Panasonic says the small fan operates separately to cool down the unit for quick recovery.
The cameras also have a High Frame Rate (HFR) mode for C4K/4K (48p), FHD (120p), and "Slow & Quick" motion in C4K/4K (1 to 60fps) / FHD(1 to 180fps).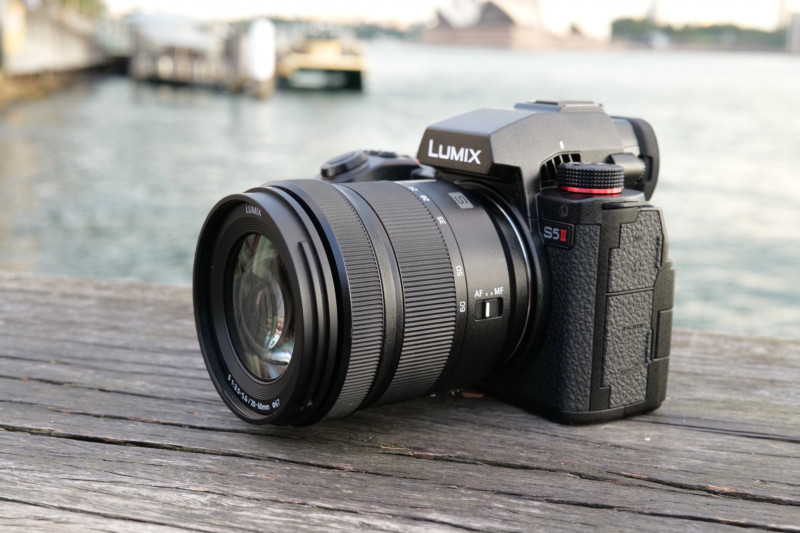 Panasonic says that both cameras have access to 14+ stop V-Log/V-Gamut to allow for the capture of high dynamic range and broad colors. Plus, a REAL TIME LUT function is provided to enable color grading on the compatible video and photo in camera by applying the LUT (.VLT/.cube) saved in the SD memory card. Users can perform intended color grading on the spot without postproduction and share images online through social networking sites, and this function can also be used for livestreaming.
"Alongside the recording capability, new heat dispersion mechanism and 14+ stop V Log/V Gamut capture, the Lumix S5 II and Lumix S5 IIX feature unique shooting options such as the 4K60p interval shooting and 4K HDR video recording," Panasonic says.
"In response to requests from professional users, video assist functions such as Waveform Monitor, Vector Scope and Zebra Pattern are available. Some features offered on the LUMIX S1H and LUMX GH6, like System Frequency (24.00Hz), Synchro Scan, Fan mode, and redesigned control panel, which enables quick selection of menu, are also available on the LUMIX S5II and S5IIX."
The Difference between the S5 II and S5 IIX
Panasonic decided to release two versions of this camera because some of the features that would have made the S5 II more expensive aren't necessarily needed by many users. Those features are included in the S5 IIX for those that want them for a slight premium.
The LUMIX S5 IIX is capable of RAW video output and All-Intra, ProRes recording onto an attached USB-C SSD. It also features wired and wireless IP streaming function and USB tethering. The S5 IIX also features a pure black and white design, while the S5 II retains the look of its predecessor.
Because it does not have these features, the Lumix S5 II is able to squeak in at the sub-$2,000 price at $1,999.99 while the S5 IIX is priced at $2,199.99. The S5 II will be available in January 2023 while the S5 IIX will ship starting in May 2023.
Of note and in line with previous camera releases, Panasonic says that both cameras will receive a future firmware update to enhance the performance of the camera: RAW data output using Software Upgrade Key, Live View Composite, "and more."
---
Updated 1/4 with videos from Panasonic that demonstrate numerous features.
---
Image credits: Panasonic