Fujifilm Expands its GFX System Lens Support with the GF20-35mm f/4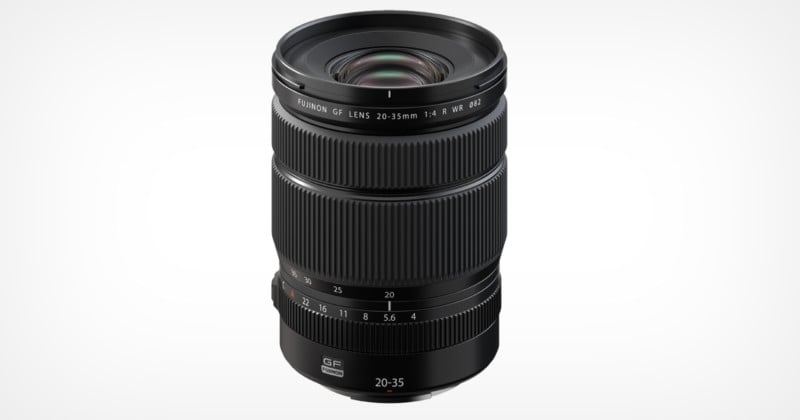 Fujifilm has announced a new lens for the GFX medium format camera system, the Fujinon GF20-35mm f/4 R WR lens, which is billed as a compact and lightweight ultra-wide lens option.
The new lens has an equivalent 35mm focal range of 16mm to 28mm. Fujifilm says that in addition to this ultra-wide-angle coverage, it is capable of capturing extreme details in information-dense subject matters such as landscapes or cityscapes.
The lens has been made with ease of use in mind, and as a result, it is relatively compact and lightweight despite being designed for use with Fujifilm's medium format camera systems.
The Fujinon GF20-35mm f/4 R WR lens is constructed of 14 elements in 10 groups, including three aspherical elements, one extra-low dispersion (ED) aspherical element, and three standard ED lenses that Fujifilm says allow it to effectively control distortion and chromatic aberration. The lens is capable of rendering high-resolution images up to 100 megapixels and the company says the optical quality is further ensured through its Nano GI coating, which is designed to cut down on reflected light and therefore minimize ghosting and flare while boosting sharpness, color, and detail.
Further, Fujifilm says the use of four total aspherical elements in each of the lens groups optimizes the overall number of elements and efficiently corrects for aberrations to allow the lens to perform at a high level as well as keeping it compact.
Fujifilm also used a magnesium alloy for the components around the lens mount to allow it to be both robust and lightweight.
The company says that the Fujinon GF20-35mm f/4 R WR lens is designed like all of the other G Mount lenses in that it features a weather-resistant design with 12 sealed points that protect it from dust and moisture (although it is not dust and moisture proof). The lens can operate at temperatures as low as 14-degrees Fahrenheit (-10 degrees Celcius) and the front of the lens has been treated with a fluorine coating so that it can easily repel water, fingerprints, and other smudges.
The Fujinon GF20-35mm f/4 R WR lens is expected to be available in October for $2,500.