Sigma 16-28mm DG DN Lens Review: Great Optics for a Modest Price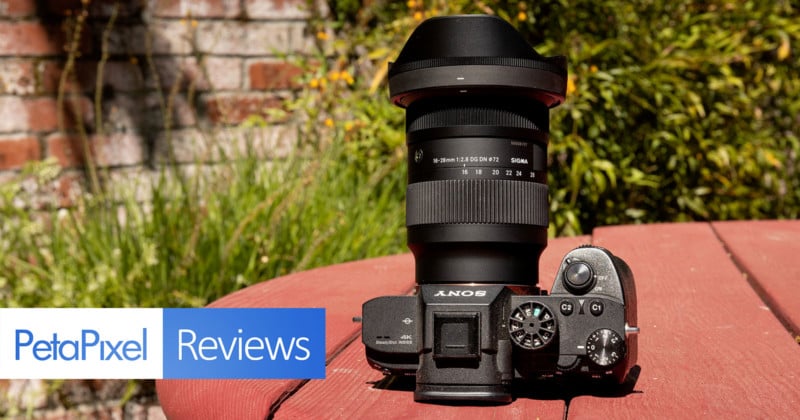 This Sigma 16-28mm DG DN Contemporary is the latest addition to the pile of really darn good lenses that don't cost thousands of dollars.
Build Quality
The Sigma 16-28mm DG DN Contemporary lens has an outer constructed made from Thermally Stable Composite, a polycarbonate material found on most of the company's products. This allows for a relatively lightweight build at 15.9 ounces (450 grams) while nearly matching the thermal properties of the metal parts inside.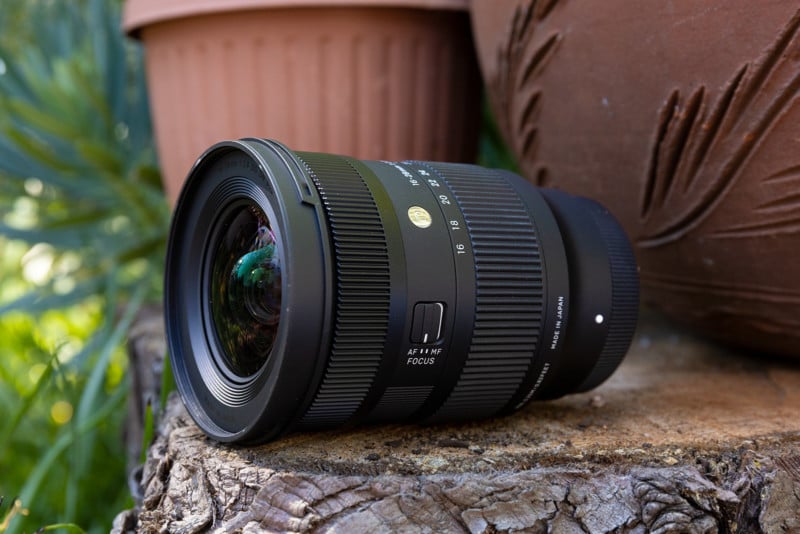 Measuring 3.03-inches in diameter by 4.03-inches in length (77.2 by 102.6 millimeters), it is a fairly compact design given its class of being a full-frame wide-angle f/2.8 lens. This size is constant because the lens has internal focusing and internal zoom. The lens is fully made in Japan.
Overall, my impressions of it in the hands are positive. Both the zoom ring and the focus ring have an appropriate amount of tension to them so that they are easy to manipulate without being too loose to nudge out of place. I also noticed the focus ring has very smooth starts and stops which would be suitable for video recording in manual focus.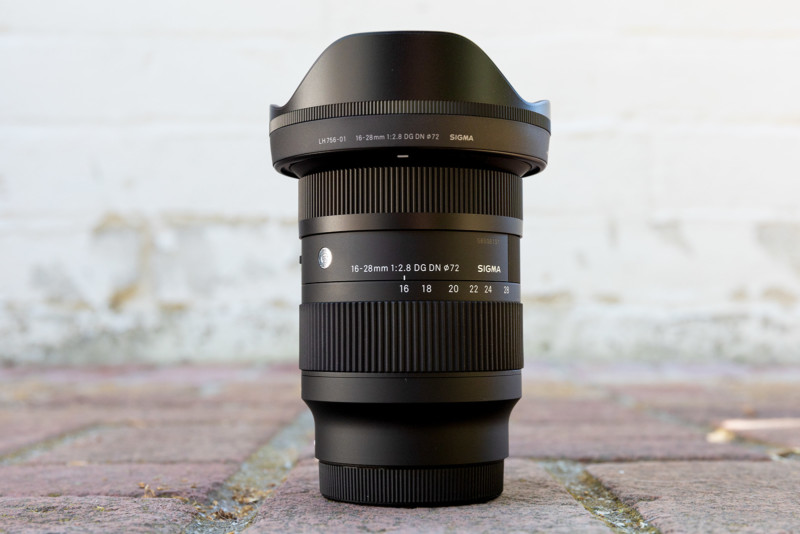 There's only one switch on the side which is there to control the focus mode. There is no aperture ring, no aperture de-click switch, no way to change the tightness of the zoom ring, and there are no programmable buttons. The front of the lens has 72mm threads to attach filters which is larger than the Sigma 28-70mm's 67mm threading, so it's not a matching set.
Sigma has provided some level of dust and splash resistance as there's a thin rubber gasket placed at the lens mount side.
Image Quality
Inside, the lens uses 16 elements in 11 groups, including 5 FLD ultra-low-dispersion elements and 4 aspherical elements. Sigma has also employed Super Multi-Layer Coating, which is for increasing contrast in backlit situations.
While out shooting, it was evident that this lens can handle having the sun or other bright light sources in the shot exceptionally well. As promised, it retains good contrast, and there's only minimal lens flaring that doesn't spoil the images. It has proven to be a good lens for sunstar effects as well. There have been no signs of color fringing during my time with it.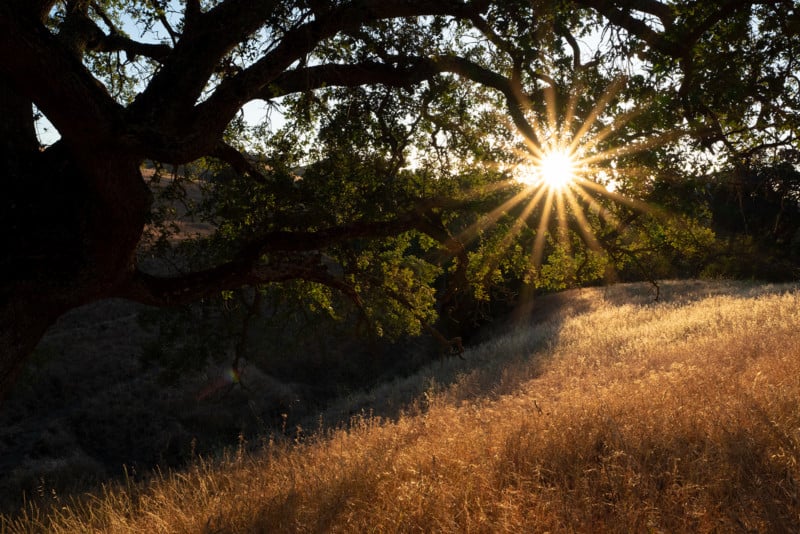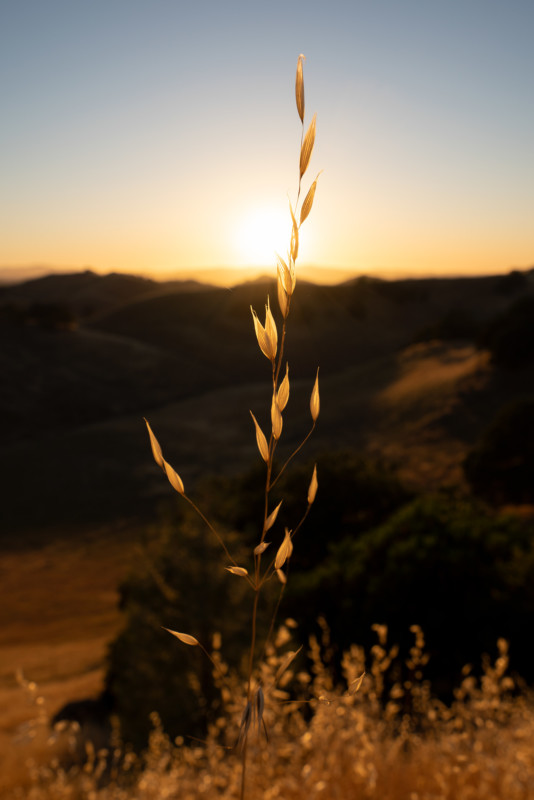 Testing out the sharpness at the center of the frame, at 16mm wide open at f/2.8, things start strong. Stopping down to f/4 is where it looked its best. Then, once you reach f/11, the photo clearly begins to soften from diffraction. At the corners of 16mm, it was still f/4 that looked the sharpest.
On the 28mm end, looking at center sharpness, wide open is OK but starts worse than it did at 16mm. Stopping down to f/4.5 is where it looked its best. From here, 28mm holds sharpness for a long time, and it's not until f/16 that the frame is clearly starting to soften. At the corners, f/8 looked the sharpest.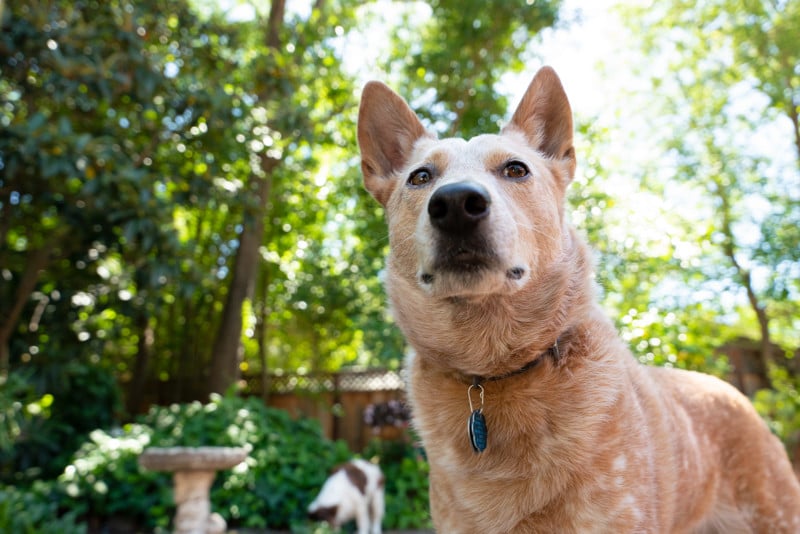 The lens uses a nine-bladed rounded aperture for smoother bokeh and the defocused image quality is good but it didn't knock my socks off. There is a tiny level of busyness to the bokeh balls and edging on out-of-focus areas that usually comes with being a wide-angle lens. Still, it's not anywhere near bad enough to overpower images.
Well-Rounded, Wide-Angle Goodness
As someone who reviews a fair share of lenses, there are times when glass slips easily into my bag and becomes like family almost immediately. The Sigma 16-28mm DG DN Contemporary is one of those lenses. There aren't any frills about the lens, but at the same time, whenever I wanted to use a wide-angle for a shot, I knew the Sigma could be depended on to capture what was in my mind's eye.
As a tool for photography, it excels in its image quality, giving me the sharpness and details I need and correcting itself from any potential issues straight out of the camera.
Are There Alternatives?
Priced at $900, the Sigma 16-28mm DG DN makes a strong case for itself as the new go-to for this focal range for L-mount cameras. On the Sony E-mount side of things, there is intense competition coming from the $900 Tamron 17-28mm f/2.8 Di III RXD. That lens is slightly smaller, slightly lighter, and has a shorter minimum focus distance of 7.48 inches versus Sigma's 9.8 inches. By all accounts, the Tamron 17-28mm is a good lens and would be worth consideration.
Should You Buy It?
Yes. The Sigma 16-28mm DG DN Contemporary handles the stresses of any lighting condition, is sharp, has excellent handling, isn't too big, and doesn't cost thousands of dollars. Anyone searching for a wide-angle zoom should be satisfied with what Sigma has produced with this lens.