Profoto Launches Magnetic Octa Softbox for A and C-Series Strobes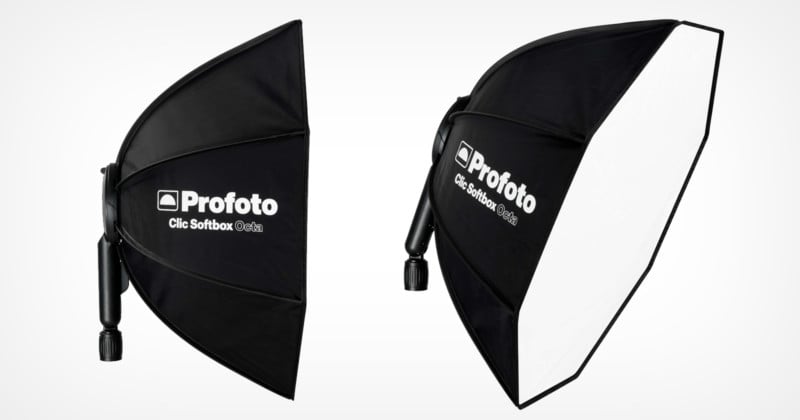 Profoto has announced the new Clic Softbox Octa, a collapsible and magnetic octagonal softbox that is compatible with the company's A and C-series strobes as well as with any other Clic light-shaping tools.
Designed for a Photographer On-The-Go
Profoto says that the Clic Softbox Octa was created specifically for photographers on the go, "because that is when equipment needs to be portable, lightweight, easy to assemble and use." The new softbox has a quick fold and unfold design and uses a magnetic attachment to the flash head to make setup and teardown quick and easy.
The company says that the speed a photographer gains thanks to the ease with which it sets up and tears down is further exemplified with the softbox's portability, which Profoto says makes it easy to tote around on shoot day. The company argues that this design is especially important for those "run-and-gun" situations such as those found on wedding day shoots.
Additionally, the softbox is built with an integrated handle and stand adapter that lets photographers easily adjust the angle of illumination. And, with its soft, flattering light, photographers can rest assured their clients and followers will rave about the photo results.
The Clic Softbox Octa comes with a diffuser and integrated handle and stand adapter. Additionally, because of its compatibility with other Clic light shaping tools, Profoto says that it and the full range of accessories can be used in a variety of combinations.
The softbox itself is touted as continuing the legacy of Profoto's high-end lighting equipment and combines that history with what it says is a new and innovative lighting solution. The shape of the softbox creates what Profoto describes as soft and flattering light. The interior of the box is silver, which will create a slightly more specular look than a plain white interior, and the box itself is of moderate size with its 21-inch diameter.
Profoto says the new softbox is compatible with both continuous and strobe lights and is covered by the company's limited two-year warranty.
The Profoto Clic Softbox Octa In-Use
Pricing and Availability
The Profoto Clic Octa Softbox is available immediately for $300.