The Profoto A2 is a Soda Can-Sized Off-Camera Strobe
Profoto has announced the A2 monolight off-camera flash that is about the size of a 12-ounce can of soda. The small and portable strobe is billed as ideal for supporting location shoots like weddings, awards ceremonies, or other events.
The A2 joins the A-series of Profoto lights and the flash head's diameter is in line with the speedlight-like A10 and significantly smaller than the larger B-series strobes.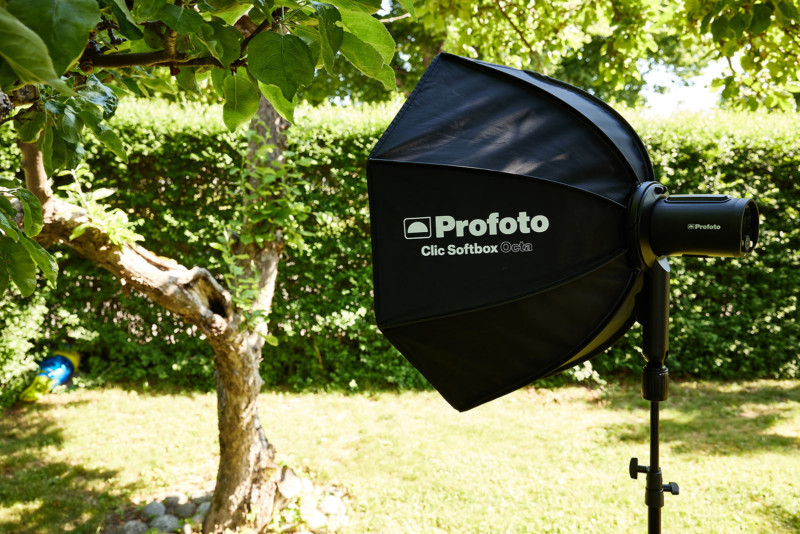 The new strobe is just under five inches long by 3.1 inches wide and weighs 1.7 pounds (773g) with the battery and stand adaptor included. The stand adapter can also be removed to cut down on weight.
As such, it doesn't bring the power of the larger strobes. The A2 has a maximum output of 100 watt-seconds, making it more powerful than the A10's 76 watt-seconds but less than half the power of the B-series lights. While it doesn't bring as much output, because it has less power drain, the A2 can bounce back faster (it has a recycle time of between 0.1 and 1.6 seconds) and can last longer. The strobe boasts a 1/350 second flash duration at full power and 1/26,000 at its lowest power (t0.1).
The A2 syncs with a host of Profoto's wireless triggers including the Connect Pro that was announced on June 21, and has a ten-step adjustment range for dialing the power output from 10% to 100%. Profoto says the strobe has a color temperature of 5,800K, plus or minus 100K which comes close to daylight balance.
The battery is the standard ProFoto A series Mk. II power cell, which has a flash battery life of up to 400 flashes at full power with a two-hour recharge time. It can also use the original A battery but offers fewer flash cycles.
The front of the strobe has a frosted round flash head with a built-in reflector and lens, which serves to diffuse the light, and it has a strong magnetic connection through the Profoto OCF Adapter II for putting on light modifiers such as the Profoto Softbox Octa. The OCF Adapter III is designed to be used with Profoto's Clic range of accessories that have a 75mm diameter. The light can also support the use of an umbrella attachment with the built-in umbrella connection.
On the back, the strobe features a simple LCD screen that shows current power as well as indicates remaining battery life and shows the light's current operating temperature. The A2 can also connect to the Profoto App for remote control and for updating the firmware through its AirX wireless connection.
The Profoto A2 is available immediately for $995.