Stop Hoping for an Instagram Replacement – Diversify Instead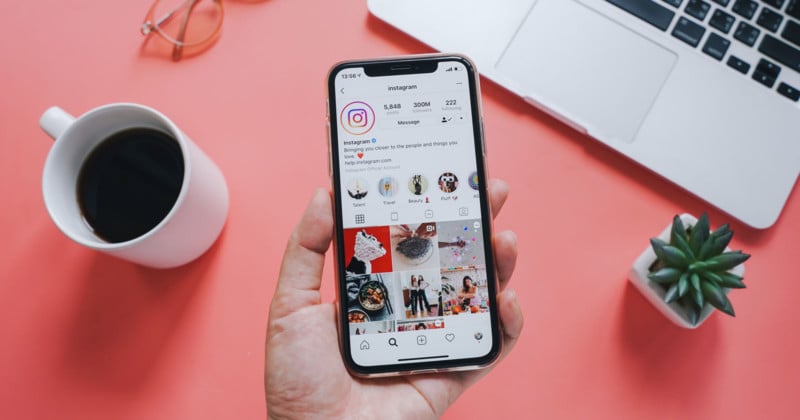 Instagram is well on its way to no longer being a photo-sharing app, and those who rely on it for their business are left questioning the future. If and when the day comes when Instagram is no longer viable, where can photographers turn?
The head of Instagram, Adam Mosseri, shared a few words in a brief story on Twitter earlier this year that marked a monumental shift in Instagram's identity. He made it clear that what has been known as the most popular photo-sharing app will now focus on entertainment, video, and shopping — not on photography.
Since then, Instagram has released features and incentives that hardly, if at all, touch on features that support photographers and has instead prioritized video content creation, business opportunities, and overall engagement. Obviously, these changes are made in an effort to compete more directly with TikTok, even going so far as to pay large sums to entice creators to post Reels.
A Pivotal Shift
Photographers who have found success on Instagram have all noticed changes, and few are happy with what they see. Nicoline Malina, a photographer, educator, and Adobe Lightroom ambassador with 156,000 followers on Instagram, says the platform's shift away from photography has been a long time coming.
"Instagram started out simply as a photo-sharing app; remember that time where you can only use the native instagram camera and filters to share your photo? That's how it started out for me. It was really fun, snapping everyday photos and putting them out there," she says.
"Then as times went by, and people's attention span got shorter and shorter, we got Stories."
More recently, however, the changes are coming fast and furious.
"There are a lot of changes made to Instagram made at an alarming speed," Malina says. "At times I love the updates, but sometimes I find myself struggling to keep up. While the recent update (Reels) can be really great if used the right way, I find that it only favors short videos that can grab the audience's attention in such a short time.
"I'm still learning how to play this new game but I stopped doing it for the search of likes and validation because that thing can come to no end, it's a losing game that I have started to care less and less about. More passion and genuine interactions, less metrics."
Photographer Paola Franqui, who has 353,000 followers on Instagram, says while the company has provided more ways to add value to its service over time, she doesn't believe the company will continue to foster a positive relationship with photography.
"[Instagram has] given us more room to show our creative process," she says, citing Reels, IGTV, Live Spaces, and stories. But those features that once supported photography are becoming the focus themselves.
"Right now we are seeing a shift in focus towards more video sharing, and less about photography itself. Most people will feel the need to 'adapt' in order to thrive on the platform." 
Tobi Shinobi, who has 175,000 followers, agrees that the app is becoming less useful to him.
"The value that Instagram provides to me has changed over time, largely because at one point it very much focused on building communities and that was a large part of the good that the app provided. Unfortunately, that team was disbanded a few years back and the community aspect was no longer a focus," he says.
"The app still gives me the opportunity to share my work but with algorithmic changes, I am unsure how many of my followers see my work especially when with recent changes rather than seeing the work of people that I have chosen to follow I see suggestions from people that I did not follow."
Malina says that Instagram's changes over the years led her down a rabbit hole that eventually took a toll on her mental health and on her art.
"While Instagram initially fueled my passion for photography; rather than being inspired through the art of photography itself, too often I find myself chasing numbers of followers and likes. I realized that all this time I wanted to share my work to get a 'pat on the back,' rather than to inspire," she explains.
"I used to spend years trying to decode the Instagram algorithm, questioning why my photography work only garners a few 'likes' when my breakfast iPhone snaps would get thousands. I soon learned that the algorithm (or rather, my followers) favored a simple, mundane, everyday photo rather than an artwork I and my team spent days creating. Unconsciously, it later affected the way I shoot my images.
"It was a really confusing time for me, until I took some time to get off of Instagram and tried to remember why I'm creating in the first place, and how I have strayed from it."
Searching for What Doesn't Exist
As photographers are clearly no longer the focus, apps like Lensii, 100ASA, and Glass have appeared and many have pinned their hopes on them to provide a true Instagram alternative, regardless of the business model of each.
These apps that could possibly be seen as a replacement lack a critical aspect that has led to Instagram's rampant popularity: an audience of regular people.
Instagram has achieved its massive sway for artists across the board because the majority of its users are made up of average people, not other artists. This is a major reason why platforms that crop up in an attempt to replace Instagram have thus far failed.
To succeed, the next Instagram has to mimic this, and the changes to viewers' habits and social media overall make this situation unlikely.
An Alternative?
Adobe's Will Allen, Vice President of Community Products and leader of Behance, says Instagram's sudden shift highlights the importance of diversification, something that was common at the onset of the social media age but due to Instagram's wild success in recent years led many to forget.
"One philosophy I've had for a long time is that in terms of where you share your work, it really does need to be an all of the above option," he says. "If I think about a photographer in general, you gotta look across the landscape and what your goals are, and you might be pointed in different directions."
Behance launched as a social media platform specifically designed to showcase and discover creative work and as such is tailored to provide that experience. As a social network, its focus is significantly more closed-feeling than Instagram because it as a platform does not offer much to non-artists, or the average person.
Because it is so focused on art, though, it might be considered a viable contender to "replace" Instagram for many photographers who are searching for something, anything, to take its place.
This feeling that something must be an apples-to-apples replacement is common, as it has been easy for years to base entire businesses and social interactions in one place. That kind of habit is hard to break, and the thought of moving back to a multi-interface model can sound daunting. For most, they will be seeking one single platform that can wholesale replace Instagram.
With Instagram's Future in Question, Experts Urge Diversification
Allen cautions against that train of thought and argues that in the end, getting started with diversification now is the best way to be prepared for what might come in the future. A platform that will perfectly replicate Instagram does not exist and, arguably, never will again.
"I would say that Behance will never be 'the' place because I don't think there will ever be one place," he says. "I am a big believer in lots of things coexisting. That's a core belief for me."
Malina says that being open and willing to diversify is extremely healthy for any photographer who wants to continue to set themselves up for success in the digital age.
"Time has shown us that every social media platform would slowly shatter and if you only rely on one single online hub to showcase your work and grow your audience, you'll lose them the moment the platform starts to dwindle," she says. "The longevity of Facebook, or any other social network, is never guaranteed. Moreover, with all the changes that happen all the time, when Facebook, Meta, or Instagram decided to change the whole rules, it won't be good news for creators who rely on them too heavily."
Franqui agrees and says that she personally has been spending more of her time on Twitter.
"They are very forward thinkers in terms of Web3 (NFTs), they will allow us to verify our digital assets, and they take into consideration the move of media-based people coming in from Instagram. They have identified that it is the future."
Still, she can't ignore Instagram, and her peers agree that no one should, at least not yet.
"I would not be where I am today without Instagram. It is the reason why I was able to quit my nine to five job to pursue photography full-time," she says. "It has changed so much over the years, but I would have to say that finding like-minded individuals and people who connect with my work, is what keeps me falling in love with the platform."
Shinobi says he has been lowering his expectations for what Instagram can do for him. He tells PetaPixel that he and his peers had known a shift on the network was coming for a while, although admits the sudden shedding of photography was more abrupt than anticipated.
"In terms of staying prepared for the future, I was aware that video was going to be the most consumed form of content for quite a while. Now that being said, I did not expect Instagram to discard its bread and butter in such an overt way. I have given much consideration to what the next platform will be and despite it being a video-first app, I think TikTok has a real chance to be the new home for many creators."
While Allen of course recommends Behance as one of the many places photographers should be leveraging to promote their work (and perhaps more importantly, get paid to do so), he admits that he doesn't have all the answers on where photographers should focus their attention.
"I wish I had a great answer, but I don't," he says.
Allen doesn't believe Instagram will truly become useless for photographers but does say that the changes the company has made over the last year do highlight a need for photographers to start expanding their reach elsewhere sooner rather than later.
"I think there is still enormous value in the photographers I follow on Instagram, and I love seeing their work there. I don't know what their metrics are like, but they look like gargantuan numbers. I also follow photographers on Twitter who appear to only be on Twitter.
"Will there be a singular place again? I kind of doubt that," he says. "Photographers have finite time. They have to decide where to invest it and their energy. Could they truly do everything? No, not well, but how you mix and match is going to depend on you."
---
Image credits: Header photo licensed via Depositphotos.