Behance Rolls Out Patreon-Like Subscriber System for All Members
Behance has announced that it has made its Patreon-like subscription model and available to the public. Additionally, it has added an option for users to indicate that they are looking for a commission or a job opportunity directly on their Behance profile.
As part of Adobe's numerous updates revealed at this year's Adobe MAX 2021 digital event, Behance — the portfolio-sharing network acquired by Adobe in 2012 — has introduced new ways for creators to benefit from the work that they share.
With over 160 million people having visited Behance in the past year, including 2.25 billion views, the new updates aim to help creatives build their careers through several new initiatives that help users get discovered and paid for their work.
Paid Subscriptions
Earlier in July, Behance launched a small beta test that allowed certain artists to share premium content through paid subscriptions, similar to Patreon. Now, this feature is available to all paid Creative Cloud members and the company aims to give users the opportunity to monetize their creative work.
Users are able to set their own prices and have full creative control over what kind of content gets shared as premium content, such as tutorials, live streams, and more. Fans can also have paid-only access to source files which can be uploaded by the content creator.
The new subscriptions are integrated with existing Behance projects and live streams and users can mark any current content as subscribers-only or add new subscriber-only content. Paid Creative Cloud subscribers don't have to pay a commission on subscriptions and all payments are processed through Stripe separate and outside of Adobe.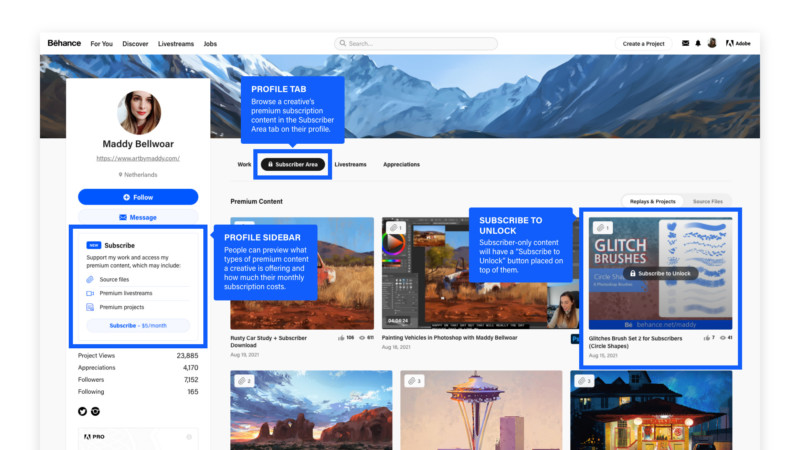 In a conversation with PetaPixel, Will Allen, VP at Adobe, explained this new update hopes to bridge the gap between inspiration and knowledge. The focus of this subscription model is on enabling the learning aspect — showcasing the creative process and bringing the audience along, whilst empowering the artist to benefit from their work.
Although it can be daunting for creatives to dive into live streams, especially if they haven't done it before, Allen encourages users to give it a try and see how they like it. He reassures that the Behance community is very inviting with "creators helping other creators" and the company works on creating a safe and respectful place.
Similar to other live streaming platforms, users can assign someone as a chat moderator, with users having full control over that, in addition to automated systems that are running in the background to combat spam. Creators are also not limited to using Adobe-only products in their live streams and can showcase their process using different editing tools and software.
"Hire Me" Tool
Although Behance has had a job posting board for some time now, the new update brings a setting that can be enabled by users to indicate that they are looking for new work, either for a full-time position or a freelancer.
This can be enabled directly on the user's profile and will be visible to anyone visiting their Behance profile. The option also allows users to set a minimum budget and availability to help interested recruiters or clients to reach out directly.
NFTs Display
Behance has introduced a new tab in a user's profile specifically for showcasing NFT artwork. Users can connect the NFTs they have created, which will then be seamlessly added to their Behance profile.
NFTs can also be added inside a Behance project to share more context or give the audience a peek into the creative process. Behance notes that the company is working hard to include blockchains like Polygon, Solana, Flow, and Tezos.
Through Adobe's Content Authenticity Initiative, the company has developed an open-source standard that allows artists to attach their artwork provenance to their creations. Behance is also collaborating with a number of NFT marketplaces, including OpenSea, SuperRare, KnownOrigin, and Rarible to make this provenance visible with the goal of helping protect both creators and collectors.
Learning Tools and Improved Search
With the accessibility of virtual learning through live streaming, users have been able to attach source files to help viewers follow the process and learn hands-on. Now, everyone has the ability to attach source files to any project uploaded on Behance to help the community learn.
Behance now also supports embedded prototypes from Adobe XD, Figma, and more, and has added a Prototype tab for what the company describes as a more curated browsing experience.
The search has new additional filters added so that findings can be fine-tuned, such as by specifying the camera and lens model used, focal length, shutter speed, and more. For faster mood board building, users can now select to find similar images using the "more like this" functionality which works with the help of Adobe Sensei.