Kodak Unveils New TRI-X 400 Disposable Camera
Kodak Alaris has announced the Kodak Professional TRI-X 400TX single-use camera, which comes pre-loaded with 27 exposures of Kodak's more popular black and white film stocks.
Kodak Alaris is a British-based manufacturer and retailer of photography supplies that range from hardware and software for the digital imaging space to retail printing kiosks. The company is actually a co-owner of the Kodak brand with the Eastman Kodak Company that is based out of New York and is also known under the "Kodak Moments" branding that provides photo products and services to retailers, consumers, and entertainment properties.
Disposable cameras are becoming popular again, and multiple brands from Ilford to Fujifilm have released new versions in recent months. Kodak Alaris manufactures a range of film and disposable cameras, including a standard model, outdoor-focused model, "fun" focused model, and even a waterproof version.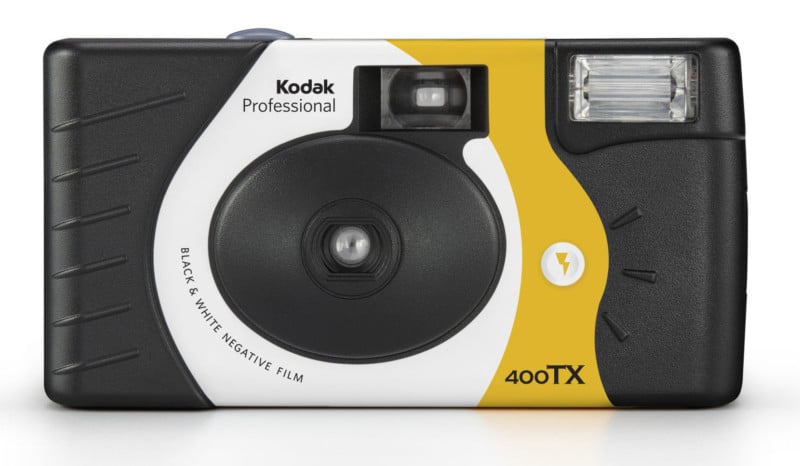 The latest addition is the 400TX single-use camera, which the company says brings the world's best-selling black and white film and makes it "more accessible than ever." The TRI-X 400 film requires a traditional black and white film development process, either in a home darkroom or at a photo lab that offers a dedicated black and white service.
The camera features a double aspheric lens element and a built-in flash that automatically recharges and comes pre-loaded with 27 exposures of a film that Kodak says is known for its contrast, tonality, and classic grain structure. Kodak says that the fine grain is good for producing high-quality images and the wide exposure latitude is ideal for achieving rich tonality which is maintained with overexposed and underexposed photos.
Kodak Professional TRI-X 320 and 400 Films are high-speed panchromatic films that are a good choice for photographing dimly lighted subjects or fast action, for photographing subjects that require good depth of field and fast shutter speeds, and for extending the distance range for flash pictures.
The film is 400 ISO, the lens is a fixed 30mm f/10 full-plastic optic, and the camera shoots with a fixed shutter speed of 1/125 second. The camera can focus from 3.3-feet to infinity, weighs 138 grams, and the flash can be turned on and off via a one-touch switch (and is powered by a single AA battery).
Kodak Alaris does not say how much the camera is expected to cost, however, and tells PetaPixel that it does not set the prices of its products. Instead, these are set by dealers and retailers globally, and that as a result, the price varies based on region.