TourBox Elite is a Hyper-Customizable Bluetooth Editing Controller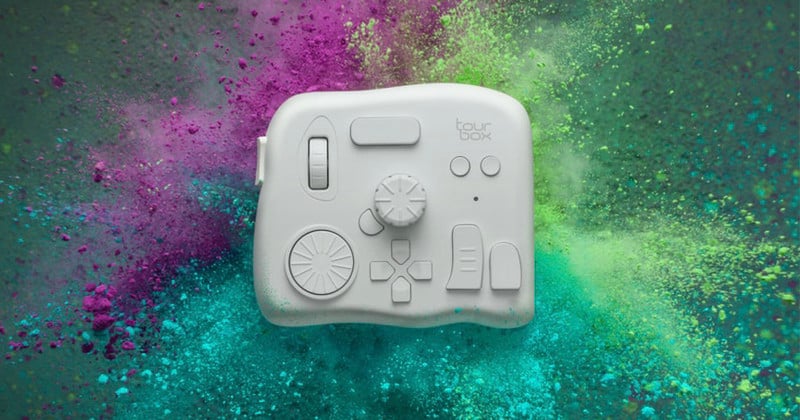 Following a successful launch of the original TourBox in 2018, the company is back with its follow-up: the TourBox Elite. This compact Bluetooth controller is designed to provide better control over editing tasks than can be done with a keyboard alone.
The TourBox Elite is a dual-channel Bluetooth controller that features a pinpoint, lag-free, control algorithm, customizable user interface, and macro commands to give editors more control over software without needing to move their hands from a single position.
TourBox says that the Elite controller is a cross-platform and pre-configured tool made to support image editing applications like Photoshop, Lightroom, or Capture One, but also can be configured to support a host of other applications like Illustrator, Final Cut Pro, Premiere, After Effects, and DaVinci Resolve. It can be operated by itself or in tandem with a mouse or drawing tablet and its main goal is to streamline workflow.
TourBox says that the Elite is the first Bluetooth editing controller in the industry designed for digital creators and it plans to create what it describes as an unprecedented and compelling protocol for Bluetooth editing.
"This Bluetooth LE 5.1 technology provides seamless, instant connection to your devices with perfectly consistent and strong pairing ability," the company says. "As a dual-channel Bluetooth controller, featuring presets auto switch, TourBox Elite allows you to switch seamlessly among various devices and programs. That means you can literally handle multiple programs, projects, and professions all well at the same time."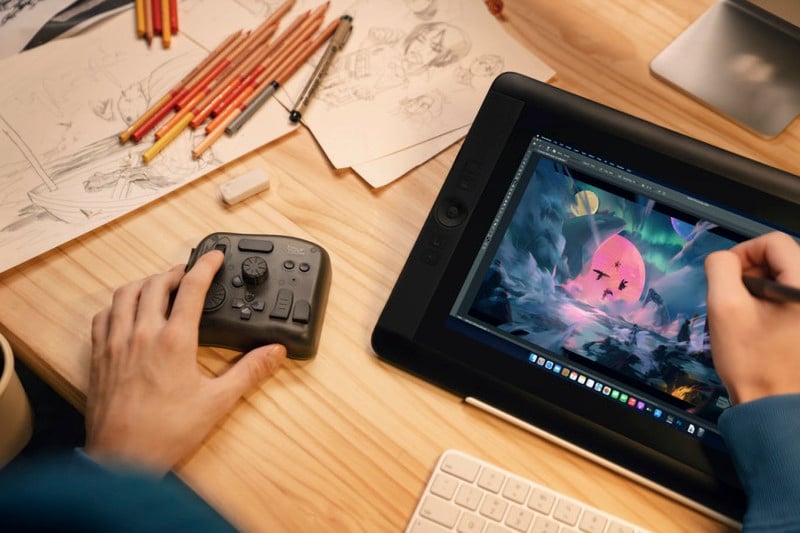 The company touts the TourBox Elite as able to completely replace a keyboard when editing and removes what it describes as "unnatural" movements. Instead of clunky keyboard commands, the TourBox uses a series of scroll wheels, dials, and buttons to activate various commands within editing applications. The TourBox Elite allows editors to make adjustments with a single hand.
"You can just focus on the images, hit the buttons, turn the knob and get the work done," the company says. "No more searching in the parameter bar."
For culling, TourBox shows how the Elite controller can be used to pan through photos, select them, and rate them quickly and easily. It can also be used to adjust settings like exposure, contrast, and shadows and highlights with the turn of the knob. The knobs can even be calibrated for different speeds based on an editor's needs and personal workflow.
All the functions of the TourBox Elite can be customized to do different tasks depending on the program in use, and that level of control extends to every button and dial on the device.
Since there are no physical scale marks on the rotary buttons on the TourBox Elite (and they can be fine-tuned to specific users), feedback is instead provided by an internal vibration motor with haptic feedback. It can be switched off or configured to an individual user's level of choice as well.
"TourBox Elite incorporates the first wide-band motor in the industry, bringing a simulated touch that is immersive and subtle," the company claims. "Traditional motors feature a low damp, high elasticity and slow response. By contrast, the innovative wide-band vibration motor is characterized by rapid start and stop with accurate and timely response, making it perfect to simulate the haptic touch."
The TourBox Elite is currently available to back on Kickstarter and at the time of publication had already reached its goal. Backing options start as low as $196 and the company expects to ship completed TourBox Elite controllers by February of 2022.
---
Disclaimer: Make sure you do your own research into any crowdfunding project you're considering backing. While we aim to only share legitimate and trustworthy campaigns, there's always a real chance that you can lose your money when backing any crowdfunded project.