The Best Drawing Tablets for Photo Editing in 2023
Anyone who has spent any extended time editing photos with a mouse will find that often, it's just not the best experience. That's why so many editors switch to a drawing tablet (also known as a pen tablet), but picking the best one has gotten surprisingly challenging in recent years.
That's because since there are so many different makes, models, and brands out there, finding the right drawing tablet for you can be confusing and overwhelming.
It is crazy to think that even just a few years ago, the choice of tablet you worked on was pretty limited to only one or two brands since so few were making them. Today, there is a much larger pool of tools to choose from ranging from incredibly budget friendly for beginners, to wildly expensive and insanely powerful for the working professional. No matter what level of experience and features you need, we've put together a list of some of the best pen and graphic tablets for photographers in 2023.
Why use a tablet? Basically, they simply behave like the classic "pen on paper" which allows for incredibly natural motions that are much more accurate and comfortable for an editor than using a mouse or trackpad. These tablets are often far more sensitive than anything a mouse or trackpad can offer, with the best models offering high accuracy, tilt recognition, and thousands of distinct levels of pressure, which can be incredibly important for graphic design, typography, and photo retouching.
While they may take a little bit of time and practice to get used to, pen tablets will make long days in front of a computer far easier and faster for retouchers and editors. This means the only choice is to figure out the size, features, and budget that meets their needs.
What We're Looking For
There are a lot of factors to consider when looking into a pen or display tablet for retouching. These include Pressure Sensitivity that allows users to truly capture how hard or soft you are holding and pressing the pen against the tablet in order to recreate the same behavior as if you were pressing a paintbrush or marker harder on a paper's surface. While it may not be critical to photo retouching, it is incredibly important for designers and illustrators, but still translates into things like applying a mask and changing the intensity of an effect.
Customizable buttons and dials add more control for each individual user to allow them to program their most used commands into them, allowing for a much more distraction-free experience when editing. The addition of buttons, jog dials, and wheels allow users to zoom, scroll, and swap tools quickly without having to go back to their keyboards, keeping their eyes on the task at hand.
Accuracy is among the most important feature in any tablet. The best of them will react to the users as though they were drawing on a pen and paper (or paint brush and canvas), reacting to every single movement of your pen stroke, no matter how minute. Some cheaper tablets may not be as accurate or sensitive, which can translate to less-than-ideal pen strokes. This includes how much tilt the tablets can accommodate for also, as some cheaper tablets will lose connectivity with the pens if you have them angled too much.
Other features that are considered include the size of the tablet where most photo editors would prefer a smaller tablet and surface, making it easier to work in small details, as well as making it easier to travel with. Whereas designers and illustrators will want a much larger drawing surface so they can create in a more natural environment.
Connectivity options make a difference, too: Is it wired only? Can it connect via Bluetooth? Does it need an adapter or WiFi dongle? The more freedom a user has with their tablet (and longer battery life) the better it is received.
And finally, does it have a screen or not? As some retouchers and illustrators will prefer to see their pen strokes in real-time right under their pen tips. While not a necessity for photographers, there are some that truly prefer having a display in their tablets as it can also save them some valuable desk space, especially when working remotely.
At A Glance
The Best Overall Drawing Tablet for Photographers: Wacom Intuos Pro Medium
Despite an influx of competition and some incredible devices that now compete with Wacom, considered to be the top dog and original drawing tablet maker, the $379.95 Wacom Intuos Pro Medium PTH660 reigns supreme as the best overall drawing tablet for photographers in 2023.
The Intuos Pro Medium tablet from Wacom, while a little more expensive than its competition, offers some of the most natural, accurate, and responsive pen experiences of all the tablets out there. Providing 8,192 levels of pressure sensitivity, the Medium Intuos Pro tablet comes with an updated stylus (pen) that makes every motion you make as accurate as possible with an incredibly natural feeling (as well as responsive) tilt-support.
This effectively allows creatives to work with the tablet in any angle and style they feel comfortable with. The tablet's surface feels just a little bit rough, simulating a true "paper-like" experience that just felt great to use. The tablet has built-in Bluetooth connectivity that supports both Windows and Mac devices with ease, allows for multi-touch support (making it a giant trackpad for general use that supports gestures), has eight customizable buttons along with a jog-dial for radial menus, and even has easy to use side switches to turn the device on and off to save battery life. On top of all of this, the tablet can be "flipped" over to accommodate left or right-handed usage with ease.
The ability to run wirelessly, or connect with a USB cable makes getting up and running with this tablet quick and easy regardless of the operating system and software. Just be sure to keep the drivers updated (and save them) in case you may need to roll back a version or two for compatibility. Finally, while the tablet is a "medium" size, it fits easily in any backpack or a shoulder bag that supports a 15″ laptop, making it very easy to travel with and work in any location.
The Best Drawing Tablet For Photo Retouchers: Xencelabs Medium Pen Tablet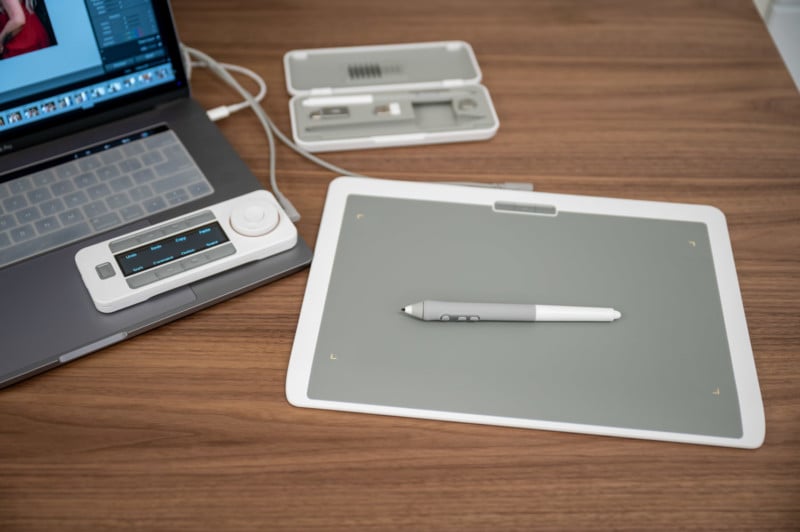 For a working professional retoucher, there is no better way to put it than to say the $379 Xencelabs Pen Tablet Medium is the best tablet that can be bought. While many competitors to Wacom can be considered "clones" or "knock-offs", the Xencelabs Pen Tablet is instead a true competitor that meets and exceeds many of the industry standards of what a pen tablet should offer. Starting with a refreshing minimalist (and modular design), the tablet has only three customizable buttons on it, saving them for a separate wireless-capable accessory called the Quick Keys that allows users to configure the 8-button and jog-dial device in multiple ways in several applications.
The tablet is very user-friendly with an easy-to-install driver and software setup that comes with a protective case that contains two styluses, multiple replacement nibs for both pens, the nib-tool, the wireless dongle, and a USB-C-to-A adapter. The set even comes with a drawing glove to let users avoid leaving sweat and palm prints on the device while in use. The tablet and Quick Keys can be connected via USB or wirelessly to a Windows, Mac, or even Linux computer offering users a much greater variety of supported devices. Additionally, the Quick Keys can be programmed to work in any orientation making it even more useful for left-handed users or creatives who want a truly customized layout and physical workflow.
The two pens offer users both a thicker "traditional" stylus with three customizable buttons, while the smaller pen has only two. Both of these also include the EMR eraser tool on the other end that can also be customized. The tablet itself also offers 8,192 levels of sensitivity and an interesting ergonomic design with a smooth pen surface that feels almost as if it cannot be scuffed by the stylus at all. The only downside of this tablet is it requires the USB dongle to operate wirelessly, but considering all the other positives, it is a very small trade-off.
Additionally, the tablet's smaller size and included case for the pens and accessories make it one of the more travel-friendly and travel-ready tablets out there for photographers.
You might be wondering why I separated the best tablet for photographers from the best tablet for retouchers, since the two disciplines often overlap. I did this because the Xenselabs drawing tablet's use of quick keys and the multiple pen options make it better suited for workflows that require long periods of extended use.
While you can customize the Xenselabs tablet and tune it for precision or generalist work, the Wacom is a better overall tablet in that regard. That said, with Wacom you still have to use your keyboard from time to time. Xencelabs lets you stay focused on the tablet.
Read More: Xencelabs Pen Tablet Review: Already Better than Wacom
The Best Drawing Tablet For Beginners: Veikk VK1060
While many may assume the $50 Veikk VK1060 Pen Tablet can be passed over, this entry-level "wired-only" tablet is surprisingly good for its incredibly low cost. While it can't compare to the professional-level models like the Xencelabs or Wacom Intuos Pro, for beginners, it doesn't need to. The tablet offers a similar size drawing surface to the other "medium" tablets which makes it easy to travel with while providing a large enough area to both retouch and illustrate on with ease.
The Veikk VK1060 tablet offers a familiar 8,192 levels of pressure sensitivity as well as an impressive 60-degree tilt angle support which can accommodate most users' everyday needs. In addition to this, the tablet comes equipped with 8 customizable buttons for a quick and streamlined workflow.
While there are some noticeable jitters when doing delicate retouching or drawing, the Veikk VK1060 tablet actually performs far above any expectations a user would have to work with a $50 device, and it offers far more professional-level customization and tools than similarly priced tablets. The one thing to be wary of is the Veikk tablet may behave strangely if other tablet drivers are installed on the computer, so be sure to uninstall any other devices before using this entry-level one.
Read More: Veikk VK1060 Pen Tablet Review: Surprisingly Great for $50
The Best Drawing Tablet Display: Wacom Cintiq 22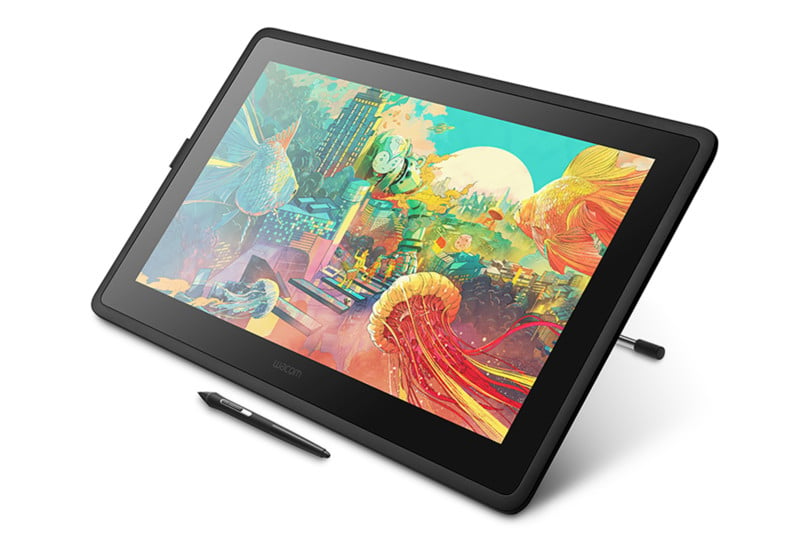 The $1,199.95 Wacom Cintiq 22 Creative Pen Display offers users who need their tablets to have a quality display built into them an affordable setup with pro-level features. While the price is still arguably pretty high (at least compared to the other tablets in this list), this display tablet offers a 21.5-inch 1,920 by 1,080 Full HD screen at 72% of the NTSC color gamut in a 16:9 format.
The "tablet" features the familiar 8,192 pressure levels of sensitivity along with a 60-degree pen tilt support, and works with a HDMI and USB Type-A connection. Yes, the trade off for a tablet display tablet is they cannot work wirelessly, but it is still small enough to easily travel with (albeit in a separate bag) for creatives who need to work remotely. The benefit of the display tablet is users can directly work on the area of the image they are looking at, making it even easier to retouch or edit an image with, making it feel more like an authentic pen-on-paper experience, which should also make it easier on the users eyes and posture (provided they have set it up properly).
Read More: Wacom's Cintiq 22 is an Affordable Pen Display for Budget-Conscious Pros
The Best Drawing Tablet Display For Beginners: Veikk VK2200 Pro
The influx of new brands of display and pen tablets in recent years means there are a much wider variety of Pro level display tablets at a surprisingly more affordable price point. The $389 VK2200 Pro Display tablet from Veikk is a fraction of the cost of nearly every other competing display tablet and offers a lot more punch than you would expect.
The tablet is designed with a "right-handed" use layout with eight customizable buttons and two programmable jog-dials along its left-hand side for users to set up with their most used tools and commands for easy and smooth workflow when in use. The company claims a maximum 1,920 by 1,080 resolution — but with my testing on multiple Apple devices, I was only able to get 1,600 by 900 — which may not be amazing but considering the size and cost of the device, it is a very fair trade-off.
The pen offers the familiar 8,192 levels of pressure sensitivity with a 60-degree tilt responsiveness for a realistic pen-on-paper feel when in use and unlike the entry-level devices Veikk offers, the Pro-level display tablet offers a very accurate pen-to-screen reactiveness. There were no jitters or lag to be found, as long as there were no other tablet drivers installed.
Given the low cost of this incredibly large display tablet, the expectations may be low, but the performance users will receive is high. For creatives looking to dip their toes in the water with a display tablet that is large enough to do more than just photo retouching (like full-blown illustration and drawing), the Veikk VK200 Pro display tablet is an incredible starting point that the users will not regret.
Read More: Veikk VK2200 Pro Tablet Review: Low Resolution but High Performance
The Best Large Drawing Tablet for Photo Editing: Huion Inspiroy Giano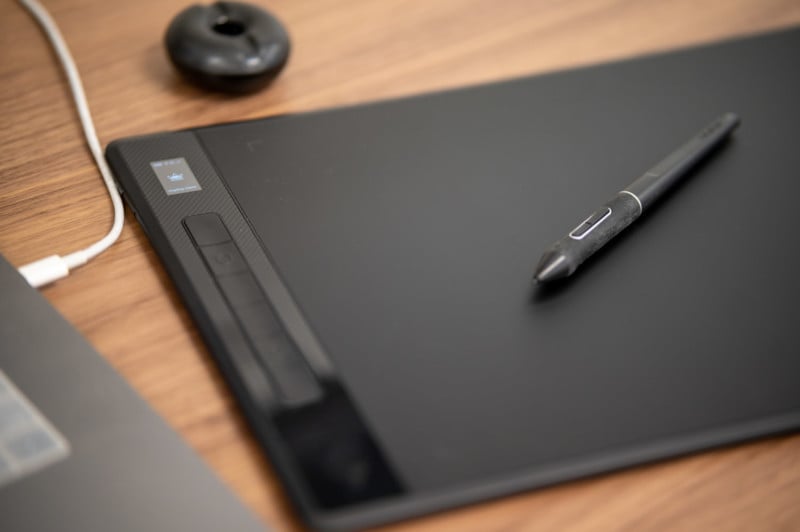 The $199 Huion Inspiroy Giano tablet may be a lesser known contender of the tablet makers out there, but this particular tablet happens to be one of the largest Bluetooth 5.0 pen tablets on the market, and it works surprisingly well.
The tablet offers up a 13.6 by 8.5 inch (16 inches diagonally) drawing surface which is ideal for retouchers and creatives working with larger 4K and 8K displays. The tablet can work connected via USB or wirelessly with a built-in Bluetooth transmitter/receiver (no need for a dongle), and if includes six programmable buttons along the left hand side of the tablet.
The Inspiroy Giano from Huion also offers 8,192 levels of pen pressure sensitivity with 60 degrees of pen tilt with an impressively responsive and accurate pen that features next to no jitter or lag even when using Bluetooth over a long distance from the computer. The software and driver are easy to setup, and they don't conflict with any other tablets drivers like is so often the case, which makes it headache free to add it to a multi-device arsenal.
Additionally the tablet offers an average of 18 hours of continuous use with the battery, making it one of the more impressive lifespans in the wireless tablet space. The Huion Inspiroy Giano tablet offers a larger than normal drawing surface for professional creatives that need a bigger workspace and more accurate pen-on-paper feel.
Read more: The Huion Inspiroy Giano is a Bigger, Better Bluetooth Tablet for Artists
---
PetaPixel will update these results periodically as we obtain and review more drawing tablets, so make sure to bookmark this story and check back when you're ready to make a purchase.