Razer Adds Intel 11th-Gen Processors to Razer Blade 15 and 17 Laptops
Razer has announced new versions of its Razer Blade 15 and 17 laptops that feature Intel's latest 11th-generation Core H-Series processors. Razer says that these new laptops have faster performance, faster storage, and Thunderbolt 4.
Both laptops not only feature Intel's latest, and the Blade 17 can come packed with up to the NVIDIA GeForce RTX 3080 laptop GPU (the Blade 15 ships with either an RTX 3060 or 3070). Combined, Razer says that either the Blade 15 or the Blade 17 will be both powerhouse gaming laptops as well as ones that will serve creators well.
The Intel Core H-Series processor (i9-11900H) has eight cores and 16 threads, which Razer says allows the Blade laptops to reach performance metrics that were previously unheard of in any Intel-based Blade laptop in the past. The 2.5Ghz CPU clocks in with a max turbo frequency of up to 4.90GHz, meaning users can expect drastically improved speeds both in-game and in multi-threaded workloads. By pairing it with the NVIDIA GeForce RTX 3080 Laptop GPU and display options up to a 4K Touchscreen, Razer says it has created one of the most powerful 17-inch gaming laptops on the market.
For input options, the Blade 15 and 17 can offer three USB 3.2 Gen 2 Type-A ports, two Thunderbolt 4 ports that also operate as USB-C 3.2 Gen 2, an ethernet port, a power port, a single HDMI 2.1 port, and one UHS-III SD card reader. Razer says that its improved glass touchpad supports Microsoft Precision Touch for multi-touch gestures, and the Blade 17 gratefully sports a Full-HD webcam that also works with Windows Hello.
As is often the case, the Razer Blade laptops come with several configuration options that change core aspects of the device. For example, the base model of the Blade 15 doesn't come with an SD card reader, isn't compatible with WiFi 6E, only has one Thunderbolt 4 port, and has a smaller 65 watt-hour battery (the "advanced model" has an 80Wh option). No Blade 15 model has the 1080p webcam option, instead, all versions only ship with a 720p webcam.
Both laptops come with support for THX Spatial Audio and while they will charge faster with the included power cable, both can also be charged via USB-C.
Both the Razer Blade 15 and 17 have different display options that can be selected based on what is important to the user. For example, the Blade 17 has three options: a 4K display with a 120Hz refresh rate, a QHD 2K display that can hit up to 240Hz, or a lower resolution Full-HD display that can achieve 360Hz. In all three cases, the laptop features thin six-millimeter bezels and Razer states that the displays will all hit 100% of Adobe RGB.
That promised power doesn't come without a cost, however. The Razer Blade 17 weighs a hefty 6.06 pounds (2.75 kilograms). Razer says the Blade 15 is approximately 4.7 pounds.
All but one of the Razer Blade 17 laptops feature touch compatibility, with the only outlier as the most affordable $2,399 model that features a QHD 165Hz non-touch display and an RTX 3060 GPU. The most expensive model will cost $3,699 and feature the 4K 120Hz touch screen with 32 gigabytes of DDR4 memory, the aforementioned 8-core 11th-gen i9 processor, and an RTX 3080 GPU with 16 gigabytes of VRAM. It should be noted that for the Razer Blade 17, the only model that features the new 11th-gen i9 processor is this most expensive version, while the other six configuration options will have the 8-core 11th-gen Intel Core i7 2.3GHz processor (i7-11800H) that clocks at a max turbo frequency of 4.6GHz.
The Razer Blade 15 laptop will be a Razer.com exclusive and comes in three iterations at the "base" model that only vary based on the display and GPU. The base model is $1,800 and features a 144Hz full-HD IPS monitor that promises to hit 100% of sRGB and comes with an RTX 3060 GPU. The most expensive of the base models upgrades to an RTX 3070 GPU and a QHD 165Hz display that promises to hit 100% of the DCI-P3 color space. Today's announcement only adds the new Intel processor to the three base models, as it is already available in the advanced models. But for reference, the most advanced version of the Razer Blade 15 features an RTX 3080, the 11th-gen i9 processor, and a 4K 60Hz OLED touch display that promises to hit 100% of the DCI-P3 color space and costs $3,4000.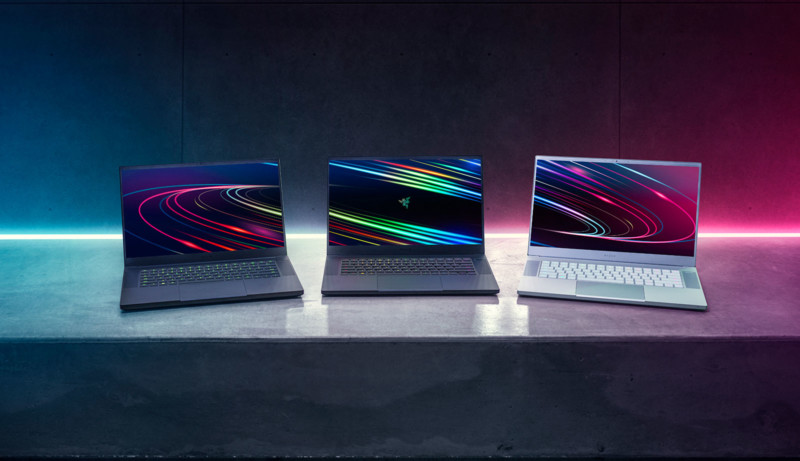 Both the new versions of the Razer Blade 15 and 17 laptops are available to pre-order starting today (with the Blade 15 only available on Razer.com and through RazerStore retail locations). No expectation of delivery date was provided ahead of publication.