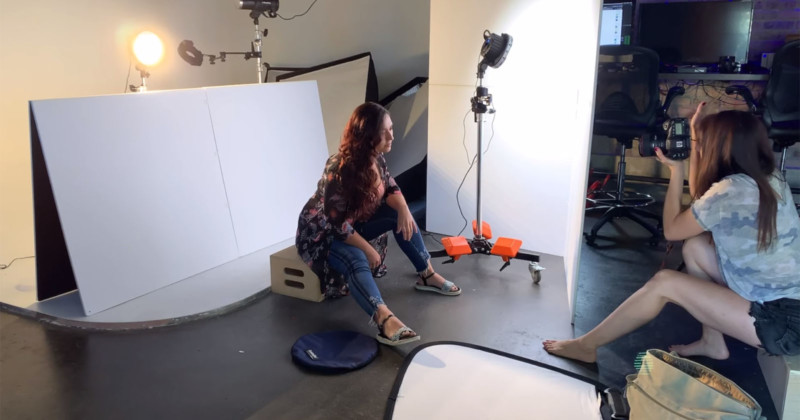 Shooting with continuous lights can be the easiest thing in the world. Why? Because you can see exactly what the light is doing, where it's placed, its intensity, and how it's affecting your subject. In a way, I like to think of shooting with constant lights as a baby step to off-camera flash photography. They help you start to see how manipulating lights forms the image you're creating, without the added element of calculating the flash burst with the ambient light exposure.

Full disclosure: This article was sponsored by Adorama, a long-time partner of PetaPixel.
Sure constant lights don't have the power that strobes do, but if you're in a controlled environment, like shooting studio photography portraits, they can be just what you need. In fact, grab yourself some Bicolor lights like the Westcott Bicolor Solix lights (who Adorama is doing a group buy for right now – more on that later) and you have built-in white balance controls with the need for gels.
My favorite lighting setup for portrait photography with constant lights is a two-light studio setup. In my natural light photography as a NJ NYC wedding photographer, I love using a soft light with a warm feel, so I'm mimicking that style here.
Watch the how to video of the studio shoot here:
Step 1: Turn your back light all the way down to get the most orange color and position it behind your subject, pointing towards them and your camera (if you want more of a hazy look). Use a background like the white v-flat in the video, if you'd like, and have the light peeking over the top.
Step 2: Turn your front light all the way up to get the bluest color.
Step 3: Use a v-flat to bounce the front light off of to light your subject's face. This turns your small light into a big light producing a soft look on your subject.
Step 4: Add a reflector to fill on the opposite side if you'd like.
Step 5: Get your settings like normal and take some pretty pictures! If you need pose inspo, click here.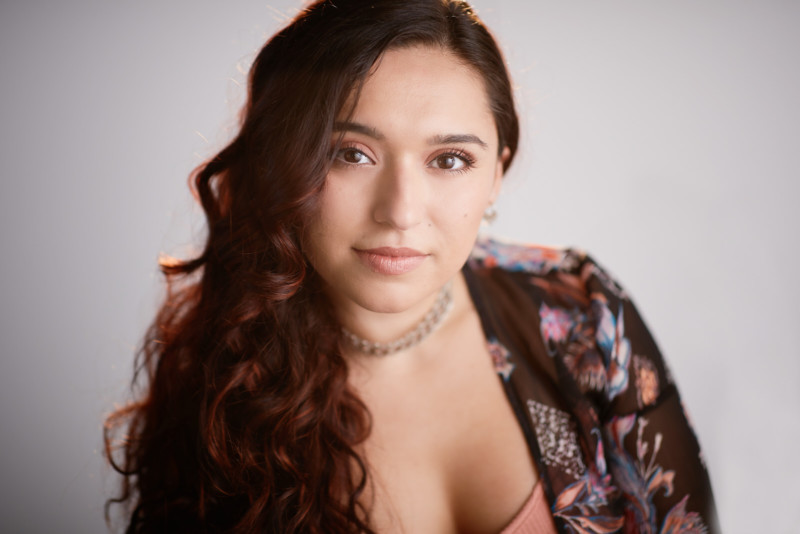 It's a pretty easy shooting environment once you have it set up; very forgiving of moving around a bit. Because you're shooting with continuous lights and not flash, you'll likely have a darker environment and need to lower your aperture or shutter and/or boost your ISO. Personally, I don't like my shutter dragging down too low because I move around a lot and want to avoid camera shake.
The best part is this setup (two Westcott Solix Bicolor lights, VFlat World foldable VFlats, my absolute favorite and most used reflector, and light stand) is now in a group buy deal with Adorama!
What the Heck is a Group Buy?
It's basically the same idea as Groupon, but in this case, the more people we get on board the HIGHER the discount is.
Adorama is running this group buy until March 18th. Get in on it here. It's 20% off right away, if we get 20 people on board it'll be 25% off, and if we hit 40, the kit will be 30% off!
1-19 kits claimed: 20% off
20-39 kits claimed: 25% off
40+ kits claimed: 30% off
In dollars that looks like:
Regular price: $1,030.69
20 opt-ins: Price drops to $824
30 opt-ins: Price drops to $773
40 opt-ins: Price drops to $721
You don't need to pay for anything now, just need to:
Step 1: Sign up here and you'll be sent a certificate when the buy is over.
Step 2: Share this link with other photographers and videographers so we can hit that top tier!
Step 3: After the buy closes, everyone will have one week to claim and pay for their order.
Here's what's in it:
2x Westcott Solix Bi-Color 1-Light Compact Kit with Round Softbox and Travel Case
Glow Portable 5 in 1 42″ Reflector Kit
V-FLAT WORLD Foldable V-Flat Bounce Board, Black/White
Flashpoint 9′ Auto Stand
This exclusive group buy is an incredible deal for anyone looking for constant lights. Just a bonus that it includes my absolute favorite reflector and V-Flat. Happy shooting!
---
About the author: Vanessa Joy is a wedding photographer serving New Jersey and New York. You can find more of her work on her website, Facebook, Twitter, and Instagram.