Tumblr to Ban Adult Content, Including Artistic Nude Photography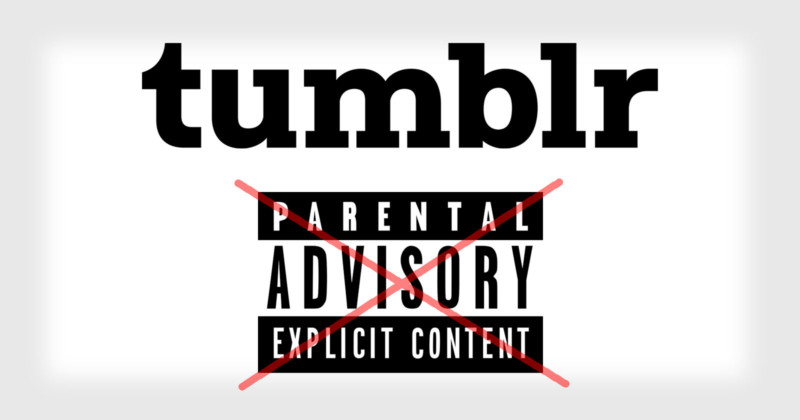 The popular blogging platform Tumblr has announced that starting on December 17th, 2018, it will permanently ban all adult content and nudity. That includes artistic nude photos published by professional photographers.

The move is seemingly in response to Tumblr's official app being banned from Apple's iOS App Store in November after child pornography was discovered on the social network, but Tumblr's new policy is wide-reaching.
"Posts that contain adult content will no longer be allowed on Tumblr, and we've updated our Community Guidelines to reflect this policy change," writes Tumblr CEO Jeff D'Onofrio in a new blog post titled, "A better, more positive Tumblr."
"Bottom line: There are no shortage of sites on the internet that feature adult content," D'Onofrio says. "We will leave it to them and focus our efforts on creating the most welcoming environment possible for our community."
Here's Tumblr's definition of the adult content that will no longer be allowed:
Adult content primarily includes photos, videos, or GIFs that show real-life human genitals or female-presenting nipples, and any content—including photos, videos, GIFs and illustrations—that depicts sex acts.
So while the definition may spare a good deal of boudoir photography and other suggestive photos as long as there's no explicit nudity, if nipples or genitals are present in the photo, it'll be a no-no.
Starting December 17th, automated tools will be used to identify and block such adult content being posted to Tumblr. If your Tumblr account already hosts such content, those posts will be automatically set to be "private" and only viewable by you.
If you believe your photo was incorrectly flagged as violating the new policy, there will be a button on the post that will allow you to appeal the decision.
Tumblr has long been known as a blogging platform with extremely lax policies when it comes to adult content. In 2016, a study found that while Flickr had 5.13% of users viewing adult content and 12.05% of users unintentionally exposed to it, Tumblr had 21.54% of users following adult content and a whopping 28.45% of users unintentionally exposed.
But things have been changing as Tumblr ownership has changed hands. After being acquired by Yahoo in 2013, Tumblr became a Verizon-owned company after Yahoo was acquired in 2016. And it seems Tumblr's corporate owners don't like the reputation Tumblr has developed.
Apple has also long had strict policies regarding adult content availability in iOS apps. Back in 2013, 500px's official app was also pulled from the iOS App Store when Apple concluded that it was too easy to search for nude photos. 500px launched a redesigned app just last month that completely hides adult content on mobile.
With this latest move, Tumblr will likely be in Apple's good graces once again.
"[W]e love Tumblr and what it's come to mean for millions of people around the world," D'Onofrio writes. "Our actions are out of love and hope for our community. We won't always get this right, especially in the beginning, but we are determined to make your experience a positive one."