Wedding Photographer Uses Building Fire as Backdrop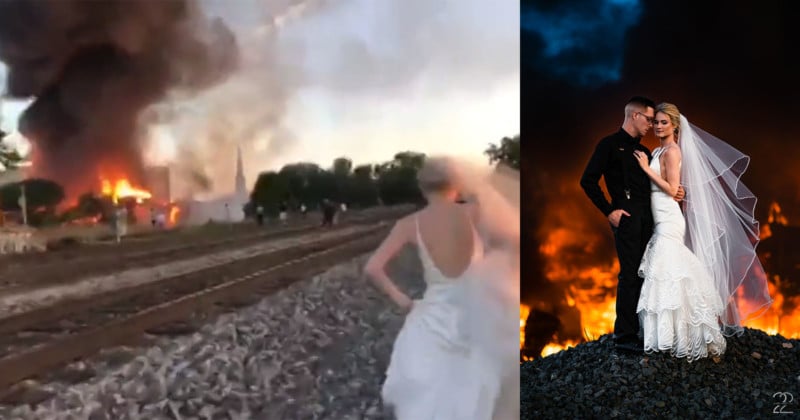 Wedding photographer Megan Allen was shooting a reception in Dayton, Ohio, this past Saturday when she and the bride noticed that a large fire had broken out at an abandoned building nearby.

"[O]ne of the abandoned buildings […] went up in massive flames, shooting huge, black plumes of smoke into the sky, and leaving us speechless as the flames whipped higher and higher," Allen writes. "While I'm always game for an opportunity for a photo, [the bride] set the bar to level 11 awesome as she met me in the middle of the loft as we ran toward each other after seeing the fire, and she made my night when she said, 'We HAVE to go to the fire!'
"We scrambled up a hill to get the best vantage point just in time to see the entire structure in flames, and we went right to work."
Dayton Daily News reports that the group left in the middle of the reception, climbed a gravel hill, crossed some train tracks, and got close enough to the fire to feel the heat.
Here's one of the portraits that resulted from the impromptu photo session:
Police later reported that two juveniles had been arrested for sparking the fire, which did not cause any injuries.
Back in January, a photojournalist in the Philippines had a similar experience, except he shot an erupting volcano in the background of his wedding portrait.
---
Image credits: Still frame and photograph by Megan Allen and used with permission