DJI Mavic Pro vs GoPro Karma: How the Drones' Specs Stack Up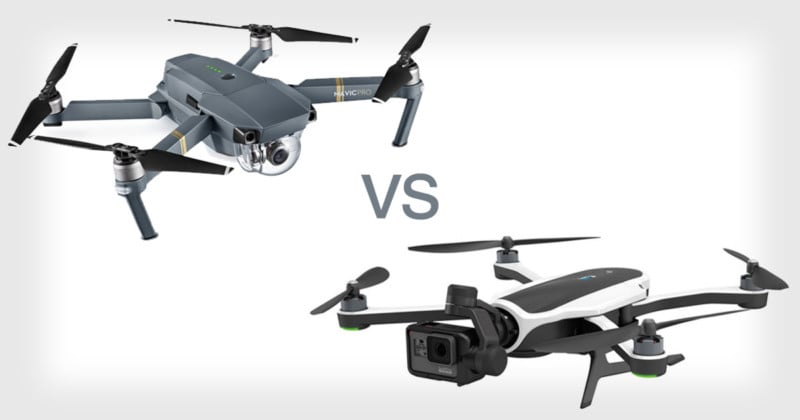 In the span of just over one week, DJI and GoPro each unveiled a foldable and ultra-portable personal camera drone. With so much hype surrounding these two products, we've decided to do a comparison of features and specs to see how the Mavic Pro and Karma stack up — at least on paper.

Weight
The Mavic Pro weighs 1.62lbs (734g), and the Karma weighs 2.22lbs (1006g).
Winner: DJI Mavic Pro.
Dimensions When Folded
One of the main features of both drones is the fact that they fold up for easy storage and transport. While the Karma's arms fold in, the Mavic Pro's propellers fold up as well, giving it extra compactness (the size of a water bottle, DJI says).
Folded up, the Mavic Pro has dimensions of 83x83x198mm. By comparison, the folded up Karma measures 89.9×224.3×356.2mm.
Winner: DJI Mavic Pro.
Maximum Speed
The Mavic Pro can fly 40 mph (65 kph) while in Sport mode. The Karma has a maximum speed of 35 mph (56.3 kph).
Winner: DJI Mavic Pro.
Max Flight Time
The Mavic Pro can fly for 27 minutes, and the Karma can fly for up to 20 minutes.
Winner: DJI Mavic Pro.
Max Distance
The Mavic Pro can be flown at a distance of 4.3 miles (7 km) away from its controller, and the Karma has a max distance of 0.62 miles (1 km) 1.86 miles (3 km) [See update below].
Winner: DJI Mavic Pro.
Camera
The Mavic Pro has a built-in camera, while the Karma requires a separate GoPro camera to be attached to the front, adding some additional size and weight.
Both the Mavic Pro camera and the GoPro HERO5 Black use 1/2.3-inch, 12-megapixel CMOS sensors. Both are capable of shooting both JPEG and RAW photos as well as 4K video.
We won't know how the image quality of the cameras compare until they're pitted against one another.
Winner: Uncertain (for now)
Stabilizer
Both drones feature a gimbal for 3-axis stabilization. The Karma has a range of motion of -90° to 0° up and down. The Mavic Pro has a wider range of motion of -90° to +30° (pitch) and the ability to roll.
Winner: DJI Mavic Pro.
Remote Controller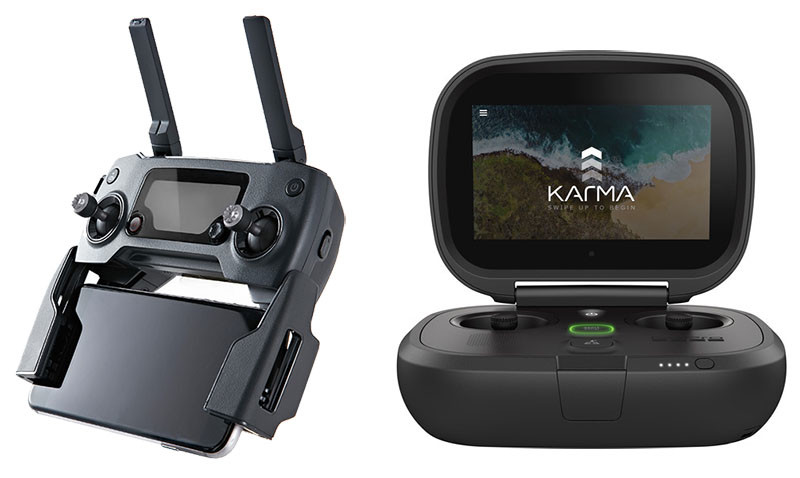 The Mavic Pro remote controller features an LCD screen with essential flight info and can be paired with your smartphone for powerful auto-flight features and a live 1080p video feed from the drone. Since you can use various phones, the specs of your touch display are up to you. The Karma controller is inspired by video game controllers and features a 5-inch, 720p touchscreen with a live video stream.
Winner: Uncertain (for now)
Intelligent Flight Modes
The Mavic Pro uses a host of sensors and cameras for its FlightAutonomy obstacle avoidance system, object tracking system, and gesture control system. The Karma lacks obstacle avoidance and "Follow Me" features.
Mavic Pro's auto-flight features are geared towards people who want to operate a drone without necessarily having the skills to fly a drone. Karma has some automated features, including the ability to travel between two points, but it's geared much more towards manual controlled flight.
Winner: DJI Mavic Pro.
Price
The DJI Mavic Pro costs $749 for the drone (controlled with your smartphone) or $1,000 for the drone and a remote controller. The GoPro Karma costs $799 for the drone and controller, but it requires an additional camera. A bundle that includes the GoPro HERO5 Black costs $1,099.
Winner: DJI Mavic Pro.
Conclusion
Although its brand is dominant in the action camera industry, GoPro's stock has been hammered in recent times due to slowing sales and disappointing financials. The company spent months hyping up the Karma as a major expansion into a new business, stepping into the ring with camera drone heavyweight DJI, but the official Karma unveiling on September 19th was quickly dwarfed just days later by DJI announcing the Mavic Pro.
With stronger specs in important categories, better intelligent flight features, and an attractive price point, the DJI Mavic Pro has quickly sucked the wind out of GoPro's sails. GoPro's stock responded by plummeting over 6% at one point yesterday after DJI's unveiling.
---
Update on 9/29/16: An earlier version of this article stated that the Karma plus GoPro HERO5 Black bundle would cost $1,199, but GoPro is offering the bundle at a price of $1,099.
---
Update on 9/29/16: It seems that GoPro has changed its Karma specs page since our original post yesterday. Instead of having a max operating distance of 1km, the page now says "up to" 3km.