DJI Unveils the Mavic Pro, A Foldable and Ultra-Portable Camera Drone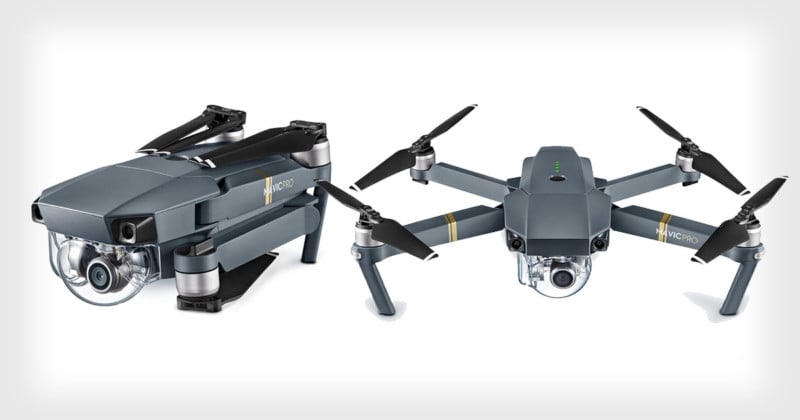 DJI today announced a new camera drone that aims to revolutionize the industry. The new DJI Mavic Pro is a foldable drone that sets a new bar when it comes to combining power and portability.

Unveiled just days after GoPro announced its own foldable drone, the GoPro Karma, the Mavic Pro is a drone for personal flight that packs some of DJI's most up-to-date technologies.
Here's a 5-minute video by DJI introducing the new drone:
The drone is so small that you can easily wave it around while holding it with one hand — once the 4 arms and propellers are folded, it's almost approaches the size of a standard water bottle, DJI says.
Here's how the folded-up shape compares to the GoPro Karma (size comparison not accurate):
Despite its petite form factor, the drone packs a punch: there's a 4K camera on the front, a visual navigation system, a 4.3-mile (7km) range, and a 27-minute flight time. By comparison, the Karma has a range of 0.62 miles (1km) and a flight time of 20 minutes.
The Mavic Pro can be operated with a remote controller for long-range uses, or simply with your smart phone if you're not planning to fly it far. For the latter, the drone can go from folded up to in flight in less than a minute.
"DJI has spent a decade making it easier for anyone to fly, and by rethinking everything about how a drones look, we have created an entirely new type of aerial platform for anyone to explore their creativity," says DJI founder and CEO Frank Wang.
In the Mavic Pro is a new FlightAutonomy system, which uses 5 cameras, GPS and GLONASS navigation, 2 ultrasonic rangefinders, redundant sensors, and 24 computing cores to serve as the drone's "brain and nervous system." Using FlightAutonomy, the Mavic Pro can follow positions and routes while avoiding obstacles at 22mph (36kph), allowing you to create advanced flights with minimal input and flying skills.
What's more, the drone can even be controlled with your physical gestures, making it easy to shoot an aerial selfie if you so desire.
An ActiveTrack mode tells the drone to train its camera on a subject (e.g. a person, bicycle, car, animal) while you focus on flying, and a Terrain Follow mode instructs the drone to track a subject while maintaining a constant height above the ground (between 1 foot and 33 feet).
Switch the drone to Sport Mode, and it'll zip through the skies at speeds of up to 40mph (64.8kph). If the drone ever loses contact with you or reaches low battery levels, it'll automatically return to its original launch location.
The camera system on the Mavic Pro features the company's smallest-ever 3-axis gimbal for stabilization. The 12-megapixel, 4K autofocus camera has a minimum focusing distance of 19 inches (0.5m), can be flipped 90-degrees into portrait mode, and can shoot DNG RAW photos.
A new compact remote controller has been designed for the Mavic Pro, and it features an LCD screen with essential data, dedicated buttons (e.g. Return-to-Home, Intelligent Flight pause), and a OcuSync video link system that provides live view at 1080p resolution.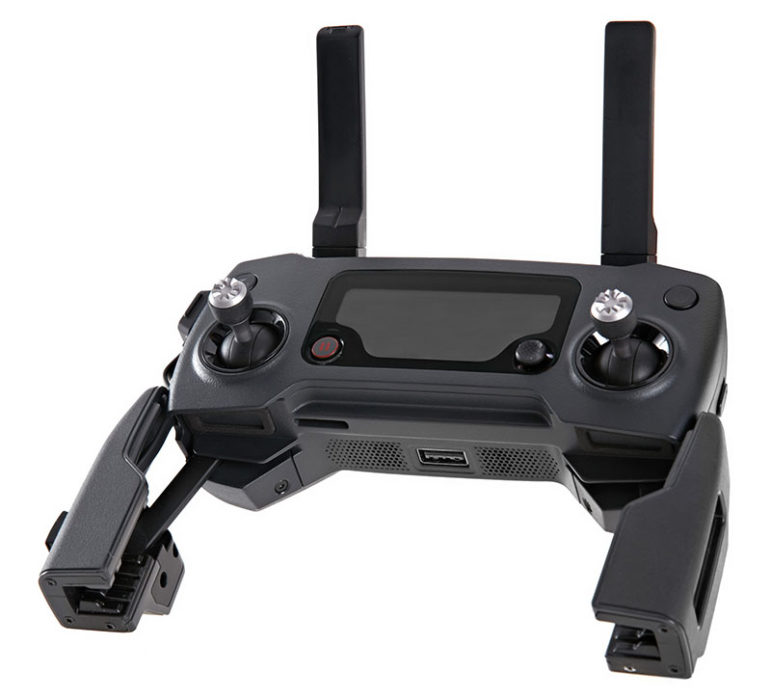 DJI is also announcing DJI Goggles to go along with the Mavic Pro. Wearing the goggles allow you to fly the drone with an immersive 85-degree view in full 1080p, viewing the world through the eyes of the drone.
The DJI Mavic Pro will be available starting October 15th, 2016, with a price tag of $749 for just the drone and $999 with a remote controller bundled in. The Mavic Pro will also be available through Apple's stores and website starting in early November 2016.