Stop Motion Starling Murmurations Created with Hand-Carved Birds
A European starling murmuration is one of the most beautiful natural phenomena on Earth—each bird reacting to its 7 closest neighbors, the whole flock an ever-shifting mix of patterns and shapes. So how in the world could you recreate something that intricate with stop motion photography?
Artist Nic Annette Miller set out to try, using 150 sculptural woodcut prints of birds Miller carved, printed, and cut out herself. Knowing that her video concept could be done digitally, she felt inclined to keep the stop-motion truly analog and looked to photographer Catalina Kulczar to get the job done. They spent one weekend with several extra pairs of hands animating for a total of 20-hours to what turned out to be a one minute-long film titled All I Can Do Is What I Did (Murmurmotion).
"We had a test shoot with Nic's storyboards and a lot of planning," Kulczar tells PetaPixel. "Each bird had 3 positions—wings UP, wings MIDDLE, and wings DOWN—and animating 150 birds at one time was a huge undertaking."
Fortunately for Miller and Kulczar, they have good friends who were willing to help.
"We devised a system of dividing up the canvas into quarters, using string. Each set assistant had a specific group of birds they were in charge of animating, so at the most, each person was in charge of up to 35 birds," she explains. "It took between 3 to 5 minutes to change all birds in each take and it took a lot of concentration from everyone involved."
You can see just how much of a dance this was in the BTS video below—moving each section between every shot, leaving no trace behind. It's painstaking work, but that's how it has to be if you're going to produce something beautiful.
Kulczar shot the whole thing tethered to Lightroom so they could check each frame before moving on… or realizing they hadn't moved all the birds and reshooting that frame.
To offer a bit more insight into what this process was like, she was kind enough to send us a few behind the scenes photos, as well as a portrait of Miller laying down between her beautiful hand-carved birds.
Scroll down to see them for yourself: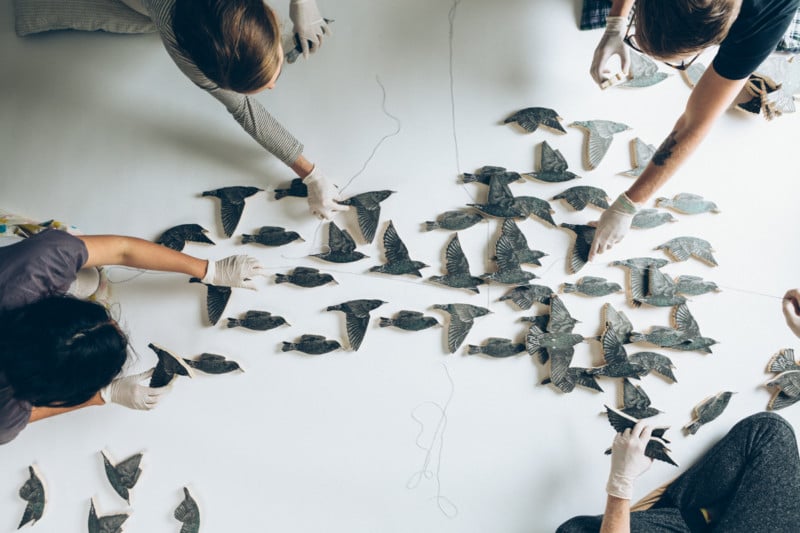 The Murmurmotion project is more than recreating a beautiful natural phenomenon. Miller typically uses her woodcuts of animals as conversation pieces, however the abstract motion of the flock resembles her depression. The forms make chaotic and smoke-like shapes but if you let them, they can be absolutely beautiful.
Taking a moment to take a step back and observe yourself is the start to self-reflection and self-acceptance. Kulczar didn't hesitate to work on the intimate work:
It's a personal piece about depression and anxiety, and the will to move past it and onwards. For me, this was the first commission after giving birth to our daughter, and I was feeling very anxious as a new mom. Personally, this project was cathartic and professionally, it took my stop-motion skills to a new level.
You can watch the final video at the top of this post. And if you want to see more from either Nic Annette Miller or Catalina Kulczar, click on their names to view their full portfolios.
---
Image credits: All photographs by Catalina Kulczar and used with permission.