The Photographer Shooting Contrasty Closeups of Presidential Candidates
In the span of just a few short years, Seattle-based photographer Nate Gowdy went from shooting weddings, headshots, and commercial images to shooting striking photos of politicians campaigning to become the leader of the United States. His work has since been widely published, including an appearance on the cover of TIME. We spoke to Gowdy about his life and journey in photography.


PetaPixel: Can you tell us a little about yourself and your background?
Nate Gowdy: I'm 32 and grew up in Elkhart, Ind. — about two hours from Chicago, right at the Michigan border. I attended Indiana University in Bloomington with the goal of becoming a writer, but found out the hard way that the process of writing on deadline made me want to pull my hair out. Upon graduation, I got work as a copy editor at a small newspaper — I was good at it, but working nights and weekends in a newsroom was isolating. After slugging it out for two years, in the summer of 2009, I decided to mix things up and followed a friend out to Seattle, immediately finding a position as a teacher's aide at a Montessori preschool.
How did you first get started in photography?
Since moving to Seattle, I'd been kind of getting addicted to a little, old, "point-and-shoot" camera I carried around in my pocket everywhere I went. Friends kept telling me, "Nate, you're obsessed. You should learn how to use a 'real' camera," and while I'd always known I had a good eye, I didn't recognize it was anything special. Honestly, at that point the only thing I knew about cameras was the shutter button, so the whole idea of getting a DSLR and learning it from scratch was pretty intimidating. Either way, my friends were right — I was becoming pretty preoccupied with taking pictures.
What was your first "big break," and how did it come about?
My first big break was a chance encounter at a local event with both the publisher and editor of Seattle Gay News, one of the country's oldest LGBTQ newspapers. I'd recently left my job in childcare after about a year and, having worked for a newspaper in Indiana, I was excited to meet people who ran one here in Seattle. We started discussing photography, namely my interest in learning it, when they brought up the fact that the paper's staff photographer had just left, leaving them in need of a replacement. Even though we hit it off, they didn't seem to take me too seriously when I showed them my point-and-shoot. Fortunately, for Christmas a few weeks later, my parents gifted me a new Canon 7D.
Just a week after getting my "real" camera, at the start of 2011, I swung by the SGN's offices and let them know I was ready to work for them. As one might expect, it wasn't anything impressive — a simple business association mixer. Dutifully, I went about taking photos — not knowing how to use the camera, not knowing anyone there, and all the while attempting to be a fly on the wall because that's what I figured was the thing to do. The results were, to put it generously, less than impressive, but once back at the offices, the editor offered important advice: "Engage people. Get in there and talk to them. Meet them, get to know them, and give them a reason to trust you."
The next event I covered was a bear rave (a "bear," in gay culture, is usually a larger, hairier man), wherein all the attendees had taken their shirts off in the dark and were busy getting down to thumping dance music. While this wasn't something I had ever experienced before, I took my editor's advice and engaged, pretending to know what I was doing and taking full advantage of the excuse that the images were for the gay newspaper. "Let's take a photo," I'd say, while trying to nonchalantly namedrop Seattle Gay News. To my surprise, people were very receptive, and after, when I brought these pictures of half-naked gentlemen back to the editor and publisher, their ecstatic response was encouraging: "Wow, you're an event photographer!"
The plan going forward, they decided, would be for me to cover all matter of local gay nightlife, to post to the paper's Facebook page to help promote it. For $100 a week (and eventually $200), I ran with it, supplementing the weekly retainer with food stamps and feeling lucky I'd found cheap rent in the neighborhood. Before long, the drill went from asking folks if I could take their picture to them seeking me out to capture them. My livelihood — as a straight cisgender man from Indiana — suddenly consisted of drag shows, club culture, and meeting what seemed like a never-ending Pride procession of personalities and performers. That first year I photographed nearly 200 events, mostly starring drag queens.
What camera equipment are you primarily using these days?
I shoot with a Canon 5Ds, which I've had since September and it's been wonderful. It's 50 megapixels, which means crops of images taken with it are amazing, and I've gotten a lot of images that wouldn't have been usable if not for the resolution at close crops. Likewise, shots taken at high ISOs (which I use often), look great when downsized for the web because so much detail remains. Interestingly, but not surprisingly, I haven't encountered any other photojournalists who use the 5Ds — probably because they don't feel that that many megapixels are necessary and may even be a hindrance when filing photos on deadline.
As for lenses, I've been married to my Canon EF 17-40mm f/4L USM and Canon EF 70-300mm f/4-5.6L IS USM for a while now. However, I'm excited about finally replacing my banged-up 17-40 with a Canon EF 16-35mm f/4L IS USM. Since starting out, I've normally defaulted to my wide-angle because I love the distortion, especially after cropping the edges off in post, which I think gives photos an intimacy and uniqueness that viewers can't quite put their finger on. In addition, for flash photography I use a Canon Speedlight 600EX-RT aimed directly at subjects and with the power a bit turned up, typically on-camera but not always.
How did you get the opportunity to photograph President Obama in 2013? Can you tell us the story behind that?
That came about from an interesting series of events. Everything in the scene I was photographing turned political when Washington state's governor signed marriage equality legislation at the start of 2012. Opponents of the law mounted a challenge, which required voters to approve the statute at a referendum. In an instant, the colorful characters I'd been getting to know at the clubs were now organizing benefits, rallies and civil rights marches, and my schedule ramped up to about 350 events that year. Washington state would go on to make history by popular vote when marriage equality was achieved that November.
Not only did the next year see me documenting the best moments of couples' lives at their weddings (so many weddings!), but another result was that my network had expanded to include the politicians who'd been making the rounds during the campaign. Anyway, late one night after a club gig in November, I received an email inquiry from the Democratic National Committee. They'd been referred to me by a strategist who admired my work documenting the fight for marriage equality. Apparently, if I wanted to be their guy photographing the President in one week during a fundraising trip to Seattle, the job was mine; I just had to give them a call in the morning expressing my interest.
What was it like shooting at a Secret Service event for the first time? Did anything catch you by surprise?
It was cool! My business cards still featured drag queens and it was my first time wearing a suit, yet here I am hanging out at a $16K-per-person meetup with President Obama. Official White House photographer Pete Souza took only two snaps before stepping out, and so I was the only one wandering the room freely. The neatest part was being allowed to go right behind the President as he took questions from his seat at the table. It's weird having the back of the leader of the free world's head right in front of you. And I don't usually feel nervous on the job but — I think that because of the adrenaline rush alone — I was too jittery for the first 10 minutes to not use flash, which isn't ideal when you're trying to step lightly and not draw attention to yourself.
When the event was over, I asked the President if I could get a photo with him. He pointed and looked at me, grinning ear to ear, and said, "Sure, but first, I'm going to make you look good." He was laughing because I guess my camera strap had messed up my collar. So, here we have the President of the United States walking behind me to fix my collar, before having a nearby caterer snap the photo. It was surreal.
How did you get your start in photographing politics and the candidates in the 2016 presidential election?
The client liked the photos from the Obama event, so in 2014 I was invited to work step-and-repeats at Seattle fundraisers with a group of 10 U.S. senators and then with Vice President Joe Biden. I've always followed national politics from afar, and so I couldn't believe the access my camera was getting me. I liked the idea of photographing politics from the inside, but eventually my contact at the DNC moved on and I was on the outside again. I attempted to team with Hillary Clinton's campaign and was given access to a couple of events with donors— my goal being to document her run for president from Seattle's vantage point. Ultimately, however, the culture of the campaign didn't allow it.
My next opportunity came when Bernie Sanders visited Seattle in August of 2015. I determined I'd follow him downtown from an outdoor Social Security anniversary celebration to a fundraiser at a pub in my neighborhood, and then would bike it a couple of miles to a rally in front of thousands at the University of Washington's Alaska Airlines Arena.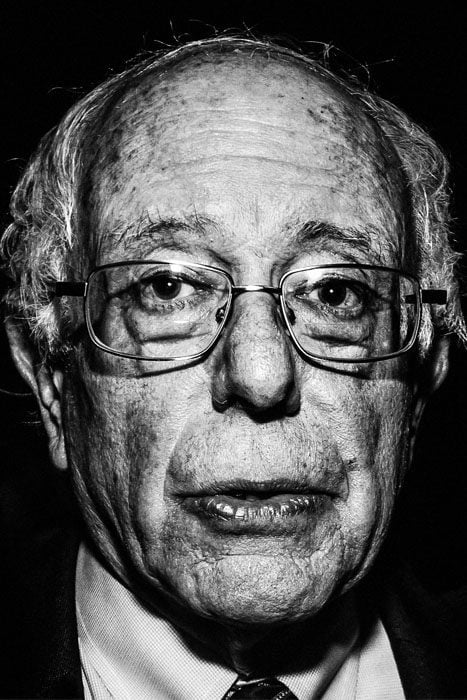 It was a long day with an unexpected start. Secret Service wasn't yet involved in coordinating with the campaign and security was super lax, and so two Black Lives Matter activists were able to commandeer the mic as soon as Sanders took the stage downtown. They antagonized the booing crowd (who'd waited hours in the sun to see the senator from Vermont), quipping from the podium: "I was going to tell Bernie how racist this city is, filled with its progressives, but you already did it for me — Thank you." After witnessing so many angry, rage-filled Bernie supporters, I couldn't argue with her.
It was ugly, and suddenly I was making images I hadn't planned on making — images unsympathetic of a group of people I'd assumed my views to be pretty aligned with. Hours in the sun just to see two protestors use bullying tactics to get their way. The other way of seeing things, of course, was that these two brave women were putting pressure on a progressive candidacy that for months had ignored black organizers' critiques of the campaign's colorblindness. It ended up being a long day — one that left me and many others with a lot to process.
I did end up making a lot of pictures I was proud of, though. I forwarded my blog post link to a friend who'd interned at TIME and is now an associate photo editor there, and evidently he passed it along to Paul Moakley, the Deputy Director of Photography. I was surprised when I heard back, saying he liked the work and to please keep in touch as I continued to shoot.
Not long after the Bernie rally, I started seeing Daniel Acker's fantastic work for Bloomberg coming out of the Iowa State Fair — shots of candidates grilling while surrounded by ridiculous hordes of supporters, all sweaty in the Midwest heat. Then I was turned on to freelancer Scott Brauer's campaign imagery out of New Hampshire, where he was employing high-powered flash to circumvent the staged lighting and atmosphere at town halls. I liked how both captured very genuine emotions in very theatrical and artificial settings and situations.
I was super jealous, and thought, 'Heck, I've just gotta do this,' so I looked up all the candidates' schedules, researched logistics, and booked (about a month out) September and October flights to Iowa and New Hampshire. In the meantime I could hustle some client work at home in Seattle (events, head shots, ad agency work) to make some money in time for the trips. I also had a big gig photographing famous chef Wolfgang Puck's son's wedding in LA coming up, which would help with funds.
Long story short, I kept an email correspondence going with Paul at TIME and, come February, he gave me my first assignment. By June, through some luck and initiative and even a handful of nights sleeping in my rental car on the road to get by, a photo of ol' Bernie landed the cover. I owe the team at TIME everything for the encouragement, help with access, and for supporting the work.
What is your approach to photographing famous figures? What are your goals with the photos?
To get close and to make photos that viewers aren't necessarily used to seeing elsewhere. For example, once at a campaign rally, an Associated Press photographer mocked me for using flash, saying I didn't need it. But the goal of the strobe is always to differentiate the work from his, since he and the majority of photojournalists shy away from it. I have to assume they're doing the job the way their employers want them to — they know what they're doing and they do it very well. But often times I'm only self-assigned, out there on my own dime, so I do it the way I want and am comfortable. Fortunately, the outlets who've reached out so far want exactly that look — they want something unpublished and different that they haven't found on the wires.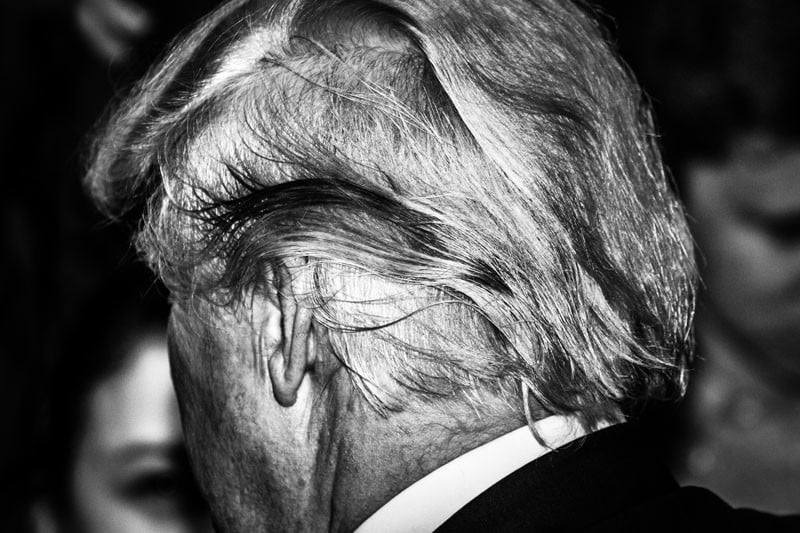 I guess I also try to offer dignity to each figure, but without a sugar-coating. I'm sure some of my images could be co-opted as being "for" or "against" candidates, but as a body of work they shouldn't be mistaken as being on behalf of any campaign. Some of the images are flattering and celebratory and others certainly aren't, but they're real and portray real people — warts and all. If I can get close enough to show a candidate's pores, then I do! The intent is never mean-spirited — it's just my way of seeing them that I haven't already before.
What kind of post-processing do you do to your shots?
At first I edited the presidential campaign series, "Campaign in Contrast," in stark black and white because color corrections always take me way too long and I usually have paid client work to get to that takes priority. It's always just been a way for me to streamline my workflow for personal projects. But processing in BW has also turned into another means for distinguishing my art, since our media and the wires are saturated with color. I've met so many amazing photojournalists on the campaign trail, but if you were to put their images up on a wall alongside one another — most lit with available light and all gently processed in color — I can see it being hard to tell whose work is who's. My image would be the one in monochrome, with cranked contrast and clarity, and — half the time — lit by flash. I'd like to think it would stand out.
What is the biggest advice you have for photographers?
Reach out and engage people, especially other photographers. Don't be a stranger. We're all in this together.
---
You can find more of Gowdy's work on his website.
---
Image credits: Photographs by Nate Gowdy and used with permission