Instagram Unveils Business Profiles, Analytics, and Promoted Posts
Instagram has officially announced a set of new tools for business users, called Instagram Business Tools, that will help the platform be even more powerful for marketers. As was leaked over the past weeks, there will be new business profiles, analytics, and promoted posts.

"With so many companies using Instagram, and many people on the platform interacting with them, there was a desire from our business community to do more," Instagram
writes on its blog
. "So we listened. And, after hundreds of interviews with businesses, three key needs became clear—stand out, get insights and find new customers."
The first new tool is Business Profiles, a free feature for business accounts. These special profiles will allow potential customers to get in touch with the business via phone, text message, or email, as well as find directions to the physical address. Setting your account to "Business" mode also gets you access to the other tools.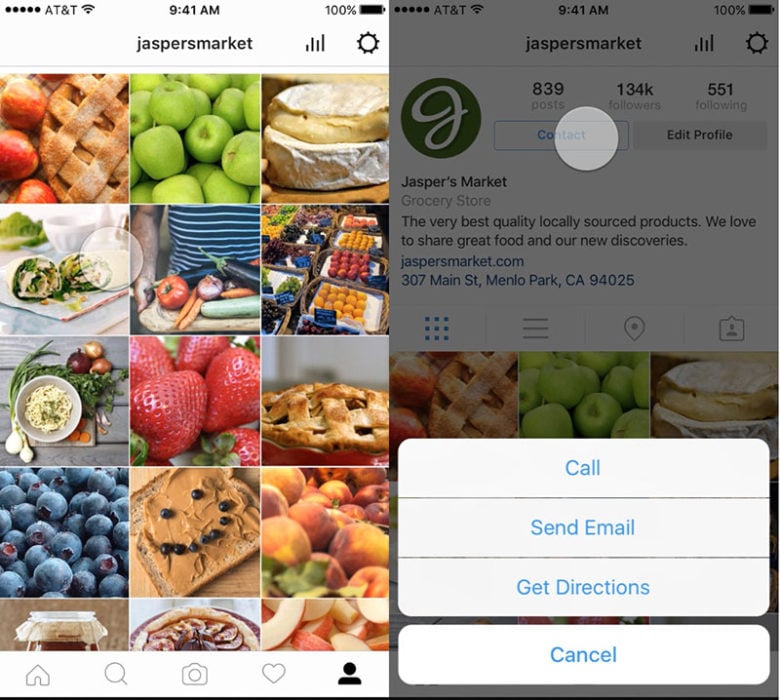 Insights is a tool that will help business users more deeply understand the demographics and behavior of their followers — things like when people are active on your photos, where people are viewing from, the age and gender breakdown, and more. Using this info, "you can create more relevant and timely content," Instagram says.
Finally, you'll soon be able to easily turn any post into an advertisement by adding a button that lets people take action on it (e.g. visit your website or call you).
You'll also be able to pick your target audience if you'd like, and your post will be presented to those followers as an ad for your desired period of time.
With the rollout of these new business tools and the new algorithm-ordered feed, Instagram is quickly following in Facebook's footsteps in order to become a powerful tool for marketers rather than simply a simple tool for photo sharers. Users who prefer the latter may be disappointed, but it's all part of Facebook's big picture strategy of growing Instagram beyond a simple photo sharing app and into a major cash cow.
Photographers will also be able to use the tools to more easily find and be contacted by prospective clients.
Instagram Business Tools will be rolling out to users in the US, Australia, and New Zealand "in the coming months," and it will be fully international by the end of the year.