Microsoft Unleashes the Surface Book, Surface Pro 4, Lumia 950, and Display Dock
At a special Windows 10 Devices event in New York City today, Microsoft unveiled a number of major new products that photographers who use Windows may want to look into: a Surface Book convertible laptop, Surface Pro 4 tablet, Lumia 950 smartphone, and a Display Dock that lets you use your Windows phone as a mini PC.


Surface Book
Microsoft announced its very first in-house laptop today called the Surface Book. Like the Surface tablets, the Surface Book is also a detachable tablet. The keyboard side of the equation is much more than a simple detachable keyboard, though — it houses an NVIDIA GTX GPU graphics card and other components that gives the laptop a huge performance boost (Microsoft says the Surface Book system is twice as fast as the Macbook Pro).
As Microsoft's product photos suggest, the new devices are designed for things like editing photos with Photoshop:
The exterior of the laptop is magnesium, and the display is a 13.5-inch screen with 3000×2000 resolution and 267 PPI. It comes with either a 6th-gen i5 or i7 processor, 8GB or 16GB of RAM, and a 5MP front camera and an 8MP rear camera (with 1080p).
You'll be able to purchase a Surface Book in stores starting on October 26th. It'll cost $1,499 for the base model with an i5 and 8GB RAM, and will go up to $2,699 for i7 and 16GB RAM.
Surface Pro 4
The new Surface Pro 4 builds upon the Surface Pro 3 by adding more power and removing size and weight. It's 8.4mm thick and features a 12.3-inch screen — larger than the Pro 3's 12-inch screen but smaller than the iPad Pro's 12.9 inches.
There's a new Surface Pen that supports 1,024 levels of pressure and attaches magnetically to the outside of the tablet. On the front of the tablet is a 5MP camera, and on the back is an 8MP one that can shoot 1080p.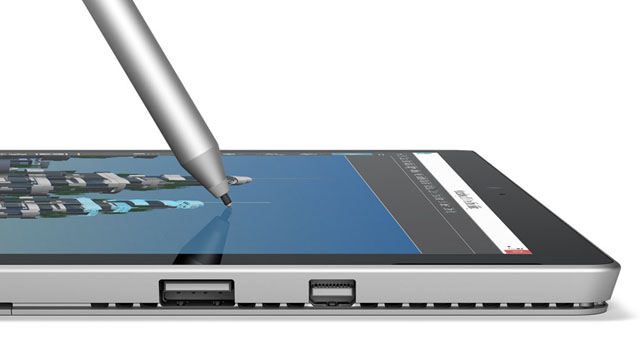 At the highest end, the Surface Pro 4 can pack 16GB of RAM, a 6th-gen i7 processor, 1TB of SSD storage, and Intel Iris graphics. Microsoft says the tablet is 30% faster than its predecessor and 50% faster than the MacBook Air.
The detachable Type Cover has also been redesigned with better keys, a thinner form factor, less weight, and a 40% larger trackpad.
Microsoft will start selling the Surface Pro 4 in stores on October 26th with a starting price of $899 (for the low end version).
Lumia 950 and Display Dock
The new Lumia 950 (and larger Lumia 950 XL) are phones that are designed to work like PCs. The 950 has a 5.2-inch Quad HD screen on the front, a 1.8GHz Qualcomm Snapdragon 808 processor, and a 20-megapixel rear camera with a triple LED flash and Zeiss optics.
What's interesting about the Lumia 950 is how it can be paired with the new Microsoft Display Dock, which was also announced today. By plugging the phone into the dock, the 950 becomes a mini PC, complete with an external monitor, a keyboard, and a mouse! We're moving towards a world in which our smartphones are pocket PCs that we can turn into full fledged workstations at a moment's notice.
Need to quickly edit some photos on the go with only your Lumia 950 phone? If there's a Display Dock station nearby, all you need to do is plug in and start working.
No mention yet on pricing or availability of the phone or dock. Microsoft says they're "coming soon."