A First Review of the $40 Yongnuo 50mm f/1.8 'Nifty Fifty' Clone
I will be the first to admit that I am not a street photographer, not a wedding photographer, and don't generally shoot in low light, but I wanted to get a review out since I just received my two copies of Yongnuo's $40 clone of the Canon 50mm f/1.8 II.

Yongnuo has their own branded tape, it seems. Here's the box that arrived:
Nice and simple, with stuff I cannot read on the other side: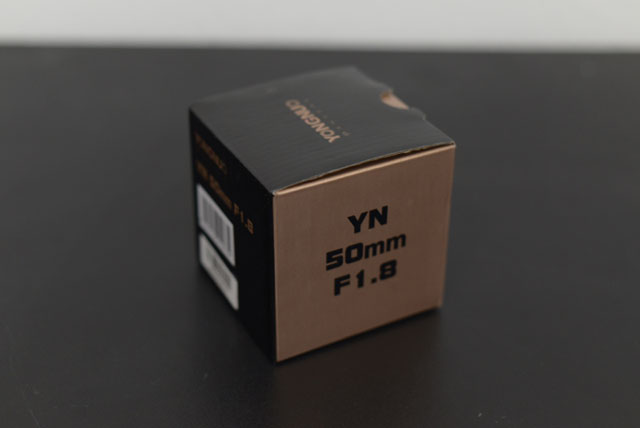 It looks a lot like the Canon… but we'll see how it holds up. Here it is prepped for surgery: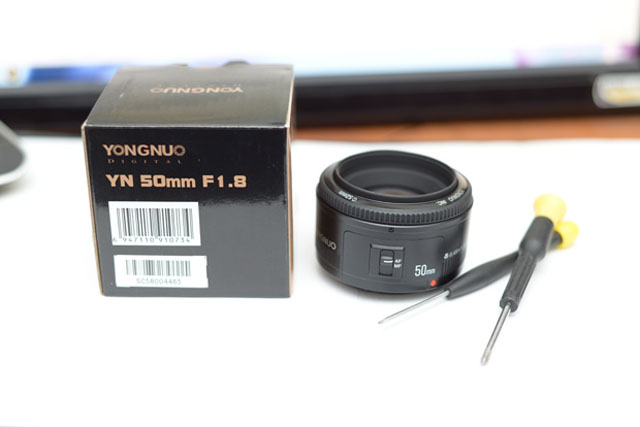 One copy gets sacrificed on the altar of science. Here are the components:
I can confirm, having repaired a dozen or so Canon EF 50mm f/1.8 II lenses, that the internals have significant differences. There are some similarities in the glass elements, but the overall construction is quite different. Here's the Yongnuo lens next to the Canon lens it copies: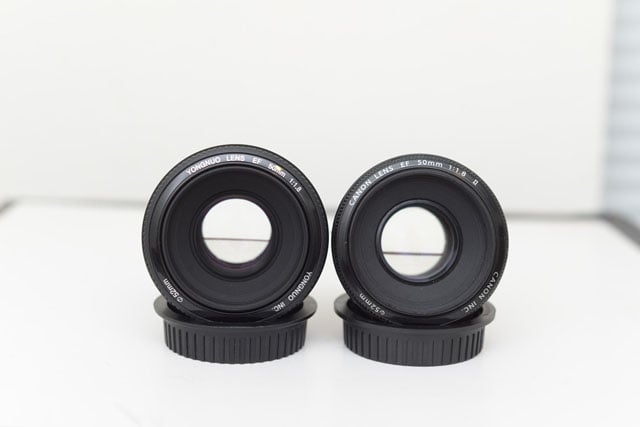 The Yongnuo model is a little bit bigger (though lighter). Held, they seem about the same, and are very similar, but the YN is a bit bigger.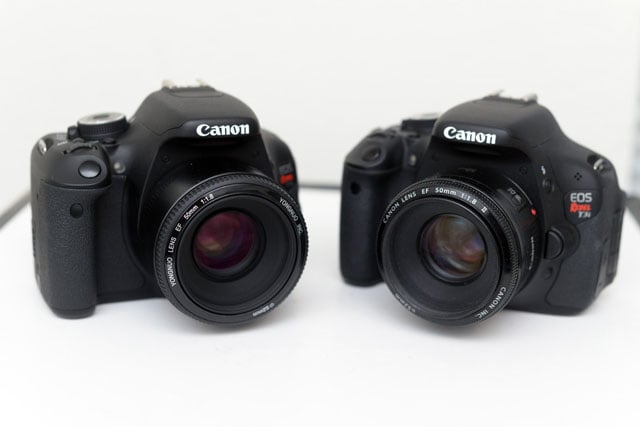 I'm shooting the Yongnuo and Canon each on a separate Canon T3i. Why the T3i and not my 6D or 5DII? The YongNuo is a budget lens, so chances are pretty good that those who get it will be using Canon XTis, XSi, T2is — the sub $300/400 cameras — and I wanted to give a more practical and realistic hands-on experience rather than "best case scenario."
Initial in-home testing has them just about the same as their Canon counterpart aside from one quirk, as someone brought up elsewhere. It will try and autofocus in live view, but will not catch; it just keeps missing the mark.
In live view with manual focus (undoubtedly the recommended method of focusing with live view) they fire just fine. This is unlikely to affect too many people, but something to be aware of.
For this low light walkabout, I stuck to ISO 3200 and f/1.8, with the shutter bouncing around between 1/100 and 1/400ish. Basically some of what you might expect to shoot at during a lively low light scenario with some static shots (using 1/100 as the lowest to avoid camera shake), and some action stuff.
The first stop on Fremont Street was a country music stage. I noticed some chromatic aberation (mainly on the lead's hat) that was exacerbated by the pink lights, but overall decently controlled, and no worse than the same shots I got with the Canon. 1/200
What's better than dancing with your lady to country music? Dancing with your lady with AND Coors Light. 1/100
I got to put the AF speed and accuracy to the test on these aerialist shots. I took about 100 in all, and in all modes the AF caught quick and accurately (only 3-5 or so missed focus, about what I'd expect with the Canon) Shot in single mode, and servo, it performed well. The T3i isn't an AF monster in the least, and ISO 3200 – f/1.8 – 1/400 is fairly low light for AF. It did well.
Seriously, the spray paint paintings these guys do is awesome. I also got some cool shots, since the lights around him made the background dim quite a bit, making him stand out. 1/400
The last set I shot was a couple of dudes making clay caricatures. The background blurred out nice, and the lighting made him stick out, I like it. 1/400
My thoughts? I had one camera in the bag, and one in my hand, and I'd switch between the two off and on as I went. The biggest surprise was: I had no idea which I was shooting at any given time. For AF speed, noise, accuracy, etc, I noticed nothing different between the two at any time.
Like I said… I'm not typically a low light shooter. If I'm not shooting at ISO 100, I just add more lights, but maybe that's a good thing for this initial test. I'm Joe Everybody, this is what a beginner might expect. And as a beginner in this scenario, it stood against the Canon punch for punch.
The Verdict
For someone who just can't justify $100/$125 for the Canon 50mm f/1.8 II, the Yongnuo 50mm f/1.8 might be a great option. I got my sister a T1i and 18-55mm/55-250mm for Christmas since she just had her first son. It's a nice camera that's great for a young family. They can't do $125 for something nonessential, but $40 is doable for them (or as a gift from another sibling). THIS is the market for the Yongnuo, in my opinion, and it might be fantastic for them. I guess we'll find out.
---
About the author: Jay Leavitt is a hobbyist photographer who tries to push himself as far as he can go. With many budget constraints around him at times, he does what he can to not let them hold him back at all. Leavitt blogs at Shooting on a Budget, where this article originally appeared.