Thriftier Fifty: Yongnuo Has Cloned the Cheap Canon 50mm f/1.8 II to Make it Even Cheaper
Back in September, we reported that Chinese manufacturer Yongnuo has expanded its cloned gear business to include copycat lenses, starting with the Canon 50mm f/1.4. Now a new clone has emerged: the super popular "thrifty fifty" Canon 50mm f/1.8 II (also known as the "nifty fifty" and "plastic fantastic").

Canon's official version of the lens is a #1 best seller in places like Amazon. Currently priced at $125, it's a very affordable option for Canon shooters looking at this focal length. Compared to Yongnuo's new price point, however, Canon's lens is pricey.
We haven't seen any details about optical performance yet, but Yongnuo's lens looks like the identical twin of Canon's lens and costs just $51 on Amazon or $41 on eBay.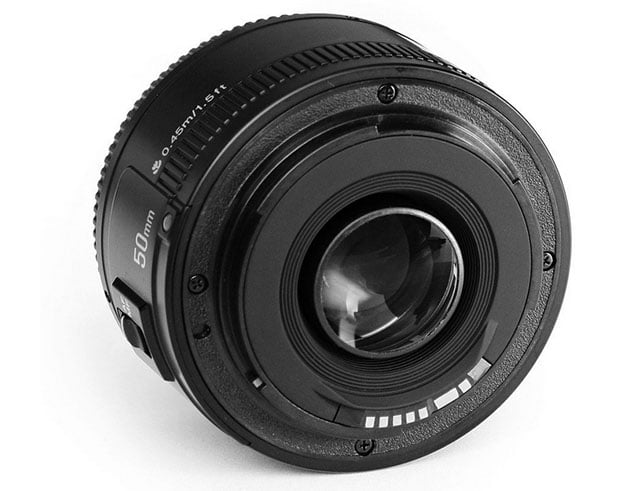 For the sake of comparison, here's what the official Canon lens looks like:
The specs appear to be as similar as the build: both lenses feature 6 lens elements in 5 groups, a minimum focusing distance of 0.45 meters, a 52mm filter thread, a minimum aperture of f/22, an angle of view of 46°, and a maximum magnification of 0.15x. The Yongnuo lens is slightly larger and a tiny bit lighter than Canon's lens (73x55mm vs 68.6×40.6mm and 120g vs 130g, respectively).
Areas in which the Yongnuo lens could fall short may be things like optical quality, autofocusing performance, and quietness during focusing (Canon's 50mm f/1.8 Mark I was infamously loud).
If this trend continues, perhaps one day we'll see Yongnuo offer cheaper versions of most of the popular lenses by major manufacturers.
Yongnuo 50mm f/1.8 Lens [eBay via Photo Rumors]