Perfect Storm: Interview with Stormchaser Mitch Dobrowner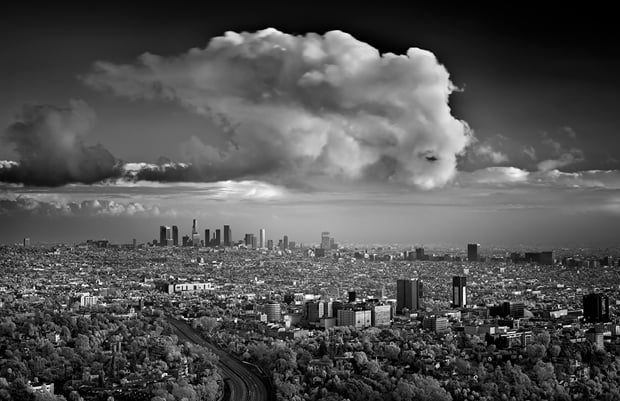 Mitch Dobrowner is a fine art photographer based in Studio City, California. Born on Long Island (Bethpage) New York he as have a wife (Wendy), 3 kids, a dog… and in his words, a bratty cat.
His work has been published by National Geographic Magazine, ABC News, TIME Magazine, Newsweek, CNN, NPR, Audubon Society, LA Times and LensWork, among others. Google recently produced a 2 minute commercial revolving around his work for their Search Stories campaign.
PetaPixel: To begin, Mitch, talk about your early experiences with photography and how they paved the way for the work you're making today.
Mitch Dobrowner: I grew up on Long Island (Bethpage), NY and felt totally lost in my teens. I got in a good amount of trouble, started fooling with drugs and motorcycles and my parents were worried about me. In desperation, my father gave me an old Argus rangefinder in an attempt to derail where my life was heading. Little did he realize what an important gesture that would turn out to be for me.
Once I started shooting I became addicted. I eventually stumbled into the images of Minor White and Ansel Adams. This lead to a job in film sensitometry and assisting for photographers Pete Turner and Hashi in New York City. Eventually I set off to travel across the country, which I did for four years focusing primarily on Adams' photography (living out of my car). That experience, and the experience of working with 4×5 and 8×10 cameras, cold light printers and the wet darkroom (producing silver prints) were invaluable to me. Ansel Adams' books The Camera, The Print and The Negative were my bibles.
And today I now especially see the time I spent in sensitometry as vital. It gave me a perspective on film where I wasn't intimidated by it because I knew all about it. I knew how it was made, I knew the science behind it. So when I began shooting again in 2005/2006 I had that same mentality in regards to digital technologies; taking cameras apart, exploring sensors, learning how and why the filters were combined as they were, etc.
Today my cameras act as only an extension of my mind, eye and hands. I don't think about them much… only as a tool, as a painter would see his/her paint brush. And digital printing is truly an art. From my prospective, producing a great digital print takes the same amount of training, research and skill as producing a great silver print.
PP: It's interesting just how involved you are with the technical side of photography. What kind of equipment do you take out in the field with you?
MD: Because my life in Los Angeles can seem a bit complicated at times, my photography is my escape — it's just my art. So I try to keep things simple.
I currently shoot with Canon 5D Mark II's (2 bodies). I really like the camera's Live View as it acts in a similar fashion to the way I used to use the ground glass on my 4×5 and 8×10 cameras. I use only 2 lenses, 24-70mm and 70-200mm L series lenses. I realize, with a zoom, that I may be giving up bit in sharpness but these lenses give me the freedom to compose on the fly — which is a priority to me. And my tripod; I'm not sure I've ever shot a frame in my life without a tripod. The only other item is my beanie. It keeps the hair out of my eyes and I use it to keep the rain off the cameras and lenses.
PP: Your photographs are rich in tones and thoughtfully composed. You mentioned Ansel Adams, do you consider him among your biggest influences? Who are some others?
MD: I owe much to the great photographers of the past, especially Ansel Adams, for their dedication to the craft. They were the ones that inspired me in my late teens. Their dedication, determination, craftsmanship and vision still inspire me. Though I have never met them, they helped me determine the course my life would take.
The first time I saw the work of either Ansel Adams or Minor White I was floored. It may sound a bit cliché, but the images left a major mark on my life. And even today when I look and a great Ansel Adams print or book my world turns upside down again.
Today, my family, which includes my dog and (brat) cat, are my inspiration. Besides the work of Nick Brandt I don't like looking at too many other peoples' work… not that it's not wonderful… it's just overwhelming at times.
PP: How do you mean overwhelming? Is it just the sheer amount of images available to look at? Or is it something else?
MD: Sometimes I just feel bombarded with imagery, whether it's over the Internet, on TV, billboards, movies, magazines, etc. I'm pretty visual so most of it just leads to sensory overload. So I like to stay focused on my family, their priorities… and just live in my own little world.
This all helps with my vision for how I experience the world. I'd also like to document how I saw the planet for my children, their kids and our future generations to see. I think I have the rare opportunity to do that. Ya know… sadly I don't even know my great grand parents names. But they lived lives just as we did. So maybe someone 100+ years from now they will see some of our work and realized we were here? TBD…
PP: When I look at your photographs, the word "classical" instantly comes to mind. There's an essence of grandeur and fine craft in your work. To say that I've seen these qualities many times before isn't to take away from your images, but to suggest that there's a type of tradition that I think you're working in. Do you see your work as part of a tradition? Is that distinction something you seek out deliberately?
MD: In reality I'm much simpler than that. I try not to define or classify anything in my life. I just want to live my life to the fullest I can. I like the images that I produce and they do a good job of representing the way I 'see' the world. I'm just lucky that it seems others relate to the imagery too.
If there is anything traditional about the work it's maybe that I see my prints as my final vision, the final product. The JPGs on the Internet are only a proxy of that final print and vision.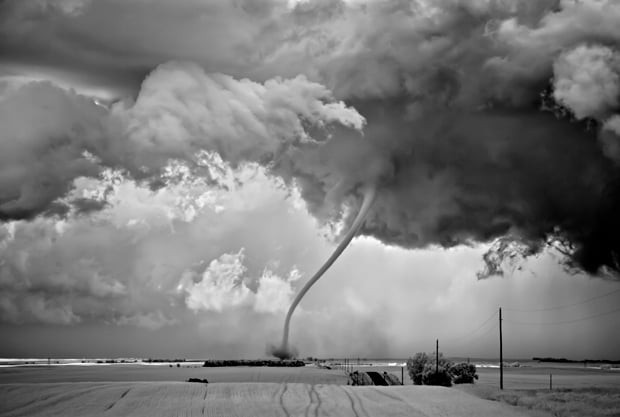 PP: So it seems that your biggest interest is actually in the making of the prints, is that right? Or are all the stages in your work equally fulfilling?
MD: The entire process is fulfilling to me. And yes, I love printmaking. There is not maybe anything better (to me) than seeing a beautiful print. When I see someone's print that I like, I always visualize what it took to produce it. The entire process is an amazing journey.
Each of my prints/images are like children to me. I remember the experience of capturing and creating it like it was yesterday.
My process usually starts with an interest in a subject… be it a rock, a city or a particular landscape. In fact I usually can see the image I want in my mind before I even head out. Then the planning (to get to that location), the days it takes to scout the location, getting to a place during the right lighting and weather conditions… all the way to shooting, editing, seeing an image for the first time on a computer screen, producing your first print, etc. It's just a journey that inspires me. And I so appreciate prints that I see of others, especially some of the master of the past like Ansel Adams for the dedication and passion it took to produce those bodies of work.
PP: Let's talk about your storm photography. Why storms? Is it because of the unique light and cloud formations you're able to capture? Or is it more of a thrill-seeking venture?
MD: Yeah, it's always about the light. My main focus has always been landscape photography. I have always loved just sitting out in nature, hearing the wind blow and watching the light changing. I study the light and see photography as an exercise in painting with light and shadows.
In inclement weather, light and shadows are always changing. Then there are the unexpected things that Mother Nature throws at you, especially when a storm is approaching. It's a pretty surreal sight. I just try and capture what I see and feel at those moments in my pictures.
A storm is like a person. It's born when the conditions are right, at birth it is fragile — it can die — but once it decides it's going to live it turns unpredictable and can become violent. Eventually it matures and takes form, then ages and dies. No two storms are born in the same exactly way — and no two storms will ever look (or act) the same.
When I'm out there I always hear the mantra spoken by Edward Abbey, "Our job is to record, each in his own way, this world of light and shadow and time that will never come again exactly as it is today."
….. and yes, I guess I'm a thrill seeker at heart, too. Why not?
PP: Have you ever chased a storm and found that you were a little too close? Or felt that you were in actual danger?
MD: Well yeah we've been close, but I don't get scared or feel in danger. That's because what's in front of me is something amazing and surreal to look at. But the one that comes to mind in regards to getting a bit too close is a storm that we started tracking in South Dakota. (Seen below)
We had chased the storm for three or four hours just waiting for something to happen. Eventually, we ended up in Moorcroft, Wyoming where we stopped in a field just outside of town. We sat for about ten minutes or so… then, right in front of our eyes, the storm turned extremely violent, into a monster hail storm where it changed direction and came straight at us, probably about 50-60 miles an hour. It started dropping golf ball sized hail on us and we had to bolt/run quickly.
I had time to only get off about 7 shots and if you look at the image you can see the ground is a little blurred. That's because we were standing in 50 mile-an-hour winds at the time. The situation changed from us chasing the storm into the storm chasing us. We eventually got out of its way but sadly it did major damage to the small town of Moorcroft.
PP: What advice would you have for others who want to photograph storms? What are the tricks of the trade you've learned by doing this work?
MD: No tricks, just respect Mother Nature and the people that live in the area in which these storms take place. Oh, and you should try to stay out of the way of lightning.
PP: Finally, what's coming up for you over the next year, photographically or otherwise?
MD: I want to get back to the Southwest… to Southern Utah, Northern Arizona and New Mexico again. There's a lot more I'd like to say with that series of images. I'd also like to starting a series on volcanoes, both dormant and active (should I be so lucky). I also want a picture of my 17 year-old standing in front of a tornado this year. But that's not for me, it's for him… a memory of our time together.
PP: Thanks for your time Mitch