What It's Like Shooting the Kentucky Derby with Getty
This past weekend I had the incredible opportunity to shoot the Kentucky Derby with the Getty team.

But first…
A little background on how this chance came to me. I work at the State Journal in Frankfort, Kentucky, my first job coming out of college when I graduated two years ago. Soon after I started there, I was introduced to Rob Carr, a photographer that started at the same paper (a month before I was born, a fact he is not quite fond of), and now works for Getty and lives in Baltimore. We've stayed in touch over the past couple years, he offering advice and help to questions I asked.
March 19. I get a call from Rob out of the blue, asking if I wanted to be a part of the Getty team that shot the Oaks (big race Friday before the Derby) and the Derby. It was a no brainer for me to say yes, and after I checked with my editor to make sure I was clear to go (though to be honest, I was probably going to go regardless), I sent all my info into Getty to get me credentialed and the long wait for the actual weekend began.
The Thursday night before Derby weekend, Rob calls me and invites me over to Louisville to meet the guys that were going to be on the team. I go and have one of the best home cooked meals I've had in a long time, and get to meet the other shooters. They were all extremely nice and personable, and it was fun to hear them talk about covering the Winter Olympics in Sochi and preparing for the World Cup in Brazil. I was mostly quiet, trying to take in as much as I could.
Friday rolls around and I get to Churchill Downs early in the afternoon. Trying to actually get into Churchill was a nightmare. Unlike last year, Churchill outsourced their credential process, and they mucked it up something fierce. Somehow, they lost my headshot for my credential, so I had to pick it up myself. However, to get to their office to pick up my credential, I needed to get past the gate, which I couldn't get into because I didn't have my credential! Finally, after an hour of frustration, Rob was able to come get my and escort me to the office to get my pass.
Once I was in the media room, Rob asked me what gear I was shooting with. I showed him my Nikon D7000, and the paper's D300s and D600 they let me use. He immediately dismissed that and said I needed something better. We walk over to the Nikon Professional Services booth where they loan equipment and offer equipment cleaning as a way to support the photographers during the races that make up the Triple Crown. Rob asked one of the reps, Mark Suban, the actual head of NPS in the U.S., if there were any bodies left. Suban said there weren't, but offered to let me use his personal D4S.
I nearly soiled myself when he handed it over to me.
Now set with the best Nikon camera money can buy, I was led by Rob out to the track so that he could show me where my spot would be and what my assignment was. I was placed directly across from the finish line, and my job sounded simple, but had little room for error. The ideal shot was getting the horse crossing the finish line, as tight as I could without cutting off any of the horse, have the jockey celebrating, and all four hooves were off the ground.
There was an Ethernet cable that connected into the camera that would immediately send the photos back to the editor in the press room so that he could send it out as fast as possible. If everything went well, from the time I took the photo to the time it was available for use, the time elapsed would be roughly one minute and twenty seconds. I spent the rest of that day getting used to the camera and the speed of the horses crossing the finish line.
That night I crashed with a photo friend, Adam Creech, who lives in Louisville and was also covering the Derby, which saved me another hour drive each way from Frankfort. We ordered pizza, edited photos, and talked about the plans for tomorrow.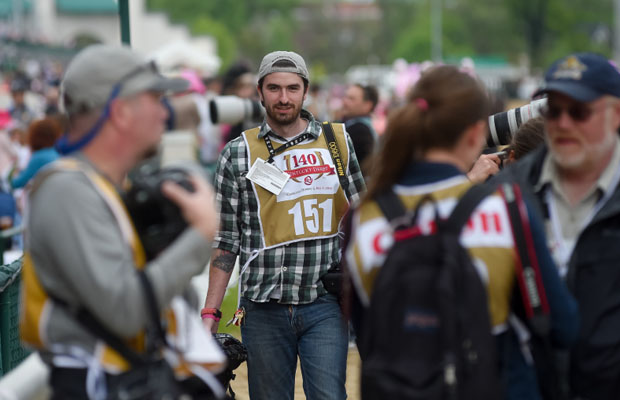 The next morning was an early one, parking at the media lot at 8 a.m. Luckily they have a media shuttle to take us from the lot to the entrance (a distance of almost a mile and a half), which turned out to be just a school bus.
Soon after I arrive, Rob has me go out and get some early feature shots of people setting up and any crazy hats I see. I spend an hour walking around, snapping away. It was nice at that point since it wasn't too crowded or hot yet.
I came back in to the media room and killed some time. The majority of my downtime was spent fighting allergies, which were making an otherwise fantastic weekend quite miserable. I had gotten very little sleep the week leading up to the Derby, so I was fighting exhaustion, having difficulty breathing and a cough.
One of the great things about the Derby is that anyone who's anyone in sports photography or Kentucky photography is there. I was able to reconnect with a lot of area photographers I've met in the past couple years, and even ran into a photographer I went to school with.
Later in the afternoon, they send me out for more feature hunting, this time in the infield. If you don't know, the infield of the Derby is the wrinkle to fancy schmancy dresses and hats that most people see. It's more of a county fair/carnival atmosphere, with plenty of alcohol, music and a plethora of characters. I saw a lot of people in costumes and elaborate hats, and several who were very drunk despite it being only one in the afternoon. I even saw three dudes rub sunscreen all over each other in a mosh pit to dance music. Like I said, it gets weird.
After another hour, I came back to the media room and handed my cards over to the editor. That was one of several things about this assignment that was very different for me. For the past five years I've been shooting in college and at this paper, I've always edited my own work. It was a little nerve wracking to hand them over to someone else and wonder what they thought of the shots and which shots they would pick.
Then came some more downtime, in which I spent making my bets ($10 on Danza to win, $10 on Samraat to show). As the time grew closer, I was getting a bit more nervous and kept worrying about messing up the shot. It's not like shooting a baseball game where if you don't get a shot of the pitcher quite right you just try on the next pitch. The margin for error was incredibly slim, and I was shooting for a world-wide wire service, not a less than 10,000 circulation newspaper.
As the hour of truth arrived, we were all getting ready to head out to the track. A member of the team, Andy Lyons, quite possibly the best sports photographer in the country right now (just won Kentucky Sports Photographer of the Year – third entry down), gives me a reassuring tap on the shoulder and says "Don't f*** it up."
Now, he was just giving me a hard time and didn't mean it, but at the same time, it was the same exactly thing I was saying in my mind over and over.
After shooting in the paddock for a bit, I make my way to the track and find my spot. I send the photos I had just taken to the editor through the cable, and start to get settled with the D4S and 80-200mm.
It quickly becomes apparent that the lighting is absolutely terrible. By this time of the day, the shadows had completely covered the track, yet the entire background was still brightly lit. It was terrible. The photographers to my left and right, from the AP and USA Today respectively, just kind of laughed to each other and shrugged our shoulders. There was nothing we could do about it.
Finally, mercifully for my nerves, the race starts. The thoroughbreds go racing by, the sound of their hooves pounding the dirt resonating through my body. I still believe that is one of the coolest moments in sports to have them go thundering by.
We watch the horses go around the turns and down the backstretch on the brand new jumbotron, a soon they make their way around the final turn. During this time, I'm just hoping that one horse manages to break away from the pack and cross the finish line by itself, so I don't have to worry about trying to fit two or three entire horses in a frame. Luckily, California Chrome proved to live up to its status as the favorite, and blew the pack away. I picked him up about 100 yards from the finish line, and let the shutter rip.
I followed him through the finish line, holding my breath. It wasn't until he was far past the line that I let myself take a look and check what I had gotten. When I finally saw I had gotten the exact shot I needed, I let out a huge sigh of relief and a shot of ecstasy flowed through my body. I didn't let it last long though, because though my main objective was complete, I still had work to do.
I took a few pictures of him coming back and waving to the crowd, then disconnected from the wire to follow him as he went past. The jockey took her down the fence line, waving to the crowd. After reaching the end, he crossed onto the turf track to head back to the winner's circle. The pass I had wouldn't let me go to the winner's circle, so I had to get what I could at this point.
A small (4 foot?) chain link fence separates the turf track from the dirt track. I ran over, set the camera down on the other side, and vaulted over the fence (there was an opening down the line, but I didn't have time). I grabbed the camera again, and got off some shots of the jockey waving to the crowd, which turned out to be my favorite shot of the weekend. Once I got that shot, I knew I needed to send it back as soon as possible. I ran back down the track to where the wire was, plugged in, and sent those pictures back to the media room.
At this point my job was done. I was finally able to relax and breathe, extremely pleased with myself that I didn't f*** it up.
I made my way back to the media room, turned in the camera back to the Nikon rep, and packed my bag, adrenaline still racing at this point. I was able to grab myself one of the roses from the winner's circle before heading out with Adam. We had to make the long walk back to my car since the media shuttles weren't running at that time. But I didn't really mind. I was still on cloud nine by the time we got back to his apartment.
By that time, some of my friends were already telling me that they had seen my photos. One friend told me that the Chicago Sun-Times tweeted out the finish line picture. Two schoolmates of mine told me they found my photos on the wire, one using them for the front page of their paper. Seeing my photos all over started to become surreal.
Soon I was invited back to the house that the Getty guys always rent and stay at when Derby weekend rolls around. I get to the house and chow down on pizza and have some beer. It was much needed after the long couple days.
After a couple hours of chatting with everyone, we all turn in for the night, exhausted. I sleep on the couch, which I had no qualms with.
The next morning I spend with Rob and another of the Getty guys, giving me advice about what steps I need to take to get myself to the next level. At about 10:30, we finally head our separate ways, and I finally make it home.
As I stated to unpack my gear, it started to hit me how beneficial this weekend was for me. I had proven, not only to other photographers and possible future employers, but also to myself that given a specific task, working for one of the largest wire services, during one of the largest sporting events in the world, that I could deliver. It was probably the biggest confidence boost I've ever received in my fledgling career.
Here are some other observations I realized:
The D4S is absolutely awesome. After shooting with a D7000 and D600 for the past year, it was like being handed a Ferrari after driving my Chevy Cruze. The speed and reliability of the autofocus, the shutter frame rate, the build quality, everything was amazing. I want one so bad.
The guys that made up the Getty team were amazing. Despite the years of experience that dwarfed mine, they showed no signs of arrogance or elitism. These were guys that have covered several Olympics, World Cups, Super Bowls, World Series. You name it, they've shot it. And yet they were incredibly cool and personable. They were all supportive of me and made my feel like a part of the team. I would work with them again in a heartbeat.
Being given a very specific assignment is much different than what I'm used to. In most cases, they have me shoot an event or a game, then I just get to pick whichever shots I want them to use for the paper. It was a bit more stressful, but also very rewarding.
All in all, it was an incredibly amazing weekend, despite dealing with the allergies. I'm beyond thankful for the opportunity Rob gave me. I got a taste for what it's like to work for the big shots at the big time event, and I can't wait to do it again.
Places Where My Photos Ran
You get the idea. Lot of crazy hat galleries. Would like to be able to see how many papers it ran in, but have no idea how to do that.
To see all the photos Getty used, go here.
---
About the author: Dylan Buell is a photographer working for the State Journal in Frankfort, Kentucky. He specializes in sports, nature, and music, but is also well versed in news and features. Visit his website here. This article originally appeared here.