Samsung Unveils the New Galaxy K Zoom: A Camera Phone Worthy of the Name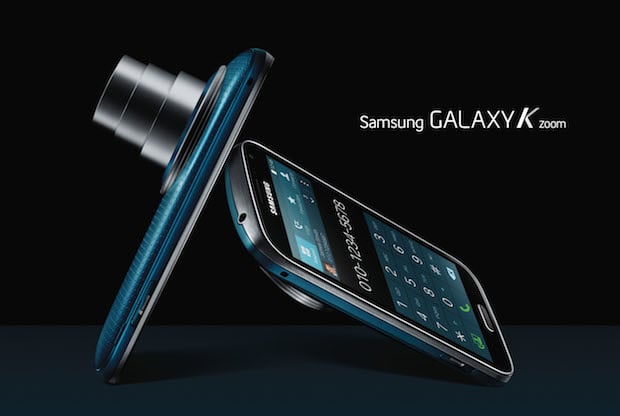 The Galaxy S4 Zoom camera/smartphone officially has a newer, sleeker younger sibling. Announced late last night, Samsung has taken a bit of the focus off of the Galaxy S5's camera issues with the release of the new, 10x optical, 20.7-megapixel Galaxy K Zoom — a smartphone that truly earns the right to be called a 'camera phone.'
The Galaxy K Zoom offers some significant updates over its predecessor in both the design and hardware departments. Inside, you'll find a higher res 20.7-megapixel 1/2.3-inch BSI CMOS sensor, Optical Image Stabilization, a 4.8-inch Super AMOLED display and a 10x optical zoom (24-240mm equivalent) f/3.1-6.3 lens, all of which run off of more RAM and processing power than the S4 Zoom could boast.
The design has also been reimagined to look more like a smartphone and less like a smamra… or cartphone… or whatever you'd call the S4 Zoom's bulky camera-centric styling. It's not quite thin by today's smartphone standards but certainly sleek for what it is.
Have a look for yourself:
Other notable features include five optimize filters, a "selfie alarm" that will automatically take three shots of your mug with the main cam once you've centered yourself in the frame, a full-manual mode and the ability to create custom shooting presets that you can then upload to an online store where others can download them.
No word yet on how much it will cost or if it will even arrive in the United States, but we'll be sure to update you as soon as that info drops. For now, check out the press release here and let us know in the comments if you'd like us to review this beastly camera phone.