Samsung Galaxy S4 Zoom is Now Official: 16-Megapixel Camera, 10x Optical Zoom
It is probably safe to say that the rumors of an alternate Samsung Galaxy S4 with an improved camera can be given the "true!" stamp of approval. The company has announced the Galaxy S4 Zoom, a smartphone sporting a high-resolution image sensor and optical zoom.
The announcement comes mere days following a leak purportedly showing the device, which, of course, we now know is the real deal.
Camera features include 16 megapixels of CMOS sensor goodness, 10x optical zoom (goodbye, grainy digital zoom!), Xenon flash, and a 1.9-megapixel front facing camera. For those of you with shaky hands, optical image stabilization is very much included.
Perhaps most interestingly, though, is the inclusion of something called the "Zoom Ring." It's exactly as it sounds — it allows the end user to make full use of the optical zoom, but it also doubles as quick access to the camera while on a call for in-call photo sharing. This makes it simple to MMS an image to whomever you're on a call with.
According to Samsung, "the Zoom Ring can be used to activate the Quick Launch and Shortcut features, giving you instant access to multiple camera modes including Auto, Gallery and Smart Mode with a simple twist."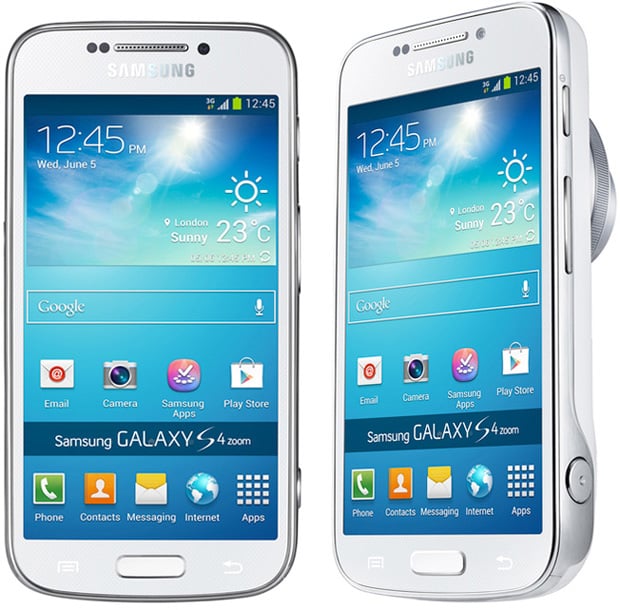 This camera-centric device doesn't stop with optics. A feature called Photo Suggest allows users to view images from fellow photographers, bringing about a bit of inspiration. According to Samsung, Photo Suggest will even recommend ideal vantage points to help you decide where you should be shooting from.
JK Shin, CEO and Head of IT & Mobile Communications Division says, "The Samsung GALAXY S4 zoom represents yet another step forward in the way Samsung is working to enhance the lives of our customers around the world."
The S4, no doubt, is yet another example of how Samsung could be trying to make it big in the smartphone picture-taking industry. Last summer, the company unveiled the Samsung Galaxy Camera, which also sported optical zoom.