Interview with Award-Winning Landscape Photographer Lauren Henkin
Born in Washington, D.C., visual artist Lauren Henkin graduated with a Bachelor of Arts in architecture from Washington University in St. Louis and now resides in New York City. He primary subject is the American landscape. Her most recent project, The Park, focuses on Central Park, the massive constructed urban space and how people engage it.
PetaPixel: First off Lauren, tell us about the moment that you decide you wanted to pursue photography as your profession.
Lauren Henkin: I'm not sure I ever thought about photography as a profession. I can mark a particular moment though when I knew I wanted to pursue photography as an artist.
My parents, while not artists themselves, have always loved the arts. They took my two sisters and me to museums often. If we went on vacation, there were always museum visits involved. In 1996, my dad took me to see a retrospective of Harry Callahan's work at the National Gallery of Art. It was a very indecisive time for me. I'd just graduated college with an architecture degree, but was uncertain that I wanted to practice architecture.
When I saw Callahan's prints (in particular the photographs of Cape Cod), I had a visceral reaction to them. I knew that I wanted to dedicate myself to the pursuit of photography as an artistic medium.
PP: Who were the mentors who helped to shape your practice?
LH: Depending on a particular struggle or roadblock I faced, I sought out specific artists for help and guidance. Studying architecture in school gave me a foundation in form, composition and how to build a project with a strong conceptual foundation. But what I needed most, in my transition from architect to photographer, was to learn how to become a great printer.
I first turned to George Tice. I took a master printing workshop with him. I'll never forget a brilliant challenge he presented. He laid out a series of prints from the same image and asked that we label which print was successful with the light/dark combination but had too much contrast, which was too light with too much contrast; which was too dark with too much contrast; which was too light with not enough contrast, and so on. That one exercise opened up the path for me to develop a vocabulary for my prints.
As far as an ongoing mentor, I've had only one — Tyler Boley — a photographer and master printer in Seattle. I took a master printing in pigment workshop with him at Jon Cone's studio in Vermont. Since then, I've been pestering him with questions about how to print using varying materials and techniques—all in service to the ideas presented in the images.
PP: And as a follow-up, who do you count among your biggest influences, photographically or otherwise?
LH: I look to artists working in all media for inspiration. In photography, I turn often to Robert Adams. He is an artist continually pushing himself to see in new ways while quietly challenging our cultural identity. I also look to painters like Brice Marden and Willem de Kooning, sculptors like Martin Puryear and Louise Nevelson, architects like Alvaro Siza and Herzog & de Meuron and poets like Mark Strand and Charles Wright.
PP: Your latest project, The Park, was made in New York City's Central Park over the course of the last three years. Tell us about what spurred you to begin this project. Did the final result come close to what you had envisioned in the beginning?
LH: The Park began in 2009. At the time, I was living in Oregon and hadn't been to New York in a few years, probably the longest stretch without the City in my life. I missed it. I had only 24 hours. I thought I would hit the museums and galleries as I normally do, but it was a beautiful summer day and I had a strong urge to photograph in Central Park. I spent about 6 hours on that one day photographing and walking.
I didn't have an intent for the project at the beginning. After that brief trip, I went back to Oregon, made small proofs and spent a long time — over a year — just looking at them, understanding what they wanted to be and what I wanted from them. I hoped that finding common ground would focus the project.
A few stood out and I began to identify some general themes. Central Park is well-covered terrain. And it's not just frequently photographed, but shot by masters in this medium—Davidson, Papageorge, Meyerowitz, Friedlander. I would need say something new.
What emerged for me were photographs combining multiple elements — a human presence, the architecture and the landscape — sometimes awkwardly, sometimes harmoniously. That was going to be the project… not one where the park would be a backdrop for human study, but as a stage from which to understand how we use public space.
PP: The Parks fits well within your overall focus in landscape photography. What is the appeal of landscape images to you that isn't found in other genres, such as portrait or still-life?
LH: It's less about the appeal of landscape photography, and more about being in nature and an ongoing fascination with form. When I studied architecture, I built very abstract, conceptual models (mostly of buildings in the context of existing conditions). I also photographed building sites. I would make visual studies of light, the changing contours of the land, and how built form engages and coexists with the natural. Landscape isn't my genre; form is.
I would argue that many of the photographs I make are portraits of us — both in our impact on the land and in how it can still exist independently of us. My first body of work, Charleston, was a series of urban landscapes. This picture, "Pressed For Time," to me, is as much about us as it is about a building or street or city. I'm very interested in portraiture—just not in a direct way.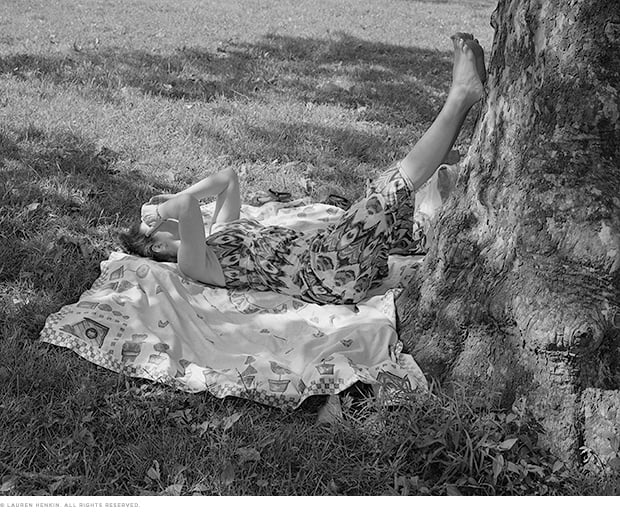 PP: What's the key to making a great landscape photograph? Is it the same as making a great photograph in general?
LH: I think the key to making a great landscape photograph is same as making any great picture. It's about reinterpreting what we experience in three dimensions using different ingredients — form, tension, texture, ambiguity, intuition, and something of oneself — into a two-dimensional object. The brilliance of photography is in the making of something seemingly so simple out of complexity and chaos.
PP: Similarly, do you have guiding principles that you follow when you're making pictures? Is there an underlying philosophy that binds all your work together?
LH: I wouldn't say that I have any guiding principles when making pictures beyond an emphasis on form and commitment to the photograph as object. There are intents for each body of work, however.
Before The Park, my work focused on the tension between preservation and extinction, as told through the landscape in different ways. But, I'm suspicious of becoming too comfortable in a process or subject or genre or visual language. Experimentation should be a guiding principle.
PP: Over the years you've been building a reputation as an artist who fosters her own career through teaching, speaking and writing. What are the greatest challenges of making a living as a photographic artist. What are the keys to succeeding at it?
LH: The greatest challenge of making a living as a photographic artist is making a living as a photographic artist. I don't know many photographers that do make a living from their art. I would say as a starting point that you must make the very best possible photographs you can. Each body of work should be better than the previous. Experiment. Be open to criticism, but choose your critics carefully. Question yourself and your work, but also learn to trust your gut. Understand your photographs in the context of the history of this medium. Talk about your work with intelligence and vigor.
The success I've had has come from perseverance and an approach that includes: getting my work in front of as many people as possible; talking with other artists (working in all media); sharing the photographs with top-notch curators and gallerists; and most important, being patient. I've just had my first major institutional acquisition (100+ prints). It took over 2 ½ years to make this a reality (not counting the making of the work). It's still a virtue.
PP: Finally, what are you looking forward to over the next year?
LH: I'm looking forward to beginning a new project that will take me in a different direction. This series began with a few images I made about a year ago and have now germinated into a substantive idea. The Park has been a turning point for me — freeing me from the need to originate projects from internal narrative. I'm now more interested in focusing outward, to make broader visual statements.
---
Image credits: Photographs by Lauren Henkin and used with permission.