Nikon 1 J2 Mirrorless Camera and Nikkor 11-27.5mm Now Officially Exist
Well, that was fast. Just a couple days after photos of the duo leaked onto the web, the Nikon 1 J2 mirrorless camera and Nikkor 11-27.5mm lens are now official.

Nikon 1 J2
The new Nikon 1 J2 improves on the J1 in a few subtle but welcome ways: it boasts a Creative Mode with photo effects (the camera's geared towards casual shooters), a new metallic build, a higher-res LCD screen, and some sleek new color options for the camera itself.
Found on the camera's mode dial is the new Creative Mode, which offers shooting modes like panorama, selective color, miniature (i.e. faux tilt lens shots), soft, night landscape, backlighting, and night portraits.
There's also a new LCD screen on the back. While the size hasn't changed — it's still 3 inches — the LCD is high-res with 921K dots (up from 460K).
The camera's body is now metallic, and comes in new deep red and orange colors in addition to the white, black, silver, and pink models offered in the J1.
Most of the other specs are the same as its predecessor: a 10.1-megapixel CX-format CMOS sensor, HD video recording, and 10fps continuous shooting (up to 60fps is AF is locked).
The camera will hit store shelves with a 10-30mm f/3.5-5.6 kit lens starting in September 2012, carrying a price tag of $550. This is $100 cheaper than the $650 price that the J1 carried when it was released last year.
Nikon and Canon have taken very different strategies in attacking the mirrorless camera market. Compared to the new Canon EOS M mirrorless camera, the Nikon J2 and V1 are $250 cheaper and $100 more expensive (respectively).
However, Canon has opted to stuff its camera with an APS-C-sized sensor, while Nikon has gone with a new (and much smaller) 1-inch sensor. Check out the size comparison:
It'll be interesting to see how Nikon responds to this new rival, since it might be difficult to change its sensor size decisions now that there's an entirely new lens mount.
For the time being, it'll have to be content offering a more affordable mirrorless system that has slightly superior portability (the J2 it's both smaller and lighter).
Nikkor 11-27.5mm f/3.5-5.6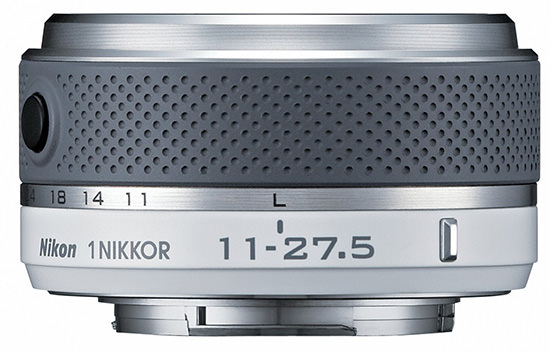 The new Nikkor 11-27.5mm lens has a small and light form factor, and offers a 2.5x zoom with a 30-74mm 35mm equivalent focal range.
It comes in both black and white flavors, and will arrive in stores in late September 2012 for the price of $190.
---
P.S. There's also a new WP-N1 waterproof case for the J1 and J2. It'll also launch in September, and will cost a cool $750 for underwater adventurers.