Best Editing Consoles for Photographers in 2023
One of the best things I've purchased as a photographer (and videographer) was an editing console. I own probably eight at this point, all with their own purposes and advantages.

After buying my first, I was enthralled by how much it helped with editing and how quickly I could adjust settings, apply presets, and export a photo. The ability to quickly adjust things like contrast, saturation, H/S/L, curves, etc., in Camera Raw, open into Photoshop, apply sharpening, execute a Photoshop action, and export in one-tenth the amount of time it would take me with a mouse was a godsend.
So, I wanted to present my picks for the best editing consoles, broken down by various categories in order to suit the needs of a large variety of photographers. All of these are based on personal experience — in fact, I own all of these.
At a Glance
Best Overall Editing Console: TourBox Neo and TourBox Elite
TourBox Tech launched in California in 2016, and by 2018, it had its first product launch on Kickstarter for the original TourBox. Several years later, the company updated the TourBox with the second-generation TourBox Neo.
The TourBox Neo is a universal editing console aimed at photo, video, audio, and animation users. Its software supports a wide range of programs with preset templates, including Photoshop, Lightroom, Capture One, Affinity Photo, Luminar, DaVinci Resolve, Premiere, Final Cut Pro, Blender, Corel Painter, ZBrush, AutoCAD… the list goes on and on. These presets — which you can completely customize to your liking — will automatically switch when you jump between programs.
The TourBox itself is a fairly small, squarish design that measures 4.6×4 inches and is 1.7 inches tall. It has a nicely textured surface, which prevents it from easily sliding around on your desk, though it can be a bit of a dust magnet. The controller uses a USB-C port to connect to your computer, and it includes a USB-A port for expansion.
As far as controls, it's fitted with six separate buttons on top as well as up/down/left/right buttons, and another button adorns the left-hand side of the controller. One of my favorite design features is that almost all of the buttons are different sizes and shapes and aren't placed in rows or columns, which makes it very easy to use without even glancing at it.
There's also a scroll wheel, a versatile knob, and a large "all-in-one" dial. The scroll wheel can perform a myriad of functions, such as screen zoom or scrolling through settings, while the knob can serve to adjust brush size or timeline adjustment. The dial can change parameters such as contrast or saturation — basically, these three controls can be customized to do pretty much anything you want. You can use up to 30 presets at a time and set up to 42 operations using the TourBox, which is made doable because some buttons can perform double duty — you can set a button to perform one function with a single press,  double press, or even press two different buttons simultaneously.
The TourBox Neo was one of the first editing consoles I purchased. And I loved it, though I had some issues with it that I felt needed refined. Particularly, I wanted the knob, dial, and wheel to have some haptic feedback or clicks — they just spin freely.
Well, TourBox answered that request with the TourBox Elite. It contains all the same controls and dials of the TourBox Neo, but now those three controls have haptic feedback. It isn't mechanical, but I understand why — each one has customizable vibration and speed settings in the TourBox software, which allows you to modify the spacing and feel of the haptic feedback. As a result, you aren't limited in scroll speed or spacing by a mechanical design. It works very well.
The TourBox Elite also does away with the USB-A expansion port (but retains the USB-C) and adds Bluetooth LE 5.0 — a very welcome feature. The only other differences between the Elite versus the Neo: you can control two devices at the same time, and it contains an upgraded chip.
Both are great choices, and I personally upgraded to the Elite. But if the Bluetooth and haptic feedback aren't super important to you, save yourself $100 and grab the TourBox Neo instead.
Best High-End Editing Console: Loupedeck CT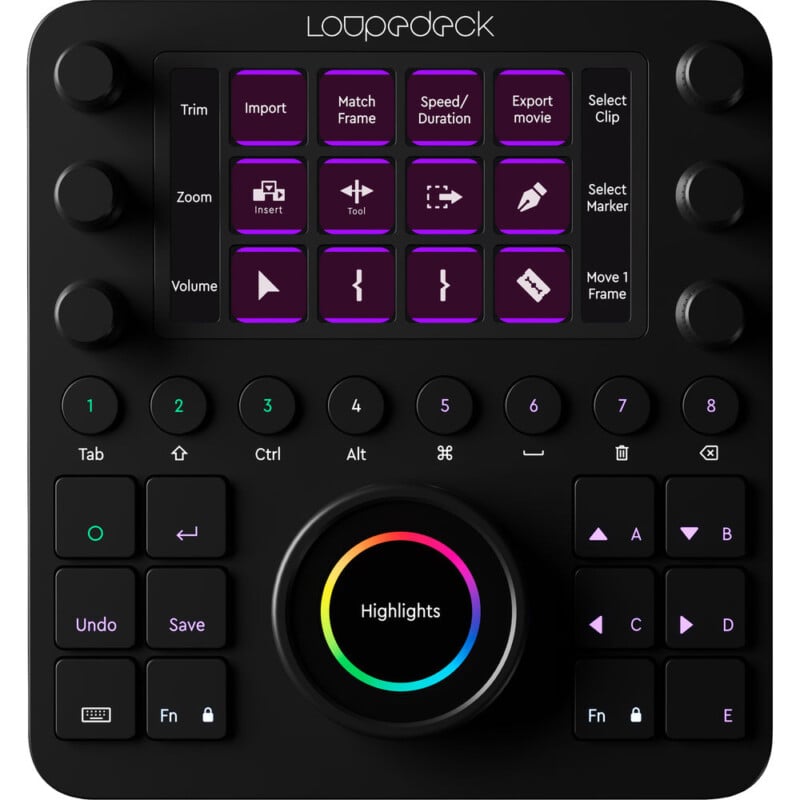 The Loupedeck CT is larger than the TourBox — 6.3 x 5.9 inches — with a much different interface approach. Twenty RGB backlit buttons are pre-labeled — save, undo, up/down/left/right, back, et cetera — though they can be customized to your liking. In the top middle are 12 touch buttons with haptic feedback that can be customized to display various icons to perform different functions. Flanking the touch buttons on the left and right are six analog dials for fine-tuned settings. Below these are eight numbered custom buttons, below which sits a large control wheel with a touchscreen. It also includes 8GB of internal memory to store profiles wherever you go.
Using the Loupedeck CT, you have virtually unlimited customization via the Profile Creator to map custom actions, macros, toggles, mouse movements, shortcuts, dial adjustments, and much more. The Loupedeck CT works with Adobe Photoshop and Camera Raw, Lightroom, Capture One, Illustrator, Premiere Pro, Audition, After Effects, Final Cut Pro, and many, many more. Loupedeck 5.6.1 Software update added Loupedeck's new AI Assistant plugin, which allows you to "send readymade prompts to the AI to process" with the click of a button. It can also apparently write "polite emails."
Loupedeck's Marketplace allows you to search and download hundreds of plugins, profiles, icons, and more.
The CT is very solidly made, built out of an aluminum front plate, backlit LED buttons with robust gaming switches beneath them, aluminum dials, and machined ball bearings, and the round buttons use "heavy usage dome switches." Both LCD panels (the large touchscreen and the touch panel on the wheel) are protected by plastic covers. It's relatively lightweight at 2.2 pounds and includes a USB-C port and Bluetooth LE 5.0, making it reasonably portable, though it does require an external power supply if using Bluetooth as there is no built-in battery.
One of the nicest things about the Loupedeck CT are the packs offered by SideshowFX — the Photoshop Pro pack, for example, gives you 593 programmed and mapped actions with icons and shortcuts, plus 613 actions with icons (no shortcuts). Essentially it gives you icons and commands for just about every Photoshop command for you to build your own perfect setup. I highly, highly recommend it — also available for DaVinci Resolve, Premiere Pro, Capture One, After Effects, and so on.
This is one of my all-time favorite consoles for editing. I use this alongside my TourBox Elite when editing video. It's expensive, yes, but worth every penny.
I personally recommend grabbing a stand and jog dial cover for the CT because I find it much easier to use when it's at a slight incline. There are many you can find on Etsy of various colors and designs, but I purchased this one.
Best Budget Editing Console: Contour Design Shuttle Pro V2 / Contour Design Shuttle Xpress
The Contour Design Shuttle Pro V2 is relatively small, measuring 3.05 x 1.7 inches, and designed with a lovely mouse-like form factor. This makes it easy to rest your hand on it and quickly hit the programmed keys and spin the jog wheel.
The Shuttle Pro features 15 customizable shortcut buttons and a rubber jog wheel in the middle. Four buttons below the jog wheel are elongated and silver; two on each side of the wheel are black and similar in shape, while the remaining nine at the top are smaller.
The Shuttle Driver comes loaded with preset shortcuts for over 100 programs — including the typical Adobe and other photo editing programs — and every key is fully customizable. You can even assign multiple tasks to a single button. The Shuttle Driver will automatically detect which program you are currently using and switch to the corresponding profile. Jumping back and forth is simple.
For $99, the Shuttle Pro V2 is the best bang for your buck out there in terms of the number of customizable shortcut keys, its excellent jog wheel, its wide range of application support, and the excellent software that allows nearly unlimited customization.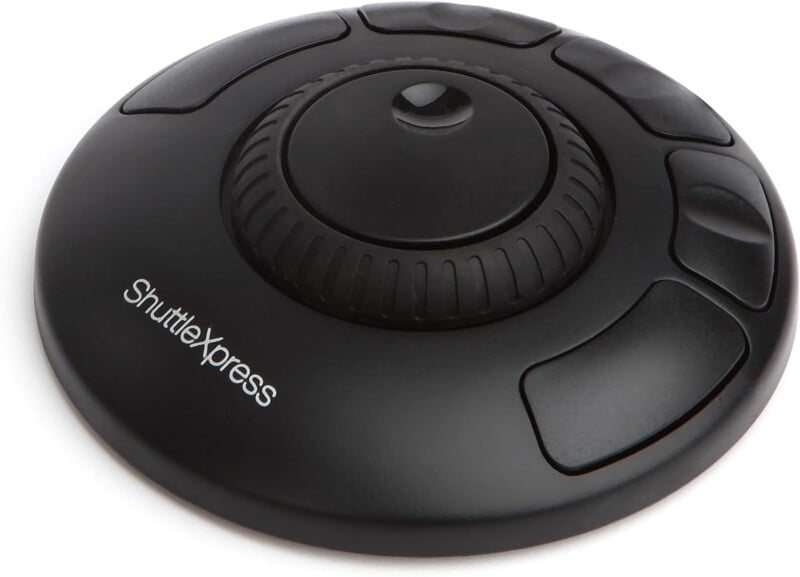 But, if you're on an even more limited budget — or desire something simpler — the Contour Design Shuttle Xpress is available for $40 less. It's circular with a 4.3" diameter and features the same rubber jog wheel as the Shuttle Pro, along with five fully programmable buttons. Both the Shuttle Pro V2 and Shuttle Xpress connect to your computer or tablet via a USB cable, so there is no Bluetooth here — for that, you should look at the XPPen Mini Keydial below, which is similarly priced to the Xpress.
Best Portable Editing Console: XPPen Mini Keydial ACK05
Sometimes, we want the flexibility that an editing console provides but without the bulk typically associated with such devices. That's where the XPPen Mini Keydial ACK05 comes in. It may have a mouthful of a name, but that's the biggest thing about it — it measures 5.02 x 2.75", is a mere 10mm thick, and weighs a paltry 75 grams thanks to its plastic composite and silicone material construction. All of this is even more impressive considering its built-in 1000 mAh battery, which promises 300 hours of continuous working life.
Further aiding its portable nature is the ability to use it with a USB-C cable (which is also how it charges) or via Bluetooth LE 5.0. Should your computer not be capable of using the Bluetooth connection, a USB Bluetooth dongle is included. There are even blank labels included for you to label the keys as you see fit, if needed.
There are ten custom keys with a scissor-switch design and a large control dial that operates in smooth clicks for every 1/24th of a rotation. You can customize up to four sets through the XPPen driver, allowing you to switch between 40 different shortcuts with one button press seamlessly. The Keydial also features what XPPen calls "anti-ghosting technology" for all ten keys, allowing you to control multiple keys at the same time and expanding the customizability.
The Keydial is compatible with Windows, macOS, and Linux, and supports Adobe Photoshop, Premiere, Lightroom, Illustrator, Gimp, Krita, and many other applications. The Keydial also allows you to save your driver settings locally and apply them across all of your devices, so there's no need to reprogram.
This is something that can easily slip into a pocket — you'd certainly have no trouble finding room for it when traveling, nor is it too large for even the most cramped of workspaces. I use mine along with my XPPen drawing table, and it allows me to sit back on the couch with the tablet but still have the added flexibility of external button shortcuts in the palm of my hand.
Best Keyboard Style Editing Console: Loupedeck+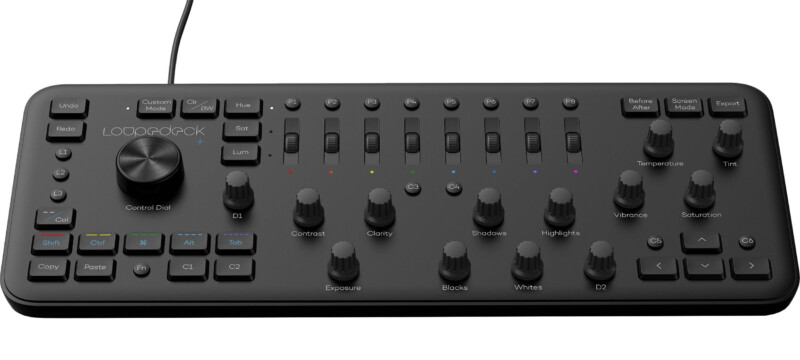 If you edit a lot of photos (or video) at once or want something that offers very extensive physical controls, the Loupedeck+ is the way to go. This console can massively streamline the workflow of a prolific photographer through custom profiles — you can even control your Spotify playlist while editing!
The Loupedeck+ takes up a lot more room than all the other options here, measuring 17.8 x 8.3", so it is perhaps no surprise that it contains no less than 24 mechanical keys, 13 adjustment dials, 17 programmable buttons, 8 wheels, and a large control dial.
The Loupedeck+ is designed to replace a traditional keyboard — as it should, given its size — and it can do just that. All of the keys are labeled, with the exception of the custom C1/C2 keys, as are all of the adjustment dials. However, the console has a custom mode that allows the user to create up to four layers of customized commands and actions — hitting the FN key will switch between each one. Like the TourBox and Loupedeck CT, the Loupedeck+ will dynamically switch between profiles as you move from application to application. All buttons and dials are fully customizable except for the FN and –/Col buttons.
It is natively compatible with Adobe Photoshop and Camera Raw, Lightroom Classic, Premiere Pro, Audition, After Effects, Illustrator, and Live, as well as Capture One Pro, Final Cut Pro, Ableton Live, Spotify Premium, vMix, OBS, Streamlabs, Twitch, and Philips Hue. Should that not be sufficient for you, the Loupedeck Marketplace allows you to freely download hundreds of profiles and plugins for programs, including DaVinci Resolve, Darktable, Luminar, Blender, Affinity Photo, Vegas Pro, Photo Mechanic, and many others.
The first generation Loupedeck+ was quite shoddy in many ways, from the construction to the software. Thankfully, Loupedeck took that to heart, and the current version features a sturdier body, immensely improved mechanical keys and dials, and new software built from scratch.
While the buttons and dials are labeled out of the box, Mike McCarthy — post-production engineer on Act of Valor and Need for Speed, among many other films — created custom overlays for the Loupedeck+. These can be purchased at KB Covers & Keyboards, with stock options for Adobe Photoshop, Lightroom, After Effects, Audition, Premiere Pro, and Final Cut Pro. There is also an option to purchase a customized overlay. The overlays complement and cover the existing permanent labeling, and they are easily swappable for users who need different overlays for multiple applications.
This is a great option for those who edit a lot of photos at once — wedding, event, and other commercial photographers will likely greatly benefit from the Loupedeck+. More casual users, or users like me who edit smaller numbers of photos more meticulously, are likely better served by any of the other options on this list.
---
Image credits: Header photo by TourBox