Photographer Inspires Discourse Using Gun Sculptures Made of Cameras
Accomplished music, fashion, and lifestyle photographer Jason Siegel has released a new collection for his Shoot Portraits Not People (SPNP) project.
The latest sculptures and photographs follow Siegel's original SPNP work in 2017. Like the prior collections, his newest art release uses recycled camera equipment to create realistic, "anatomically correct" sculptures of weapons.
Why Gun Sculptures?
"Photography will always be my passion," says Siegel. "But now, I'm creating something beyond a portrait for a magazine; I'm building thought-provoking art that speaks to a societal issue. Imagine making something really cool and, at the same time, bringing awareness to something that affects us almost every single day."
The idea behind Shoot Portraits Not People came when Siegel arranged his camera gear into the shape of a rifle on his living room floor and uploaded the photo to social media. The image went viral, inspiring Siegel to think about how to turn that basic idea into something more meaningful.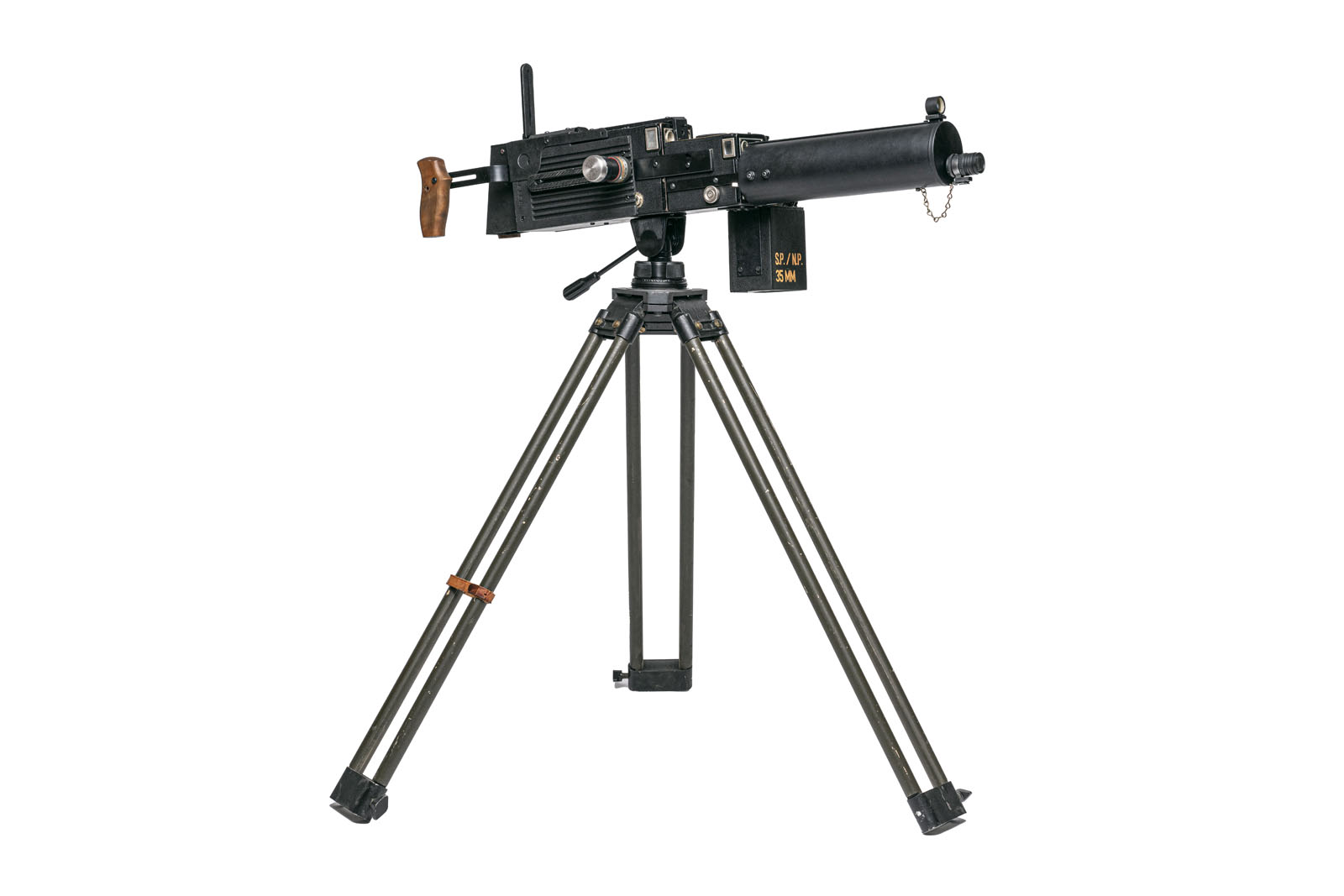 Siegel hopes that Shoot Portraits Not People will reshape the way that people think about firearm violence and, ideally, spark conversations surrounding guns and potential legislation that may save lives. The need for that conversation only gets more urgent each year.
Siegel's New Sculptures Build Upon His Legacy of Extremely Detailed and Realistic Depictions of Firearms
The newest batch of sculptures is Siegel's fifth significant addition to the SPNP project and brings the total number of guns constructed using cameras to 22. The new firearm sculptures include a MAC-11 submachine gun, a G36 assault rifle, and a Romanian Draco Pistol, although it is more like a compact rifle.
The realism of Siegel's sculptures is very intentional. The artist tells PetaPixel over email that the point of his work is to evoke an emotion. "I think that by making the sculptures look hyper-realistic, it does exactly that. This has opened up a lot of conversation and interest in the project as a whole. I think if they looked more toy-like, they wouldn't have the same effect," Siegel explains.
There is some risk that by creating facsimiles of real guns, Siegel attracts the attention of people who simply love guns and have no sincere interest in having a conversation about firearm safety. To that concern, Siegel says that his work attracts many types of people, including those passionate about guns and preserving firearm rights. However, Siegel argues that many of these same people are also interested in his project's anti-violence message.
"I think that the vast percentage of gun owners still believe in the idea of 'anti-violence' and own firearms for the sport of target shooting and have never even considered hurting people with them, so it's pretty easy for both parties to get behind the message of Shooting Portraits and Not People," the photographer says.
Confronting the Problem of Gun Violence Through Art
On the more significant problem of gun violence, the impetus for Siegel's work, he accepts that for another subset of people, seeing realistic depictions of guns, especially mixed in with a hobby they love, like photography, can be uncomfortable. The discomfort is part of the point.
It is also worth considering that the line between critique and glorification can become very blurry.
"The purpose of this project is to create emotion," Siegel says. "Sometimes that emotion may not be a comfortable one — in this case, it often isn't for many."
"However, through this project, I've had lots of discussions with people who have been directly affected by gun violence, and while it may feel jarring for them, the majority have walked away with only positive things to say."
Not only do most people who engage with Siegel's SPNP come away with a positive experience, but some have added his sculptures to their art collections, which enables Siegel to donate a portion of the proceeds to Everytown for Gun Safety, a non-violence advocacy charity.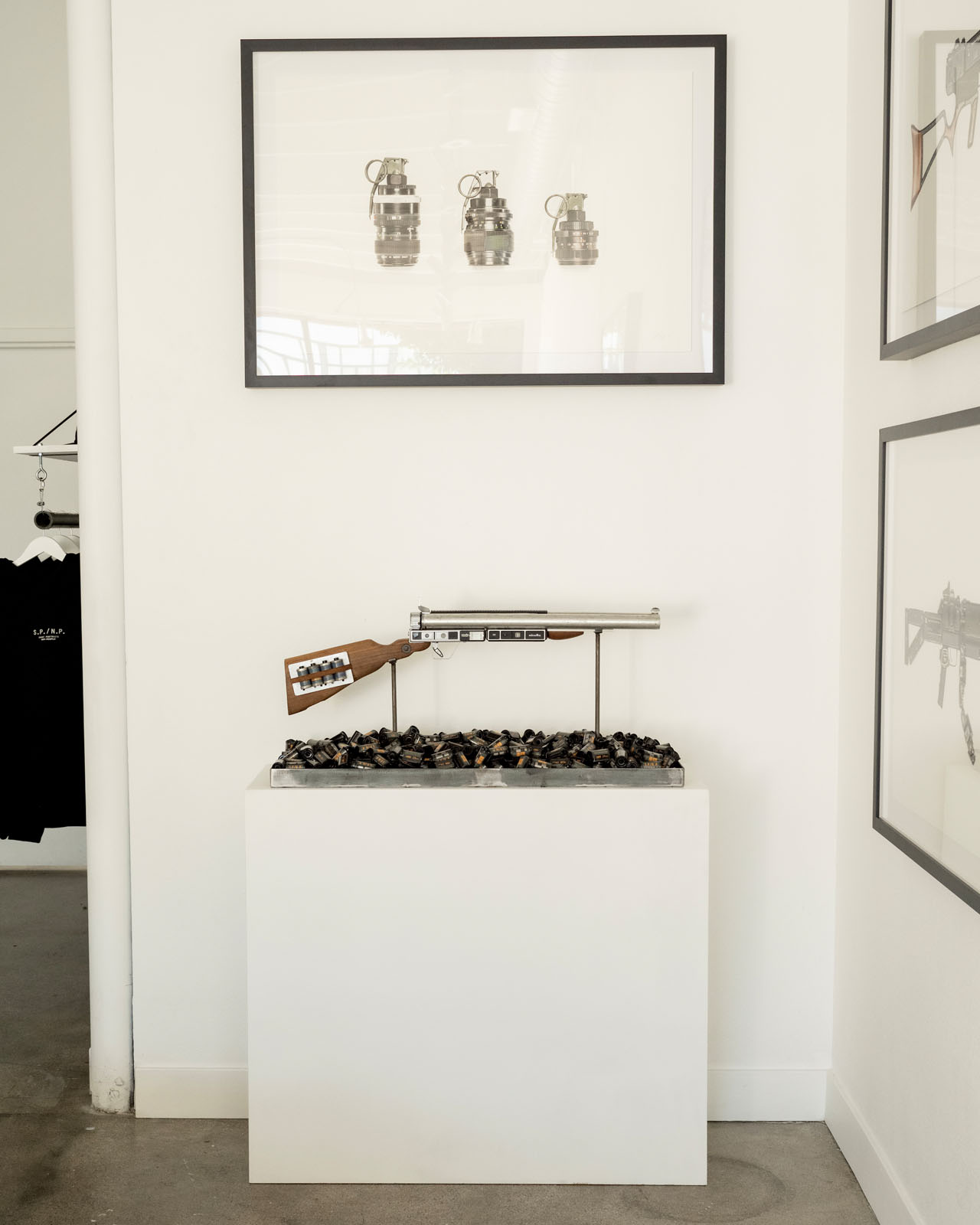 "I think there are definitely things that need to change with firearm legislation. Unfortunately, because firearms are so deeply rooted in American culture and law, I don't see a whole lot being able to change very easily," Siegel admits. "At least with this project, it helps keep the topic at the forefront of people's minds and is able to give back to those who have been affected and [can help] educate."
Siegel's views on firearms have evolved over the years because of Shoot Portraits Not People. His exhibits have exposed him to more perspectives on firearms.
The project has also allowed him to speak directly with people affected by gun violence and learn more about the organization and work going on concerning firearm legislation and gun safety.
"I've got to learn the history of firearms in a very detailed, in-depth way. Everyone has a story and usually loves to share it, so through those personal conversations, I've been able to gain a lot of perspective on firearms — good, bad, and everything in between," says Siegel.
Turning Old Camera Gear Into One-of-a-Kind Sculptures
Siegel's hand-crafted sculptures are one-of-a-kind, so once they sell, they're gone forever. Siegel also sells prints of his sculptures. After all, Siegel is a very talented photographer, so he makes excellent images of his "gun" creations.
Each firearm model takes significant time and care to create. They also require a lot of old and recycled camera parts, which Siegel has been collecting for years. Sometimes he finds a piece of photo equipment that gives him an idea for a specific sculpture, while other times he has a gun model in mind and needs to find the gear to bring his vision to life.
Siegel is also a full-time professional commercial photographer, so he is often busy working with musicians, artists, models, and brands. "When I'm not doing that, I'm working on this project."
He also doesn't have any sort of sculpting background, so working in a physical, three-dimensional medium is quite a bit different from taking photos. "But I've always loved designing and building things with my hands," Siegel says, adding that he's learned "a lot of new skills" through the SPNP project.
"But honestly, the greatest skill I've been able to hone with SPNP is problem solving. It's really just one big puzzle when it comes to putting these things together."
From a photography perspective, the Shoot Portraits Not People prints are very minimalist, which Siegel says builds upon his longtime use of negative space in his commercial work.
"When I first started taking photos, my work was very 'minimalist.' Since then, it certainly has changed a lot. However, one thing that has always stayed constant was my use of negative space as well as my use of straight lines and symmetry — I think that still shines through when photographing the sculptures as well. I think it even shines through when fabricating them as well. I chose a plain white background to make sure the pieces stand out as much as possible. We love a clean look."
The Future of Shoot Portraits Not People
Each new show takes a lot out of Siegel. The sculptures are very intensive to create, so he says he needs a recovery period before starting work on the next release. However, he tells PetaPixel he has "lots of ideas in mind" for what he will build when the time comes to start up the sixth SPNP collection.
The best way to stay current with Siegel's Shoot Portraits Not People project is by following along on Instagram and by visiting the website. Siegel's commercial photography work is also available on Instagram.
For those in the Los Angeles area, Siegel's current exhibit is available to visit until December 1.
---
Image credits: All images © Jason Siegel