Shure SM7dB Review: Luxurious, Perfect Sound Every Time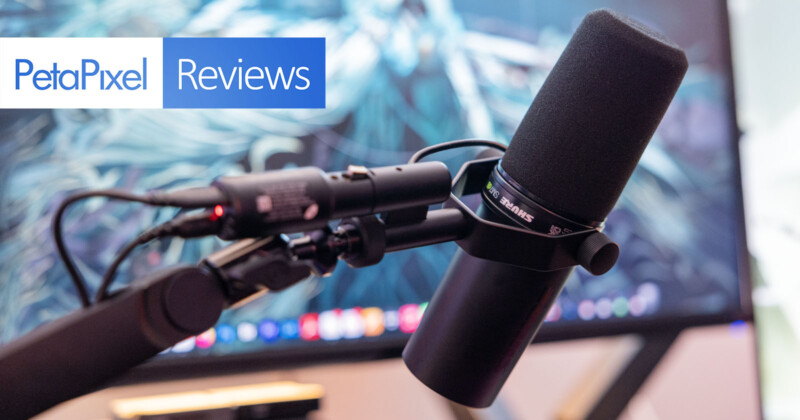 You have definitely seen the Shure SM7 series before because it's basically the gold standard of podcast microphones and can be found in studios around the world. Now, thanks to a built-in preamp, the SM7dB lets anyone get that silky smooth sound every time — no fuss, no hassle.
Before we get too far into this, you'll probably want to hear how this mic sounds. The best way to listen to the Shure SM7dB and get a good feel for how it handles and compare it to other options would be to listen to the most recent episode of the PetaPixel Podcast. My voice can be heard through it and you can compare that against USB options from Sennheiser and Sony, used by Chris Niccolls and Jordan Drake, respectively. Firing up previous episodes will allow you to compare the sound of a Rode NT-USB+, too, since that was what I was using previously.
If you would prefer just a quick sample captured on the SM7dB, below is a short clip I recorded that should do the trick:
That recording was not compressed using audio editing software like the published versions of the podcast are, although it does have the compression set to "heavy" using the Shure Motiv app. Compression was set to "Light" for the podcast above. More on the Motiv app and using the mic with a USB connection below.
Shure SM7dB: Design and Build Quality
The Shure SM7 series isn't known for its small size or light weight and that continues to be the case with the SM7dB — it's a rather large, beefy microphone. That's fine, though, because it's designed to be stationary in a studio and, once set up, you'll likely never actually have to handle the mic's weight.
The design is very straightforward. On one end is the capsule while on the other are a few controls that allow you to customize how you want it to sound (more or less response, bass rolloff, and presence boost). It comes attached to a collar that allows it to rotate and tilt as needed while affixed to a boom or microphone arm. All of these parts feel extremely high quality and well made.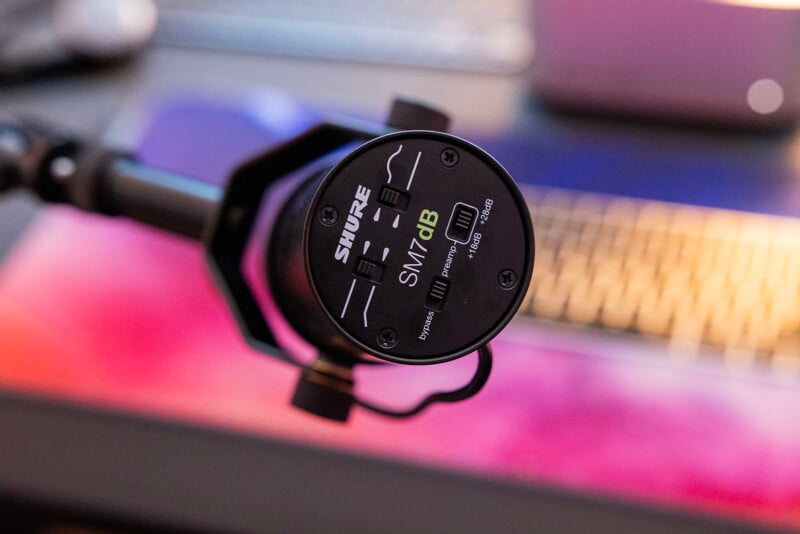 What's a Preamp and Why Does it Matter?
The main reason the SM7dB even exists is the addition of a built-in preamp — the original SM7 series doesn't have this. Why is this important?
A preamplifier, or preamp, is an electronic amplifier that converts an electrical signal from a microphone into an output that is both noise-tolerant and strong enough to withstand further processing. While a good preamp isn't going to suddenly make a bad microphone great, they are necessary to produce high-quality audio from even high-quality microphones.
Previous Shure SM7 microphones would need to be routed into a good preamp before that signal would be recorded, which isn't a problem for most high-end music and podcasting studios. Shure says that the SM7B has a sensitivity rating of -59 db and requires more gain than what most entry-level or even mid-tier preamps can deliver. So, previously, if you wanted to use a top-of-the-line Shure mic, your setup wasn't going to be cheap.
Folks like me, who record podcasts in their offices, typically don't want to fuss with that. USB microphones, like the Rode NT-USB+, build-in preamps so they plug-and-play easily in just about any setup.
Now the SM7dB offers the same, greatly streamlining audio workflows and giving folks who would balk at the cost and hassle of integrating a Shure mic into their setup a reason to reconsider.
Shure SM7dB: In Use
Unlike the Rode NT-USB+, the Sennheiser Profile, or the Sony ECM-S1, the Shure SM7dB doesn't use the broad side of the capsule for audio capture. Instead, the design is akin to a shotgun microphone and you'll want to talk directly into it as it is pointed at you.
Also unlike those three other microphones, you don't need an external pop filter. Plosives, the loud sound that comes from saying words with p's in them, are well controlled by the large, included sock that is fitted over the capsule. Shure also includes a second even larger sock should the one pre-installed not be enough in your particular use case.
Shure's included instructions tell you to position the microphone between one and six inches from your mouth for optimal quality, which is not atypical for a podcasting mic, though it does mean that it will be a pretty big object in the frame in exchange for that fantastic quality — that means it's not great if you don't want your footage to look like you're recording a broadcast radio segment. Shure isn't making a microphone like the SM7dB to be hidden away like a lavalier mic, for example.
One More Piece to the Setup
Since the SM7dB is tailored to someone like me who is not recording in a high-end, professional studio, you probably don't have an XLR interface you're working with. In that case, you're going to need one more piece of gear: the Shure MVX2U Digital Audio Interface.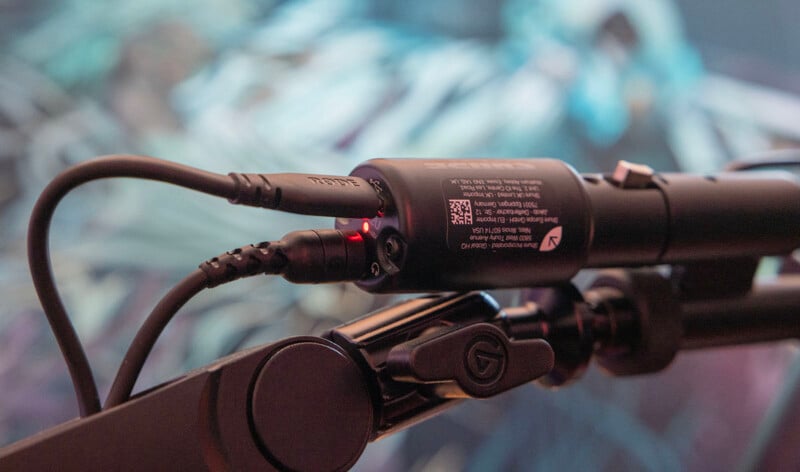 This small plug connects to the XLR input of the SM7dB and transforms it into USB-C while also providing phantom power. In short, you need it or something like it in order to mimic my computer-based podcasting setup. That's unfortunate from a cost standpoint, because it's $129. While not a ton, that's the price of the entire Sennheiser Profile microphone and it needs to be added to the cost of the Shure SM7dB — already a rather substantial $500 investment.
All-in, that's $639 to use the SM7dB with your computer — a significant premium over the Rode NT-USB+ price of $169 and the aforementioned Sennheiser Profile.
I think that's as good a time as any to talk about price a bit more. The original SM7B — Shure's preamp-less version of this microphone — is $399. That means Shure is charging a notable premium to delete the need for an external preamp or inline boost amplifier from a setup but, in the grand scheme, it is probably cheaper than getting all the parts you need to use the highly-respected SM7B. From that perspective, it's a good deal. But from the perspective of what other USB microphones cost, it's a lot.
Shure's Motiv App
While certainly not necessary, Shure does have software that works with the SM7dB if you connect it to your computer using the MVX2U adapter. Called Motiv, it doesn't have particularly high reviews on Shure's website but I can't quite figure out why. I had no problems with the software on installation and during my time with it and found that the manual controls work really well. There is a noticeable difference when setting the compressor to "heavy" versus "light" and while I will still run post-processing on the audio and compress it again, it's nice to have that built-in to some degree. The limiter also works as advertised.
If you want, you can also customize your EQ (equalizer) and run a high-pass filter. The app also allows you to fine-tune your monitor mix between the sound of your own voice and what you hear through playback — a nice addition since the SM7dB doesn't have a physical dial to control this.
I will say, the auto-level options in Motiv aren't great. Stick to manual control. If you're buying a $600+ microphone setup, this likely is not an issue for you.
Shure SM7dB: Luxurious Sound
Is the cost worth it? If you want a microphone that will accurately capture all of the tones of your voice, then yes. You do need to get additional parts if you want to use it with a computer and Shure's Motiv software combined with the MVX2U play nicest with the setup, but that means investing a lot into a microphone — and we haven't even talked about a boom arm.
Compared to the popular plug-and-play USB microphones I've previously mentioned, the Shure is undoubtedly superior. Vocals have a wider range, especially in the low frequencies. In short, the SM7dB sounds fantastic — and it should, given Shure's reputation and the hefty price it carries.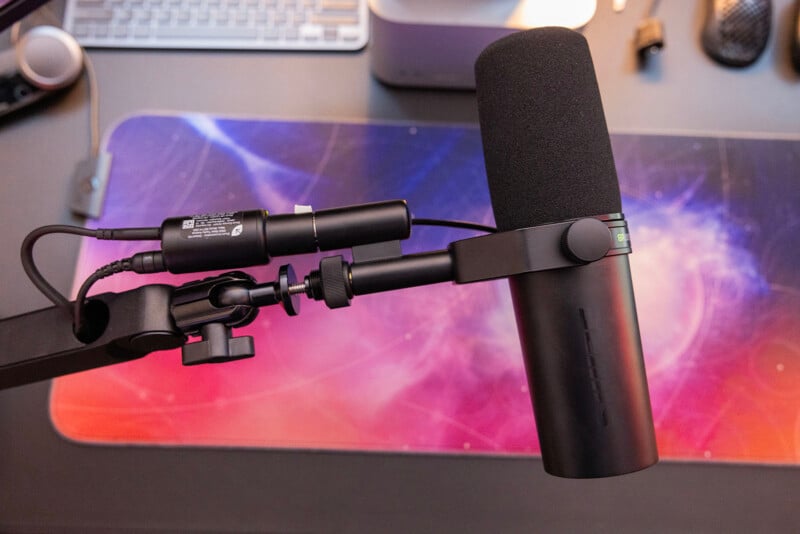 Are There Alternatives?
Cheaper microphones like the Sennheiser Profile or the Rode NT-USB+ do a decent job with lows but don't capture the range Shure's SM7dB does. They are, however, perfectly serviceable and are solid alternatives if you don't have the budget to jump to an XLR microphone.
Sony's new ECM-S1 is very expensive for a USB microphone at $418, but you're mostly paying for the easy connectivity with Alpha series cameras and it does come with a wireless receiver. However, side by side, Sony's mic can't compete and sounds worse than Rode, Sennheiser, and especially Shure.
To get a microphone that comes close to the SM7dB, you'll need to go XLR and pick up either a $350 Logitech Blue Sona, which also has a built-in preamp, or the $269 Rode NT1, which does not. Of note, the Blue Sona doesn't handle plosives as well as the SM7dB does. Shure has priced itself well above these competitor options and it is up to you if you think the audio quality is worth the premium.
Should You Buy It?
Yes, if the best possible audio quality is what you care about most. There are other options that are worth considering that cost less, but it's hard to argue with Shure's sterling reputation and the SM7dB maintains that legacy.