RODE NT-USB+ Studio Microphone Review: Good Gets Even Better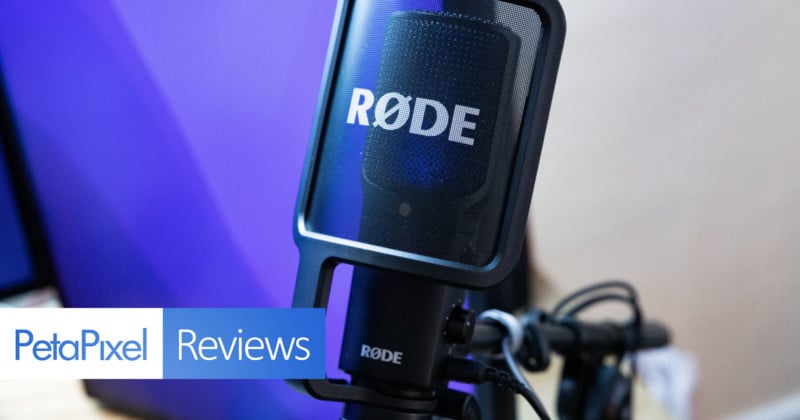 RODE's NT-USB+ is a modern update on a microphone that was one of the best desktop podcasting mics you could buy for the past several years. This new version makes necessary upgrades without taking away from what made the original great. It's an all-around win.
Years ago, I needed a nice microphone at my desk and picked up the RODE NT-USB because it seemed to be the easiest to plug and play with my computer, was inexpensive, and the audio quality was supposedly great. After using it for the better part of five years, I've been nothing but delighted with it. I went on to record a ton of episodes of the Art of Photography Podcast with that microphone.
My only complaint with the NT-USB was that as the years passed, the type of USB connection it used became more inconvenient: USB Type-B. This weird, chunky cable is all but extinct these days, but for a while, it was frequently seen on printers and copiers. But despite this, I used an assortment of USB adapters with my NT-USB to keep it up and running even on first my iMac, then my MacBook Pro, and then most recently a Mac Studio.
But finally, last November, RODE announced an upgrade: the NT-USB+. It ditched the ancient USB Type-B port, swapped in USB-C, and improved the overall audio experience with the inclusion of its ultra-low-noise, high-gain "Revolution Preamp" and high-resolution analog-to-digital converter, all without taking away any of the benefits of the form factor and — more importantly — the condenser capsule. The result is a mic that sounds as good if not better than the original and is surrounded with better tech and a modern connection.
Audio sample below, captured with the RODE NT-USB+:
RODE NT-USB+: Design and Build Quality
Out of the box, the NT-USB+ looks and feels pretty much the same the same as the original. The all-metal body is basically identical to its predecessor and it has a nice weight to it. It's not "heavy," but you can tell when you hold it that it is made of high-quality materials.
When plugged in, the mic emits a soft blue light that is more evenly dispersed around the head of the microphone than it was on the previous generation mic (that didn't glow all around the mic, but rather was condensed into a single visible LED). It's not bright enough to actually cast a light on you even in a dimly lit room, but it is visible enough to tell you that the mic is powered on and ready to receive audio.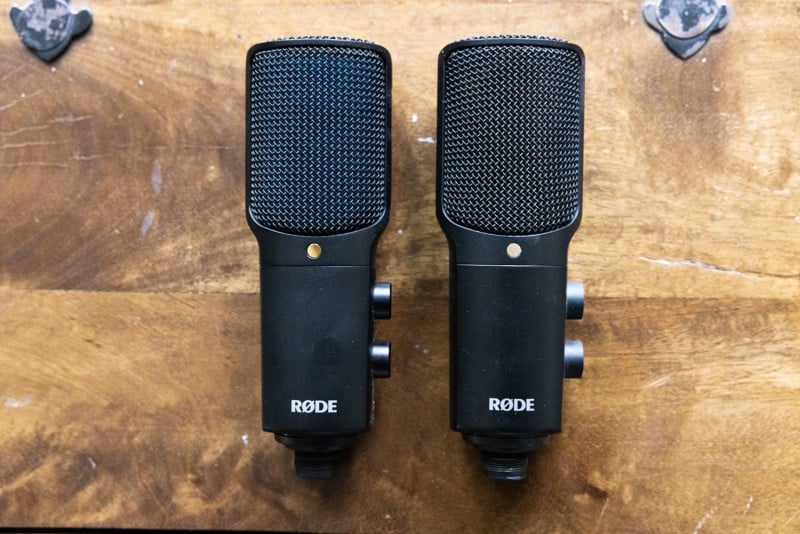 The base of the NT-USB+ screws into an included pop-shield and adjustable joint that either attaches to the included desktop stand or can attach to any number of other stands. I've typically not liked the included stand since it needs to sit directly under my chin when I'm using it, which inhibits my access to my mouse and keyboard, and it's a bit wobbly since it's made of plastic. While you could very easily attach it to a mic boom arm, I've been using a desktop mic arm for the last couple of years (starting with the original NT-USB) and it works great with the NT-USB+.
At the bottom of the NT-USB+ is the USB-C port that connects with the included cable which, by the way, is very long and allows you to easily mount the mic on booms or attach it to a computer a good distance away. After plugging the other end of that cable into your computer, it instantly becomes a audio source for both audio out and audio in, which is pretty much the definition of "plug-and-play."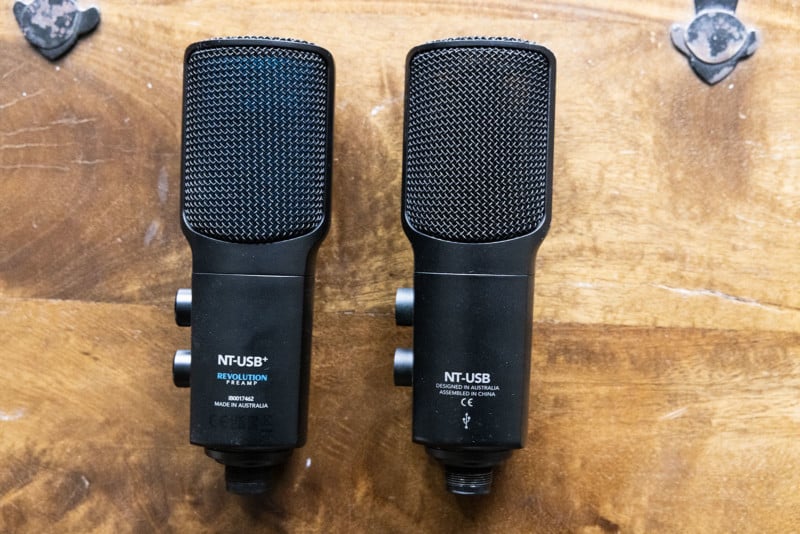 On the right side of the microphone are two dials, which are the only physical controls on the microphone, as well as the 3.5mm headphone jack. On the previous generation mic, that headphone jack felt kind of loose and it didn't take very long for my headphone port to start to wiggle around in it. That never inhibited the performance, but it didn't instill much confidence. RODE appears to have fixed that in the NT-USB+ and the new gold-colored 3.5mm jack feels more secure.
Those two aforementioned dials control the overall volume of the audio sent through to the headphones and the audio mix. While the actual input volume of the microphone needs to be adjusted from the attached computer, these dials let you determine how loud you want the volume to be to you as well as how much of your own voice you hear versus what comes in from other sources through the computer.
Generally speaking, I tend to keep my mix pretty much down the middle, with even distribution between my voice and the other side of the line — I find it's much more natural to my brain to hear myself talk at about the same volume as when I'm speaking face to face. That's a personal preference though, and you can adjust this dial to fit your particular use case.
RODE NT-USB+: In-Use
I mentioned that the NT-USB+ functions as a perfect example of "plug-and-play" as you can imagine, and that means it's incredibly easy to just start using it. You don't need any special cables, dedicated preamp, or anything like that. You just plug it in and it starts working great.
Beause it is a USB microphone, you can pretty much show up anywhere with the NT-USB+ and have the ability to record high quality audio. And by high quality, I mean basically indiscernible from the top-end XLR microphones that are made specifically for podcasting, radio, or broadcast applications. The RODE NT-USB+ has a built-in preamp, so any audio passed through it sounds really, really good straightaway.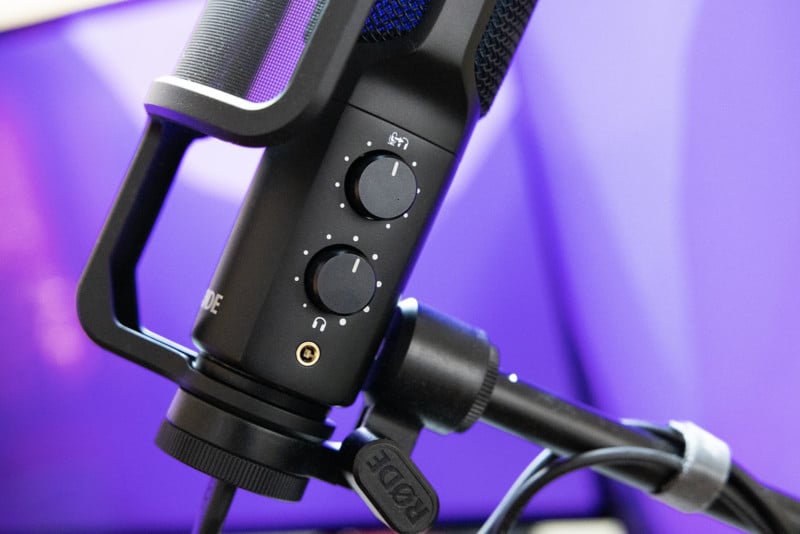 What I especially like about the NT-USB+ is how easy it is to use for a variety of purposes. If I know I'm recording an audio-only experience like a podcast, I turn down my input levels to just below 50% and move the mic close to my face to get the best possible quality. But since I always leave it connected to my computer, I also use it to take video calls and answer the phone, and I have it positioned a bit farther away and turn the input level up so that it can hear me. In both cases, I am regularly complimented on how good my voice sounds.
I am absolutely confident that the quality of my phone calls with prospective photo and video clients positively influenced my ability to close those deals.
As good as the NT-USB+ is, it's not perfect for everyone. Because it's a USB microphone, there is the downside of it being basically chained to use at a desk. While you could theoretically use other mics for multiple purposes and even in the field, the NT-USB+ is basically never going to leave a computer's side, whether that be at your home workstation or attached to your laptop while traveling. I think for the low asking price and the fact it works so well at this dedicated purpose, this is very much a reasonable tradeoff.
The Best Plug-and-Play Mic on the Market
Because it's so well made and produces such excellent audio, the NT-USB+ is easy to recommend for any content creator who does the majority of their work in front of a computer. Sure, you are limited to using it when connected to a Mac or PC, but it's really hard to argue with this level of quality with so little effort to get there.
Especially when, at the time of publication, it costs a mere $170, there is really nothing to complain about. Even at the MSRP of $200, it's a great deal.
Are There Altnernatives?
Probably the most popular desk-mounted creator-focused podcasting microphone is the Shure SM7B. That and RODE's NT1 or the Logitech Blue Sona — the latter which PetaPixel recently favorably reviewed — are solid picks for those who like working with XLR. But if you want something that you can just plug into your computer with USB and it just works, you could consider the Blue Yeti, but we can't recommend anything other than the NT-USB+ when it comes to the price-to-performance ratio.
Should You Buy It?
Yes. The RODE NT-USB+ has excellent upgrades over the first-generation mic and is easily the best plug-and-play USB microphone you can buy.