Sony App Turns Your Smartphone into a Wireless Video Monitor
Sony has announced a new mobile app, Monitor and Control, that enables visual creators to monitor exposure wirelessly, control focus, adjust color settings, and more on connected cinema cameras.
The Monitor and Control app is available on the App Store and Google Play and works with the Sony FX6, FX3, and FX30 cinema cameras. The app will also work with the Sony Burano CineAlta camera when it launches next spring.
One of the primary features of Motion and Control is that users can use their smartphone or tablet as a wireless second screen for their camera. Beyond remote control capabilities, it is also possible to use the smartphone like an external monitor attached to the top of the camera.
This functionality is similar to how Sony uses some of its Xperia smartphones as a 4K viewfinder and monitor for compatible cameras, although that feature requires a wired connection.
The large screen of a connected smartphone or tablet provides users with a bright, detailed waveform monitor, a false color display, and a full-screen histogram. The precise exposure monitoring function is currently only available on the FX3 and FX30 cameras, not the FX6.
Whether using Monitor and Control on a device attached to the camera or remotely controlling the camera, it can be helpful to control the focus point and settings, like autofocus sensitivity, directly from a mobile device. "A control bar on the side of the screen enables intuitive focus setting," Sony explains.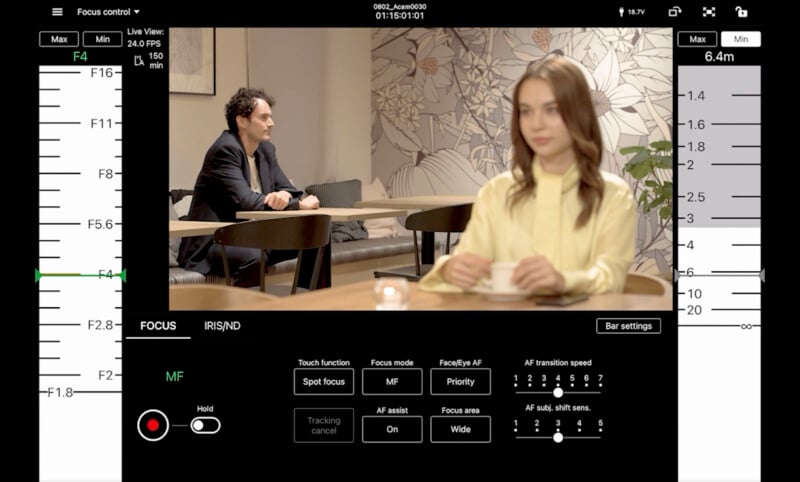 Additional camera controls available through the app include starting and stopping recording, adjusting white balance, and changing ISO. Users can adjust color settings, including Picture Profile and Scene settings, and swap between LUTs.
Further, when shooting in Log, the Monitor and Control app allows users to apply a LUT to see an image resembling the finished image after post-production on their connected device during recording.
The new app should enable creators to have a much more flexible workflow, even when they don't own a separate external monitoring device.
The Sony Monitor and Control app is available now as a free download for iPhone, iPad, and Android smartphones and tablets.
---
Image credits: Sony