Sony's New Crop-Sensor FX30 is an Easy Entry into its Cinema Line
Sony has announced the FX30, a compact cinema camera that shares the same body design as the FX3 but switches from full-frame to a brand-new 26-megapixel APS-C backside illuminated sensor that shoots Super35 4K video.
The company positions the new cinema camera as a jumping-off point for filmmakers who see the advantages of a cinema camera but perhaps lack the skills necessary to leap to the higher-end camcorders that Sony offers. The new FX30 sits below the FX3 on the pyramid of cameras in Sony's cinema lineup and is designed to close the gap between what newer creators want to create and what the top-end of the market is producing.
A New APS-C Sensor
The camera is slightly lighter than the FX3 but is otherwise identical on the outside. It features a new 26-megapixel APS-C sized sensor that has never been featured in a Sony camera before and while it is backside illuminated, it is not stacked. Sony says it has enough speed to capture still photos without a focal plane shutter, but not fast enough to work with strobes.
Compared to the FX3 which features a full-frame, 4K direct sampling, ISO 409,600 sensor, the FX30 instead goes with one capable of Super35 format, 6K oversampled, ISO 32,000 sensitivity. And while the footage is oversampled from 6K, the camera is not capable of actually capturing 6K video.
The FX30 sensor has an ISO range of 100 to 32,000, but it is dual base at both 800 and 2,500. Sony says that it should have about the same level of noise at ISO 2,500 that it does at ISO 800 and that it is capable of producing clean, low-noise images even in low-light situations. The sensor is also capable of 14-plus stops of dynamic range, provided footage is captured in S-Log3. Speaking of log, the FX30 can shoot in 10-bit 4:2:2 internally to allow for more latitude in color grading and records in an HEVC codec with what Sony characterizes as high compression efficiency.
More specifically, it is capable of shooting 16:9 Super35 format footage in either 8 or 10-bit, Long GOP or All-I, and H.264 or H.265 at up to 60 frames per second. It can shoot as fast as 4K at 120 frames per second, however, this is with an additional crop (1.6x). It can also shoot in Full HD, but with no additional framerate options from what is available in 4K. Still photos are captured in full APS-C at 6,192 x 4,128 pixels.
The camera can shoot uninterrupted 4K at 60 frames per second thanks to a built-in cooling fan and heat dissipation structure. It can also record indefinitely via USB Power Delivery (PD) and it also supports fast charging.
Cinema Color and Powerful Autofocus
Part of what Sony says is a bit of a hurdle for those new to cinema cameras is the need to grade footage, and the FX30 is equipped to provide those types of shooters with a format that looks good straight out of camera. The FX30 comes loaded with S-Cinetone — the same color science that Sony puts in its higher-end cameras like the Venice 2 — and LUTs can be uploaded to the camera and recorded with them to minimize post-production time. It also can shoot Cine EL and Cine El Quick log modes.
As would be expected of a modern Sony camera, the FX30 comes with a robust autofocus system that covers 90% of the frame with 495 points. Sony promises it is fast enough to support high-speed, precise autofocus as well as accurate tracking even when recording footage at 120 frames per second.
The camera also supports real-time Eye AF for animals, humans, or birds and Real-Time tracking, but also comes equipped with AF Assist which allows smooth switching between auto and manual focus as well as a Focus Map (for visualizing depth of field) and Sony's Breathing Compensation which keeps the angle of view stable when focus points are changed.
The FX30 also has Sony's five-axis in-body image stabilization and the camera also supports Sony Power Zoom (PZ) lenses and has a dedicated zoom rocker in support of these lenses. Just like the FX3, the FX30 is designed to be expandable and in addition to the multiple contact points on the camera itself, it also supports Sony XLR handles and the hot shoe is the company's digital multi-interface shoe that allows for digital audio interfacing.
The camera has one HDMI Type-A connection, both a USB-C and a micro-USB input, a headphone terminal, and two dual CFexpress and SDXC card slots. The camera also complies with wireless LAN standards (5 GHz and 2.4 GHz), works with wired LAN via a gigabit ethernet adapter for USB-C, and supports FTP transfer.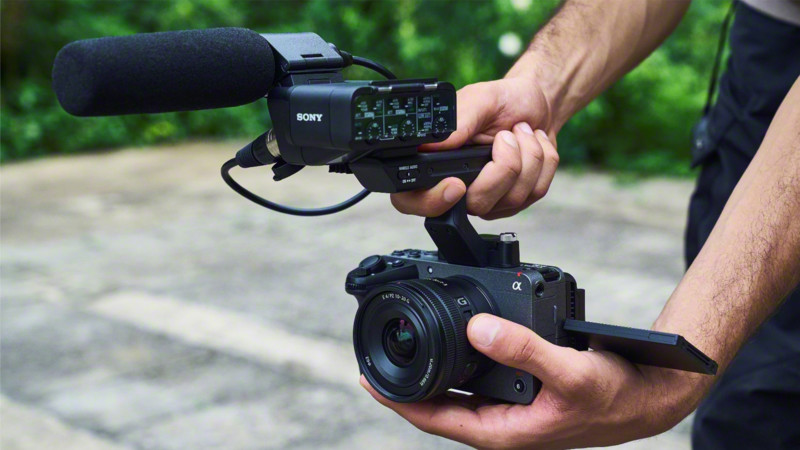 The camera also supports 16-bit RAW video output via HDMI. While Sony admits that most external recorders on the market don't support 16-bit RAW recording, the camera is capable of sending that signal and is, therefore, more future-proof. It also supports timecode synchronization by connecting to the time code source via an optional adapter and BNC cable.
The Sony FX30 will be available at the end of October for $1799 body-only and $2,199 with an XLR handle.