Sony's Updated 16-35mm f/2.8 G Master II Completes the Zoom Trinity
Sony has announced the 16-35mm f/2.8 G Master II which joins the 24-70mm and 70-200mm G Master f/2.8 zooms that have also been recently updated to bring their performance in line with modern expectations.
While the 24-70mm f/2.8 G Master II and the 70-200mm f/2.8 G Master II were both upgrades that were sorely needed, the 16-35mm f/2.8 was already a very well performing lens. Launched back in 2017, it makes sense that it was the last of the trio to get the revamp treatment and it becomes the 74th overall Sony E-mount lens and the 51st overall full-frame lens for the mirrorless mount.
While the lens does physically change length between the wide and zoomed ends, the company says that it can be used on a gimbal without worrying about rebalancing because the center of gravity on the lens is weighted towards the back, so the way it balances remains "virtually unchanged" regardless of focal length. It also has a dedicated aperture ring, an aperture click/de-click switch, and a focus mode switch.
The first iteration of the lens was by no means heavy, but Sony has still managed to shave off a few extra grams in this new version and the company says that the new "trinity" of f/2.8 G Master optics is now the world's smallest and lightest. The new 16-35mm f/2.8 G Master II weighs 547 grams (19.3 ounces) and measures 3.46 by 4.53 inches.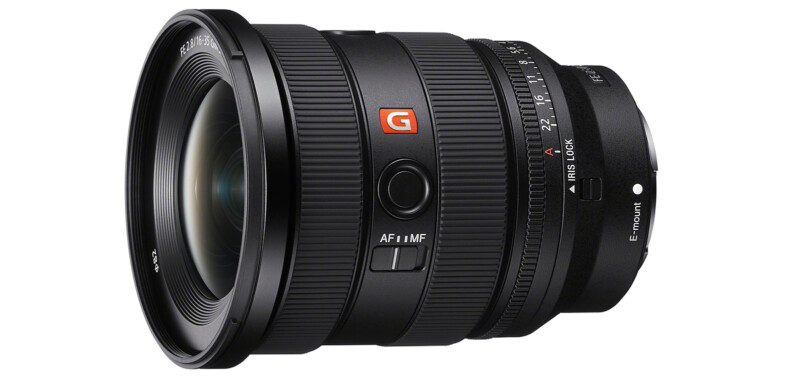 The company says that design enhancements ensure sharp performance across the aperture and zoom range and the advanced optics reduce aberrations, weight, and allow for rapid and accurate autofocus.
The lens is constructed of 15 elements in 12 groups and Sony claims it is the smallest and lightest in its class. It employs one aspherical element and two additional extreme aspherical elements to minimize general aberrations, one extra-low dispersion aspherical element to suppress spherical and chromatic aberrations, and two extra-low dispersion elements and one super-extra-low dispersion element Sony says further suppress chromatic aberrations. It employs an 11-bladed aperture diaphragm and boasts a 0.32x maximum magnification and a minimum focusing distance of 0.22 meters (8.7 inches) across the entire zoom range. It uses an 82mm front filter thread size.
Autofocus is driven by four of Sony's extreme dynamic (XD) linear motors — two for each of the lens's focus groups. The company says this system provides smooth, fast, and silent zooming for both photo and video applications.
Speaking of video applications, Sony says that the lens has reduced focus breathing, reduced focus shift while zooming, and reduced axis shift while zooming. It additionally is supported by Active Mode stabilization when used to capture ultra-wide images and videos.
Sony says the 16-35mm f/2.8 G Master II has the same level of weather sealing that other G Master lenses employ, and all seams are sealed, buttons and switches have silicone rubber gaskets, and there is a rubber seal around the lens mount. The front optic is also coated with fluorine to repel oil, water, and other similar contaminants that is easy to wipe clean.
The Sony 16-35mm f/2.8 G Master II will be available in September for $2,299.99.
---
Image credits: Sony