The MIOPS Spark is a MagSafe Connected Camera Grip for the iPhone
The MIOPS Spark is a new camera grip for the iPhone that connects via MagSafe and provides not only better purchase but also an array of buttons and controls akin to a full-size camera.
MIOPS is no stranger to photo-oriented products, having produced the motion control system Capsule Pro as well as a water drop capture kit called the Splash and the Smart Trigger that turns a smartphone into a camera remote.
This time, the company has its sights trained on making the iPhone into a more capable shooter.
"Spark is compatible with MagSafe, allowing for easy and secure mounting of iPhones at various angles. Even if your iPhone doesn't have MagSafe, our MagSafe sticker enables you to experience the same level of convenience and security for your iPhone," the company says.
The Spark isn't just a grip, it of course also pairs with an app to bring a host of additional features to the smartphone interface like photo stacking, long exposure, and crowd removal software features combined with shooting functions like a histogram, focus peaking, and zebra stripes.
MIOPS puts specific emphasis on the Spark's ability to capture better long-exposure photos than is typically possible on a mobile interface. Additionally, as mentioned the app has a Crowd Removal function that automatically detects and removes people and moving objects from photos, which MIIOPS says can eliminate cluttered, distracting backgrounds.
Photographers can adjust basic settings like ISO, white balance, shutter speed, and focus from the grip, but the hardware also has an integrated light sensor that MIOPS says detects nuances in ambient light so that photographers don't miss opportunities like lightning strikes.
"No more missed opportunities or reliance on specialized equipment — Spark ensures that you're always prepared to document those awe-inspiring flashes of nature's power," the company says. "Whether you're chasing storms, exploring nocturnal landscapes, or marveling at the majestic display of lightning, Spark enables you to embrace the magic of the moment and immortalize it with the exceptional capabilities of your iPhone."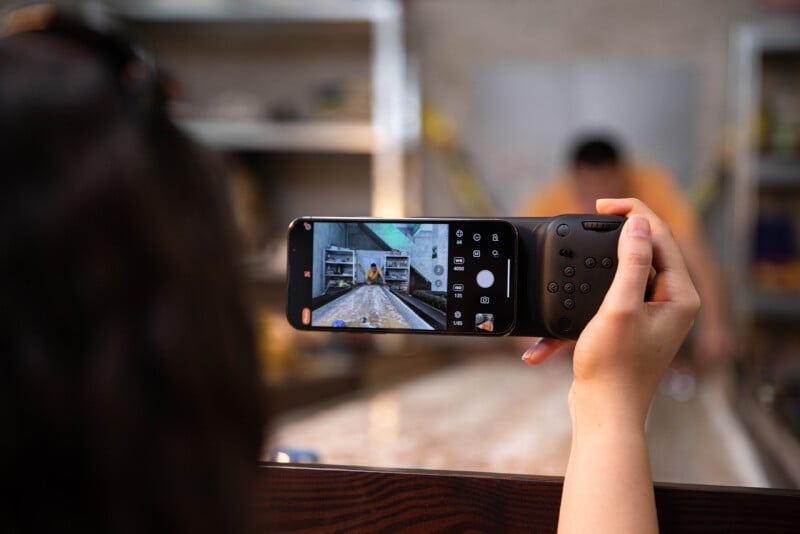 The iPhone app and grip also pair with an Apple Watch to allow photographers the ability to remote control the camera and eliminate blur thanks to the separate shutter release capability.
In addition to the functions already listed, the MIOPS Spark also has live filters, a digital tilt meter to measure level, and a grid overlay. It also allows for HDR, light trail, portrait mode (with digital bokeh), burst photo mode, and the ability to save photos as ProRAW, RAW, JPEG, or TIFF.
The MIOPS Spark is compatible with iPhones running iOS 16 or later and is compatible with models as far back as the iPhone 8 and iPhone SE.
The Spark is currently being crowdfunded on Kickstarter and can be backed for as little as $99. The company intends to deliver finished grips by May 2024.
---
Image credits: MIOPS