We're Skeptical of the Sky-High Promises This $249 Camera Makes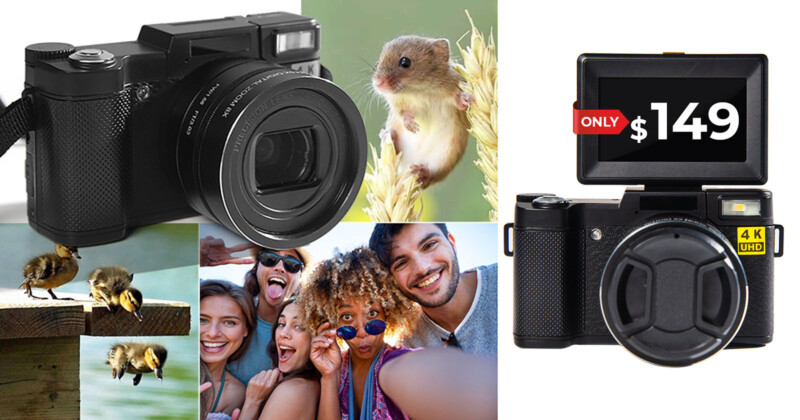 Photography is generally a costly hobby, with many cameras costing thousands of dollars. However, a new Kickstarter campaign for the Amkov R5 promises a cost-effective mirrorless camera that makes photography more accessible, especially for beginners. But, we have our doubts.
Amkov Technology Development Co., Ltd. is a Chinese company that has been making imaging products for nearly 20 years. The company's current product catalog focuses on cameras for kids, but Amkov also makes affordable cameras aimed at older users, including vlogging and action cameras.
The company's latest camera called the R5 (no relation to Canon) has already shattered its modest $5,120 funding goal with 31 days left in the campaign. With 344 backers at the time of publication and nearly $60,000 in funding, the Amkov R5 is slated to begin shipping later this year. Early backers can get the Amkov R5 for $149, 40% off the eventual MSRP of $249. That is remarkably cheap for a camera, so what exactly does the Amkov R5 promise?
Specs and Features Offer More Questions Than Answers
The R5's listed specifications are interesting and odd in equal measure. The camera promises 4K/60p video and 48-megapixel resolution photos. This deserves a closer look, as a nearly 50-megapixel camera for $150 sounds too good to be true.
As it turns out, it is. The Sony CMOS image sensor inside the Amkov R5 is the Sony IMX386 which can be purchased for under $10 and is tiny. The sensor is 4.96mm x 3.72mm, which is 0.24 inches diagonally. For reference, a full-frame image sensor is 36mm x 24mm. Most damningly, the Sony IMX386 captures 12.2-megapixel images. This means that to achieve the promised "48MP Resolution," the camera must perform some software tricks.
It is also unclear precisely what lens the camera uses. A built-in "2G6P Crystal Lens" promises 5x optical zoom. The camera also offers 8x Digital Zoom, but there are no additional specifications listed concerning the lens. Still, by looking at a product image on Amkov's website, it appears that the lens is f/3.5 — that is at least that is its fastest aperture; it may be variable.
"The Amkov R5 mirrorless camera features an autofocus function that automatically blurs the background to emphasize the subject. This makes it easier to capture beautiful, artistic photos, and improves shooting efficiency for fast-moving actions. With accurate focus, the AMKOV R5 camera ensures superior quality photos," Amkov writes.
There are no details concerning the autofocus system or the camera's close-focusing distance, although Amkov promises that the R5 can capture macro images.
The company also shows "sample" photos with nicely-blurred backgrounds, but it is extremely unlikely that the camera, given its small sensor and f/3.5 lens, could deliver that kind of bokeh.
Consider the bird image below. It seems improbable, at best, that the Amkov R5 can capture a picture like this.
Further, after finding the mouse photo featured below on a Russian forum post from 2019, it seems safe to cast doubt on the rest of the sample images that Amkov uses on its Kickstarter campaign.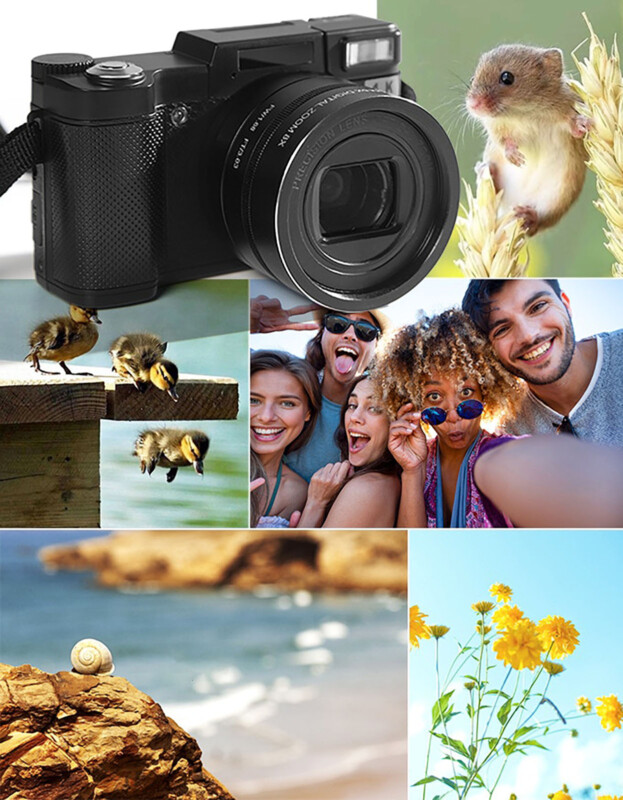 This story is not designed to be a hit piece on Amkov or the Amkov R5, but customers need to have realistic expectations concerning the images they can achieve with a mirrorless camera such as this one.
There is almost no chance that the Amkov R5 can capture images like the ones featured on the Kickstarter campaign page. It is also fair, therefore, to call into question the video clips that are interspersed with images of the camera itself.
Speaking of video, the Amkov R5 promises 4K/60p video. Considering that smartphones that have used the same image sensor, such as the Xiaomi Mi Max 2 released in 2017, record 4K video at only 30p, it is notable that Amkov claims to have doubled the 4K framerate from the IMX386 sensor. The Google Pixel 6a also uses the IMX386 for its wide-angle camera, which is also capped at 4K/30p video.
Familiar Faces on AliExpress
Another standalone camera that uses the IMX386 image sensor, a $54 action camera on AliExpress, also claims 4K/60p video recording, so perhaps the IMX386 can achieve this feat despite smartphone makers in 2016 and 2017 not putting it in their smartphones. At this point, enough doubt is being cast on other promised features that everything should be treated with a grain of salt.
That GoPro-inspired action camera is not the only interesting product on AliExpress. There are numerous cameras that look remarkably similar to the Amkov R5, and even promise some of the same features.
Taking a closer look at the R5's design, it includes a pop-up flash, or "flashlight" as Amkov calls it, a macro button, zoom controls, a tilting 3-inch display, a self-timer button, playback and delete buttons, a menu button, focus and shutter release, power switch, USB-C port, battery compartment, and tripod thread. The rear display has a resolution of 360 x 640.
As for storage, the Amkov R5 accepts TransFlash (TF) memory cards up to 128GB. TF is the original name for microSD, and has been out of favor for a long time. It is worth noting that microSD cards are available in capacities beyond 128GB, but the Amkov R5 seems unable to utilize cards of that capacity, signaling that the camera cannot accept microSDXC cards.
Questionable Claims and Confusing Comparisons
"The Amkov R5 is a versatile mirrorless camera that combines both DC and DV functions but also incorporates a 2G6P crystal clear lens and Sony CMOS, enabling clear photo and video shooting. What's even more surprising is its macro shooting function, which allows you to easily capture the details of small objects and showcase the beauty of the microscopic world," says Amkov on its Kickstarter campaign.
"The autofocus function is also outstanding, capturing moments instantly and making shooting more convenient and quick. Overall, the Amkov R5 is a super practical camera that can meet your needs for outdoor and travel photography."
That is all well and good.
However, Amkov goes on to say, "Most of the mirrorless cameras on the market are expensive, which is not friendly to students or amateur photography enthusiasts with low incomes. However, the Amkov R5 is not only affordable but also capable of capturing clear images with a simple and easy-to-carry operation. Compared to DSLR cameras with the same performance, purchasing the Amkov R5 is more cost-effective."
While the Amkov R5 may be a perfectly good camera for some users, to claim that it offers the "same performance" as any DSLR camera released in the last 15 to 20 years seems overly ambitious in every facet except for perhaps video resolution.
Amkov even includes a comparison chart showing how the Amkov R5 is better than cameras such as the Sony a6000, Panasonic Lumix GX85, and Canon EOS M6 Mark II. The Amkov R5 is cheaper than those cameras, but "Built-in Macro Effect" and a "2G6P Crystal" lens are not strong selling points.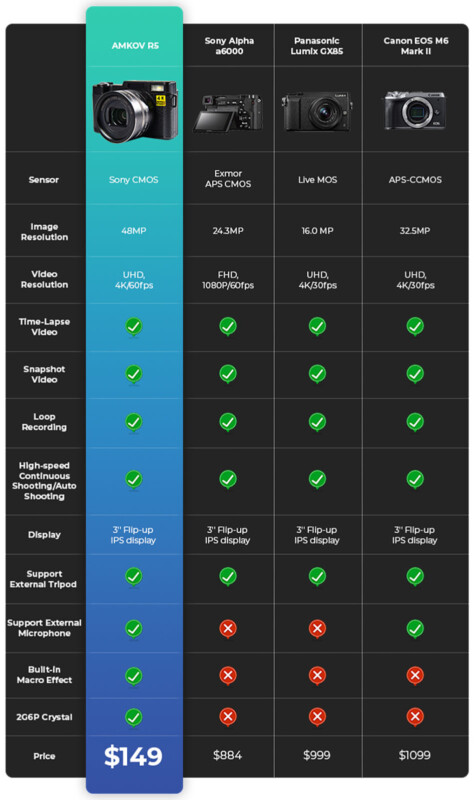 The Amkov R5's Promise Points Toward Something Valuable
While the Amkov R5 itself may not be the answer to beginner photographers' prayers, it promises something important. This text from the R5's Kickstarter page is worth a second look:
"Most of the mirrorless cameras on the market are expensive, which is not friendly to students or amateur photography enthusiasts with low incomes."
Photography is prohibitively expensive for many. Billions of people on Earth do not have money burning a hole in their pocket, and some would love to experience the joy of photography for themselves. Even people with higher incomes may not feel comfortable spending more than a thousand dollars on a new camera kit if they have never tried photography before.
It is easy for photography enthusiasts reading about the latest and greatest new cameras to scoff at something like the Amkov R5's Kickstarter page, but clearly, given that nearly 350 people have already backed the project, there are people sincerely interested in low-cost cameras.
People should not be locked out of the experience of photography just because they do not have much disposable income. If a camera like the Amkov R5 makes new photographers happy and gives them a chance to have a creative outlet, then all the better, even if there are some rather significant red flags concerning the camera's promised features and performance.
That said, when developing a low-cost camera, perhaps it does not make sense to try to jam as many noteworthy, SEO-friendly features as possible into the product description. 4K video, for example, is unnecessary. The same can be said for a flip-up display, timelapse shooting, and a macro function.
Amkov mentions students in its sales pitch, and that is a market that is in dire need of low-cost alternatives, especially as beginner photo classes in high schools and colleges move away from film cameras, which have long been relatively affordable to maintain.
A low-cost digital camera with no bells and whistles, an accompanying manual focus lens, and a decent-sized image sensor would be a great learning tool for budding photographers. 48 megapixels is overkill, but a tiny sensor, even by modern smartphone standards, is lackluster. Many photography teachers would agree that is important to learn manual photography controls. Still, it is also essential to have the tools to actually take good photos, something that the Amkov R5 may or may not be able to do.
For people looking for an affordable entry point into photography, a used entry-level DSLR from a decade ago or so will likely be a much more enjoyable tool, with better build quality, and a diverse range of lens options.
---
Image credits: Amkov